Is Whitman using too much water?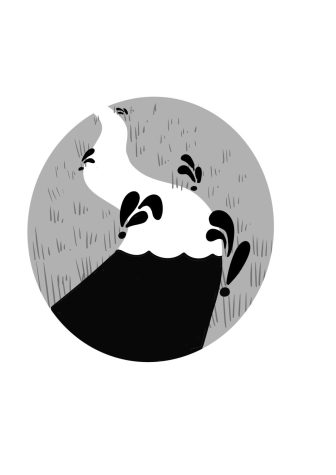 In response to student requests, the campus sustainability coordinator position was instated at Whitman in 2019. As of this year, the Office of Sustainability is partially vacant, as there is no sustainability manager in charge. Although the college is searching for qualified people to fill the position, a national labor crisis and a lack of candidates have obstructed the process.
This lack of leadership has posed challenges to campus water usage. In addition to the vacancies in the Office of Sustainability, there are no irrigation managers to monitor campus water use.
Official numbers about Whitman's water usage can be found on the Office of Sustainability website. The numbers are outdated, with the latest year recorded being 2017. However, in 2017, Whitman used 64,995 CCF (hundred cubic feet). According to the EPA, 1 CCF is equal to 748 gallons of water, which costs $540,229. 
Eunice Blavascunas, Associate Professor of Anthropology and Environmental Studies, explained that Whitman's water usage is not unusual compared to the rest of Walla Walla. She suggests that the bigger issue lies within the "lawn aesthetic" that requires a large amount of water usage. 
"Sustaining a perfectly green lawn like Whitman College's campus takes a lot of water. Our water usage is not out of proportion with most residents and farmers in Walla Walla," Blavascunas said. "Walla Walla has a basalt aquifer, but decades of heavy use are affecting instream flows, which are essential for critically endangered fish and other aquatic species."
The basalt aquifer mentioned refers to an underground body of basalt rock that serves as a storage reservoir for Walla Walla's groundwater. 
ASWC Sustainability Committee Chairman Fraser Moore's focus is on the philosophy of how Whitman interacts with the land. His criticism is not directed toward the Trees and Landscaping Committee, who have little decision-making power in regard to Whitman's appearance, but towards the administration. Moore explains the implications behind Whitman's upkeep, which he labeled as "typical colonial flora."
"Even when you look at the [Blue Mountain Range], it's all brown. We have mud in September, which is completely non-representative of the place we are in," Moore said.  "We have created and we draw water to try and resemble a proto-Anglo-British-esque landscape. To do that, we need water; we need to be demanding in the water usage, which is not right. It's not right to the place we are in."
Adding to his views about the Whitman landscape and the consequences of our green landscape, Moore blames the history of the school. 
"The way we interact with this landscape is, again, an extension of colonialism. [It's] an extension of the Whitmans and the incredible and terrible harms that were reaped on this land," Moore said.
The Outhouse is the Environmental Interest House on campus. They try to limit their water usage and encourage a sustainable lifestyle. Leander Swan is the resident advisor of the Outhouse.
"The Outhouse attempts to conserve gas (whether it be gasoline or natural gas for heating), electricity and water through a variety of physical means [and be] generally aware of consumption when we are living lives outside the Outhouse (for example, using less plastics)," Swan said.
As a senior, Swan has found that adopting solutions to institutional environmental issues on campus can be inherently difficult.  
"Students and professors have been mostly intentionally organized out of spaces/positions of considerable power despite them being the, arguably, sole purpose of the institution and its true stakeholders," Swan said. "Steps to change this unjustifiable power differential will likely lead to more just and sustainable practices by the college, regardless of what exact measures are taken."
When discussing possible next steps to address water usage and management, Moore points to Whitman students to create change. 
"There needs to be institutional change around what the Whitman landscape looks like and that has to come from students," Moore said.
In terms of where efforts should be focused, Moore placed emphasis on higher administrative positions. 
"That needs to go right to the Board of Trustees. It needs to go right to President Bolton for that institutional shift, and that change in philosophy is what I'm advocating for," Moore said.