The Long Tent to come to Ankeny Field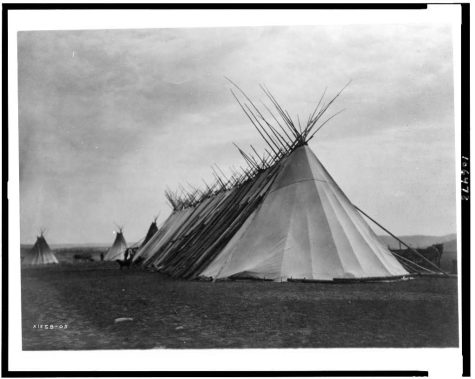 Beginning April 18, the Long Tent is going to be a new addition to Ankeny. The construction of the Plateau Long Tent is meant to kick off a week-long series of Indigenous speakers, all focusing on a synthesis of past and present Indigenous culture.
In partnership with the Confederated Tribes of the Umatilla Indian Reservation (CTUIR) and the Colville tribes and tribes of Warm Springs, the Long Tent Working Group consists of a collection of staff, faculty and guest associates from the Whitman community. 
Whitman alumnus Roger Amerman '80 said that what first prompted the idea for authentic Indigenous representation at Whitman was a visit to campus with a group of Nez Perce students in spring 2021 that took them through Maxey Hall. 
"They saw the painting of the Whitman mission that focuses on the glorification of colonial peoples. The bright blues and greens, the yellow sunlight focusing on the themes of the 1800s, the themes used for justification of settler colonialism, were in real contrast to the minimalist look at a people that were in the dark." said Amerman. "It was like the painting was saying to the Nez Perce students, 'They are going to go away, they're all going to die out.'"
Currently hanging in classroom W42 in Maxey West, the painting was rendered by Kay Nielsen in 1956 for Whitman and depicts a version of the Whitman myth that heavily alludes to John Gast's American Progress, another painting well known for its sensationalization of settler colonialism.
Amerman wants to highlight the true history of Indigenous peoples and the importance of contextualization when considering the potentially biased narrative that has been taught for so long in white history books. 
"My people were awesome majestic horse cultures; we were second to nobody. We had one of the most important diets in the world as a salmon people. Now in that painting, you saw none of that. The Nez Perce youths saw none of that. They just saw these guys hovering over a dead body and that their culture is on the way out," said Amerman.
Yakama and Nez Perce tribal descendent Lonnie Sammaripa has been laboring tirelessly with the Long Tent Working Group and is hopeful about what educational opportunities at the Long Tent will provide for the Whitman community.
"It's a showcase of resiliency in multiple forms. All these speakers are going to be speaking on behalf of their specialties, their expertise, the departments they work for," said Sammaripa. "It is a very sensitive issue to share cultural knowledge, traditional knowledge, spiritual knowledge to any extent. In the spirit of education, we're trying to reeducate and heal this wound of the Marcus Whitman myth and then to start to build a new narrative."
Amerman and Sammaripa are no strangers to misconceptions about Indigenous people and their culture. Part of the determination to include Indigenous peoples on campus stems from the desire to correct a one-sided narrative.
"I want to make a point that this is native architecture, architecture that was here long before any buildings on this campus. The red brick buildings are a new phenomenon. We know students will say 'Oh, this is really exotic' but no, it's not. You're looking at the true history of Plateau people's culture and the land," said Amerman.
Sammaripa spoke about the type of misinformation the Long Tent is attempting to correct with the inclusion of Indigenous speakers who are experts and leaders in their respective tribes.
"There's people out there, I've met them, who think Indians live in teepees or wigwams or longhouses and that's not the case. The very clothes we wear show what colonization, assimilation and relocation has done and where we are at in our daily lives," said Sammaripa. "A lot of what the government has done to us throughout history has created this and diminishes who we are as a people."
Visiting Professor of Anthropology, Environmental Studies and Religion Stan Thayne is one of the Whitman's faculty members that is incorporating the Long Tent in his curriculum. He wants his students to recognize the importance and history of Indigenous presence and stewardship.
"The idea was to use the Long Tent as a space for pedagogy, for teaching. Thinking about this as an Indigenous space that we occupy as part of the Walla Walla, Cayuse and Umatilla homelands, we're within the ceded territories, to which they hold treaty rights. We should take advantage of the Long Tent as a kind of gathering to reflect on what it means to be in this space," said Thayne.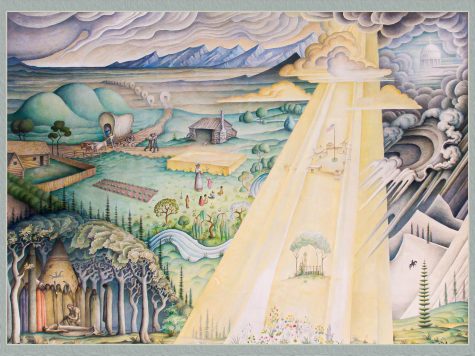 Both Amerman and Sammaripa emphasize taking advantage of the Long Tent as an educational opportunity on campus.
"There's a lot these speakers are going to be talking about that haven't been in books or anything before," said Amerman. "There's a lot the world doesn't know and hasn't had access to. It will be new to the world, and new to Whitman campus."
In a sentiment echoed by Amerman, Sammaripa and Thayne, many are hoping the Long Tent will create a space for Indigenous students on campus.
"I want Native students to feel comfortable, to feel like they can go to school here. I want them to know there's an option in liberal arts," said Amerman.