Chuck Sams confirmed as new Director of National Parks Service
On Nov. 18, the Senate unanimously confirmed Chuck Sams as the 19th Director of the National Parks Service. A member of the Cayuse and Walla Walla tribes, Sams is the first Native American to serve in this position. 
President Biden announced his intent to nominate Sams on Aug. 18. In the announcement's press release, Secretary of the Interior Deb Haaland, the first Native American to serve as Cabinet secretary, congratulated Sams on his confirmation. 
"The diverse experience that Chuck brings to the National Park Service will be an incredible asset as we work to conserve and protect our national parks to make them more accessible for everyone," Haaland said.
Sams is the first officially appointed director since 2017, when Jon Jarvis retired after eight years in the position. Jarvis was succeeded by four acting directors under the Trump administration, none of whom maintained the position for more than one year. The National Park Service oversees more than 131,000 square miles of land, including over 400 national parks. 
Cheysen Cabuyadao-Sipe is the president of Whitman's Indigenous Peoples Education and Culture Club, which aims to preserve and educate others about Native culture, both on campus and beyond.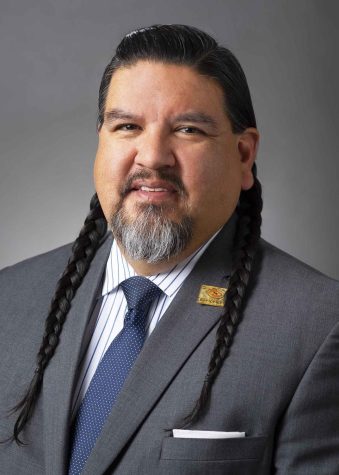 "I think that the confirmation of Chuck Sams… is perfect. It has been long overdue for representation of Native and Indigenous Peoples at the Federal level, and I truly believe that this is one of many important steps. I am truly ecstatic to have learned about this news and I congratulate Chuck Sams," Cabuyadao-Sipe said. 
Sams has previously served as the Director of the Confederated Tribes of the Umatilla Indian Reservation and is a member of the Northwest Power and Conservation Council. He has also worked with Whitman in the past, speaking at the Home in Pasxapa orientation session in 2019 and co-teaching an Indigenous politics course in 2020.
Cabuyadao-Sipe met Sams at the Home in Pasxapa event during his first-year orientation in 2019. The program, which was first introduced in 2016, aims to educate incoming students about the history of the Walla Walla valley and Whitman's situation on Cayuse, Umatilla and Walla Walla tribal lands . 
"After the session, a friend and I wanted to introduce ourselves. As a Kanaka Maoli (Native Hawaiian), I began by introducing myself in 'Olelo Hawai'i. Chuck Sams instantly recognized it and we were then able to talk about some Indigenous issues that we were both connected to. It was definitely a memorable experience," Cabuyadao-Sipe said. 
Sams currently lives on the Confederated Tribes of the Umatilla Indian Reservation with his wife and four children. Sams will be sworn into office in late 2021, marking the beginning of a new era for the National Parks Service.