Danita Ryan brings Native American issues to Whitman campus
During Ryan's presentation in Kimball Theater, audiences gained insight into Native American culture
The Navajo greeting "Ya'ahteeh," translates to, "With all that is good in the universe, I greet you." It was with these words that Danita Ryan began her talk on Monday, Nov. 14 at 7 p.m. in Kimball Theater. Ryan's presentation, titled "Hear Our Voices; Grandmother's Wisdom," focused on informing the audience about the culture of Native Americans and the importance of this culture plays in their lives.
Much of Ryan's presentation focused on her family and community, which she used to teach the audience about Native American culture. Ryan shared numerous stories–some about her two daughters, some about teaching children in her community about their heritage and native traditions and other stories about her own elders. Ryan emphasized to the audience how an awareness of shared culture and heritage gives a strong sense of self and identity.
Ryan also touched on timely issues such as cultural appropriation and the Dakota Access Pipeline. Ryan commented that although appropriation might seem fun and harmless for those partaking, it does have a real effect on Native Americans around them.
Although not outright, Ryan also seemed to address the Dakota Access Pipeline when she spoke about the importance of having gratitude, particularly for the small things in life. She used the simple pleasure of drinking a glass of water as an example.
"Water is life and water is sacred," Ryan said.
In the ongoing Standing Rock Indian Reservation protests in North Dakota, the saying "water is life" has frequently been used as a kind of slogan by protesters.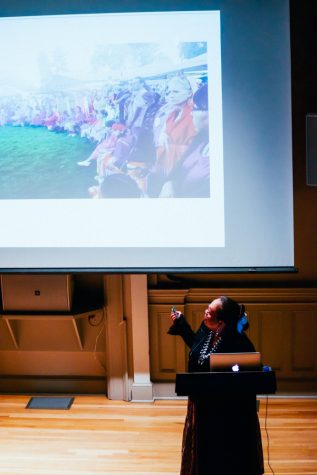 Ryan was invited to Whitman by the college's Indigenous Peoples' Education and Culture Club, also known as IPECC. Open to indigenous people from all continents, IPECC educates about indigenous people and their perspectives and experiences. Seniors Brenna Two Bears and Zoey Kapusinski are the club's president and budget manager, respectively. Two Bears is also Ryan's niece and was vital in bringing her aunt to campus.
Two Bears and Kapusinski focused on the awareness that speakers like Ryan bring to college campuses.
"I think it's really important for students here to understand that and to learn from someone else's point of view, … because Whitman is a bubble and it's not anybody's fault that they don't know, they just need to hear it from somebody else," Two Bears said.
Kapusinski also addressed the timely nature of Ryan's presentation.
"We've seen a lot of discussion on campus around cultural appropriation, every year during Halloween, that discussion comes up again… I think a lot of these issues are really coming to the forefront of Whitman social justice movements, so it seems like the time is ripe," Kapusinski said.
Sophomore Dani Schlenker attended the event. When considering the importance of the presentation, Schlenker focused on the value on bringing diverse speakers, particularly to Whitman.
"I think it's especially important for our community, which is a community named after a missionary who tried to convert Native Americans, to understand life outside of our own, and try to break out of our bubble–our white Whitman bubble," Schlenker said.
She also commented on the opportune quality of the event.
"I think it's very timely," Schlenker said. "There's a huge protest going on in North Dakota that has everything to do with the way that Americans have abused and stolen from the Native American communities."
Although Danita Ryan briefly touched on some contentious issues, her presentation also served to bring awareness to the campus. Speaking about her own experiences and family gave audience members from the community a look into the experience of indigenous peoples. More than anything, Ryan seemed to open her arms to those curious about Native American culture and send a message of peace, love and understanding.