Availability of counseling and healthcare on Whitman campus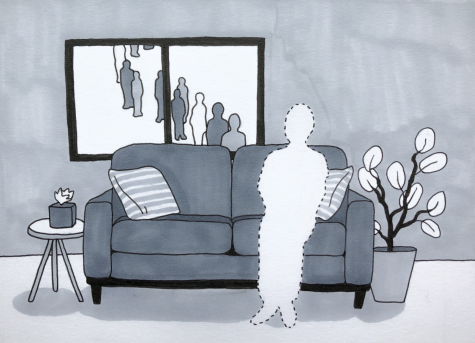 As many college students know, maintaining positive mental health during the school year can be challenging. Whitman's main resource for mental health is the Counseling Center, but students relying on the Center have been dealing with long wait times and relying on short-term treatment plans. 
According to Dr. Rae Chresfield, the associate dean of student health and wellness, the Counseling Center has seen a surge in requests for services this year. Dr. Chresfield attributes this surge to increased diversity among counseling staff members and reduced stigma around mental health.
Currently, the Counseling Center has seven staff members, only five of whom act as counselors for students. One counselor resigned, and the Center is trying to fill that position as well as add a new counselor. Additionally, the Center is only open from 8 a.m. to 5 p.m. on weekdays. 
First-year Caden Hoyt reached out to the Counseling Center looking for resources or advice to help a struggling friend, but was disappointed by the response he got. 
"I was given a form and told that they'd have a spot open in two weeks," said Hoyt. "I talked to one of the counselors separately and managed to get an appointment, which came weeks too late and honestly felt a little underwhelming." 
Students have also voiced concerns about the impersonal responses they have received when reaching out for help. Students who email the Counseling Center receive an automated response and are put on a waiting list, often not communicating with an actual counselor for several weeks. 
"I think that just having an actual person responding to emails would help a lot, just being able to see that there is someone on the other side making an effort to get things organized as quickly as possible," said Hoyt. 
First-year Madeline Senter received counseling from the Center and was satisfied with her experience, although she is currently on a waitlist for further sessions because her counselor left. 
"I've had a relatively good experience at the Counseling Center. Everyone is so kind and really helpful when I've needed it," Senter said. "The counselors do so much for the students and I know that they wish they could meet the needs of the student body." 
In addition to a lack of available mental health services, students have also noticed a lack of options for physical health treatment. Welty Health Center, which previously operated 24/7, is now open by appointment only and with limited hours. Students who are sick or injured have reported waiting several days to see a medical professional, especially as the Health Center is not open on weekends. 
First-year Madeleine Stolp has been sick for a few weeks, but has had trouble going to the Health Center. Her busy schedule makes it challenging to find time to make an appointment, given the limited hours. 
"I feel like I would be more inclined to go if there were walk-ins," said Stolp, "It's hard to work around your class schedule, and for people who get anxious with phone calls, it's hard to not have an online scheduling option. I wanted to go on the weekend but couldn't, so I had to wait longer than I was comfortable with."
Health care providers are legally prohibited from practicing across state lines due to licensing regulations, so out-of-state students often encounter many challenges with finding new therapists or doctors. With limited local options for mental health and medical care, Whitman's health services are often the only option for students. 
"Whitman admin needs to step up and recognize that they need to invest in the health of their students, because many of us don't have other feasible options," said Senter.