The Yak is back on campus
The anonymous location-based messaging app, Yik Yak, is back on the app store and downloaded on phones at Whitman. Yik Yak was founded by college students in 2013 and was surrounded by controversy until it was shut down in 2017. New owners acquired the rights to redevelop the app in February 2021, and it was relaunched in August.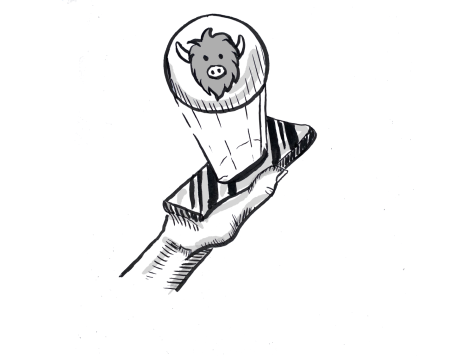 Much of the original criticism of Yik Yak surrounded cyberbullying and threats of violence on high school and college campuses. In 2017, several students at the University of Mary Washington filed a lawsuit against the university for failing to take action against posts that contained harassment on Yik Yak. The app was also used to make threats of violence in multiple incidents, including a 2014 incident where a Massachusetts high school had to be evacuated twice in one day because of bomb threats.
"We're bringing Yik Yak back because we believe the global community deserves a place to be authentic, a place to be equal, and a place to connect with people nearby," the Yik Yak website states. "We're committed to making Yik Yak a fun place free of bullying, threats and all sorts of negativity."
The new owners have instituted a one strike policy for hate speech and bullying. Users that violate terms of service will be immediately banned. 
In the past week, there have been an average of 21 posts per day in the five mile area surrounding Whitman. Some posts joke about shared Whitman experiences, like navigating the bathrooms on campus, while many others critique the College and the fraternities.
Junior Sabrina Suminski decided to download the app after hearing friends talk about it. She said that she checks Yik Yak a few times a day and likes to up and down vote funny posts. She tends to stay away from the ones about Greek life.
"I think things like that always devolve, and it can be a place for people to let something out that is meaningful, but usually it starts to become either complaining or hateful or just too stupid. I do enjoy it for now, I will admit," Suminski said. "At least it will take your post down immediately if it is detecting that you're just being a jerk. On an Instagram post there is only really likes, but on this you can very easily denote 'I don't like this and I want it to go away.'" 
First year Grace Renner used Yik Yak at Model United Nations conferences in high school and downloaded the new version of the app when she got to Whitman.  
"There's lots of stuff about the frats, which you don't necessarily know is true," said Renner. "There are jokes about the frats and then there are allegations."
Inter-Fraternity Council (IFC) president and senior Alex Pratt recently downloaded Yik Yak and said that posts on the app can reveal what needs to be worked on by the College and by Greek organizations. Many posts name specific fraternities and discuss sexual misconduct and hazing allegations against active members.  
"If anything, I think [Yik Yak] shows us how people feel on campus and shows us how much we need to work on. I think there's already been huge active steps," Pratt said. "We raised a lot of money over the summer for recruitment and we have some left over. We're planning on either buying drink testers or those bracelets lid things, and we recently found these cups that fit with plastic coffee cup lids, so that completely eliminates open containers."
First year Carsten Wallace-Bailey said that while he does see serious posts about the fraternities, most of his impressions of Greek life come from word of mouth. He generally prefers to interact with the joking posts. 
"I appreciate the jokes on Yik Yak, a lot of them are funny; but also, it's just like 'why are you trying to start beef? You're trying too hard,'" Wallace-Bailey said. "This is the fifth Yik Yak I have seen about shitting today and I don't care that much."
Ultimately, Renner and Wallace-Bailey both said that they do not take Yik Yak that seriously. 
"It's just kind of something I read when I am bored and I've gone through my other social medias, or I'll remember that it's on my phone and check it," Renner said.  
Yik Yak is providing a new way for Whitman students to communicate about life on campus, and it looks like it is here to stay.