Community activism continues around Christopher Columbus statue
For almost 110 years, a statue of Christopher Columbus has stood in front of the Walla Walla County Courthouse. The Columbus statue, as well as the Marcus Whitman statue on Boyer Avenue, have been topics of controversy in the Walla Walla community, with ongoing debates over the future of the statues and whether they should be removed or relocated.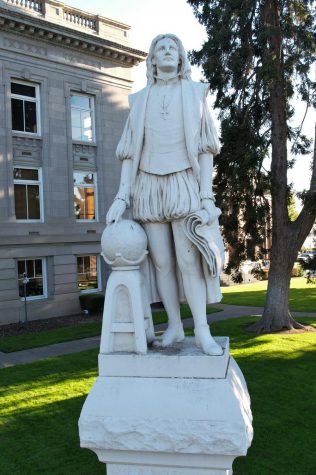 Emily Tillotson is a leader of We Belong Walla Walla, an organization that has been working to remove the statue from public property since the summer of 2020. Part of the group's concern comes from the placement of the statue directly in front of an institution of justice.  
"Everyone, including Native American… and BIPOC members of the community, has to walk right by that statue of Columbus every time they want to get their tabs renewed or get a marriage license or do any work with the county," said Tillotson, "It's not appropriate. It's not okay to ask them to do that." 
The statue was spray-painted in June 2020 with the words "stolen land" on the base. It was one of many statues to be defaced that summer in the wake of nationwide Black Lives Matter and social justice protests. While the perpetrator was not caught and no new incidents have occurred since then, new security measures, including a surveillance camera, have been installed. 
Two Walla Walla residents, Elizabeth Bahena and Sam Aparicio, started petitions to have the statue removed and have received just over 3,000 and 2,000 signatures, respectively. Aparicio is a student at Walla Walla Community College who created the petition with her friend Audrey Tinnin; she spoke to The Wire last year about her experience. 
"For years, we have celebrated an explorer who is responsible for enslavement, theft and the genocide of indigenous peoples. As a nation, we continue to praise a man who stole land and continually chose to dehumanize Native people. Why should we have a statue dedicated to a man who stands as a symbol for the violence of 500 years of colonial oppression at the hands of European explorers," reads Aparicio's petition. 
Aparicio's petition also comments on the honorary position the statue holds in front of the courthouse, echoing Tillotson's concern about community members having to walk past it. 
A town hall meeting was scheduled for August 2021 to discuss the future of the statue, but was canceled by county officials due to rising COVID-19 cases.
In an interview with the Union-Bulletin, Briana Spencer, another member of We Belong Walla Walla, criticized county officials for canceling the event due to COVID-19 while still allowing the county fair to happen. "It just feels like they're trying to sweep it under the rug rather than hold an actual option that would be beneficial to their constituents," Spencer said. "That's the whole point, communication with the constituents, and I feel like they took a layer of it away."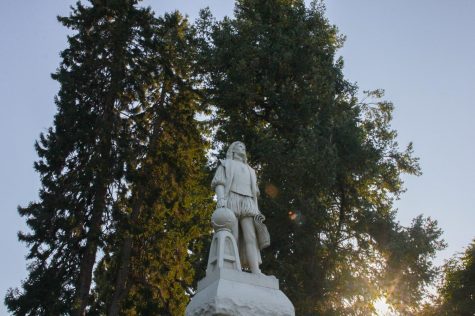 "[County officials] say they're going to vote on it by October 13, just a simple up or down vote. They said, well, all we're going to look at is what's come in from the letters during this 30-day window. That doesn't really meet the standards of due diligence," said Tillotson. 
We Belong Walla Walla held its own virtual listening session on August 31, 2021 to discuss the issue, although their Facebook announcement made it clear that the listening session was not meant to replace a real town hall meeting and they would continue to call on county officials to provide a public forum. The recording is available to watch on the We Belong Walla Walla Facebook page.
Whitman students interested in learning more can sign up on the contact list for We Belong Walla Walla using this Google Form.