Indigenous Peoples' Day lectures call attention to Whitman's role as a college on stolen land
According to the United States calendar, the second Monday of October is Christopher Columbus Day and Indigenous Peoples' Day. But in Washington State, neither holiday is recognized.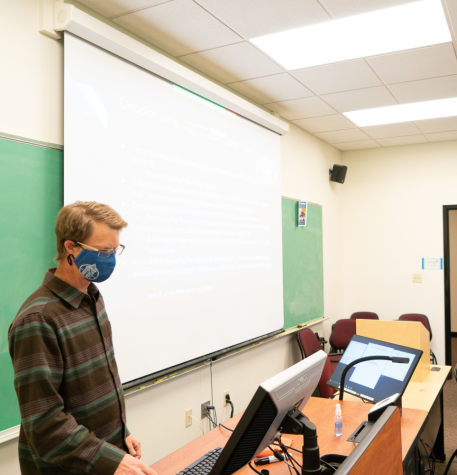 Students from Professor of Politics Stan Thayne's Indigenous Politics class spoke about the history of Columbus Day and Indigenous Peoples' Day. Student panelists held a two day lecture over Zoom on Sept. 28 and Sept. 30.
Public education in the United States has historically taught students that Christopher Columbus discovered the U.S. Although he reached South America, Columbus never set foot on U.S. soil, let alone North America. Despite this, he continues to be celebrated as an American hero.
In reality, Columbus enslaved Indigenous people throughout his travels and his role as an explorer led to a structural genocide of native tribes. 
Columbus Day was first celebrated in 1792 to recognize the United States as a separate entity from Europe, according to the lecture panelists. His identity as an Italian immigrant represented the United States as a melting pot of nationalities.
Italians who immigrated to the United States faced persecution; they were lynched and criticized for their Catholic beliefs. 
Italian Americans used Columbus as a symbol of their heritage's role in the development of the U.S. Their connection to Columbus's nationality helped them assimilate into U.S. culture. 
Today, some Italian Americans defend Columbus's legacy. Many of the residents in Walla Walla who want to preserve the Columbus statue that stands in front of the court house identify as Italian American. However, most people in the U.S. focus on Columbus as an explorer, not as an Italian.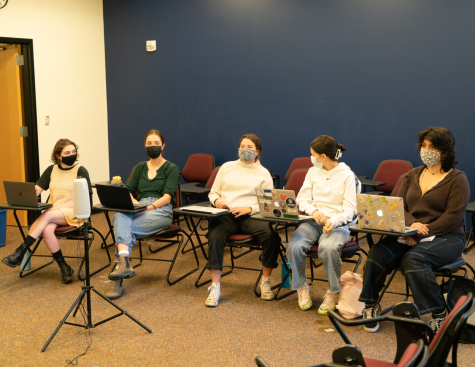 "I think the reason that there is an Italian American symbol in front of the court house is that for most people it isn't an Italian American symbol. It's a symbol of white America," said Professor Thayne.
He referred to the statue as a "symbol of genocide." 
Nell Falvey, one of the student panelists from the lecture, said the statue "glorifies colonialism and whiteness in a way that shouldn't be welcomed in Walla Walla."
In a conversation after the lectures, Falvey spoke about the irony of the statue in front of the court house. Christopher Columbus—a murderer, a slave owner and an eventual prisoner—stands tall on a pedestal in front of the town's judiciary structure. 
"Who is justice working for?" said Falvey. 
Professor Thayne wants to replace the statue with something that represents the origins of Walla Walla and commemorates the local tribes.
He suggested replacing it with a statue of one of the signers of the 1855 treaty between the Confederation of Cayuse, Umatilla and Walla Walla Tribes and the United States. 
However, he and Katilynne Jensen, another student speaker from the Indigenous Peoples' Day lectures, also expressed concern with replacing the statue.
"There's a fine line in replacing monuments because a lot of people do see it as erasure, but that's not at all what we're trying to do," said Jensen. "I think there needs to be some sort of…recognition of the fact that it was there."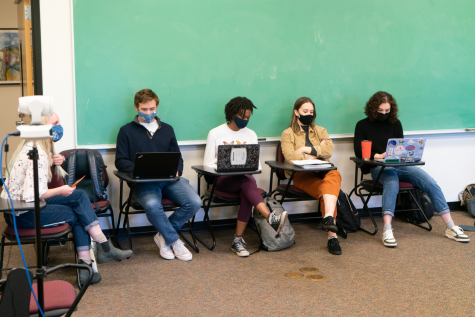 The lectures questioned Whitman's role as a college established on land stolen from the Cayuse and Umatilla tribes of Walla Walla. 
"What's the most appropriate way that we can be here on this land that was taken through coercion and violence?" Thayne said. "Just ignoring Columbus Day isn't enough."
After all, the college's name comes from Marcus Whitman, a Christian missionary who arrived to the area in 1836 and was killed in the Whitman massacre in 1847. Increased American settlement and a measles epidemic strained the relationship between the mission and the Cayuse before the massacre. 
Falvey encouraged students to join the Indigenous People's Education and Culture Club's (IPECC) town hall on Oct. 11. 
Acknowledging the experiences of Indigenous People extends beyond a single day. Visit the library or online databases to learn more about the history of Walla Walla's local tribes and information about Native American tribes all over the country. 
Recordings of both days of the Indigenous Peoples' Day lectures are available online.