"Travel for exploration's sake": Senior Liam Voorhees wins Watson Fellowship to study waterways abroad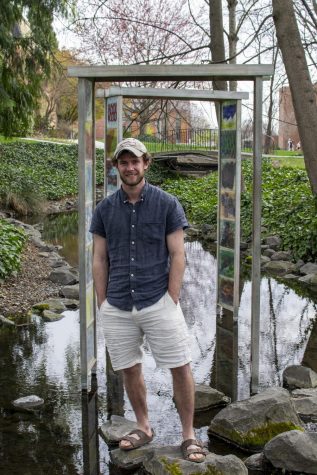 As senior Liam Voorhees nears the end of his Whitman career, he is preparing to embark on a yearlong multi-country fellowship to study river systems and food production. Voorhees was awarded the Thomas J. Watson fellowship, which offers 40 student-winners from different US colleges and universities $36,000 each to spend a year abroad exploring a topic they are passionate about.
Keith Raether, Director of the Office of Fellowship and Grant, said Whitman has been a Watson partner institution since the fellowship's inception in 1971. The program was suspended for several years during the 1980s and '90s before being reintroduced in 1995. In the 26 years since the program returned, 35 Whitman students have earned Watson fellowships.
Voorhees is part of the 53rd class of Watson fellows and plans to study the Danube River in Austria, the Mekong Delta in Vietnam and several short rivers in Japan. He said that his project stems from a lifelong interest in waterways, which he also explored in his Environmental Humanities thesis. 
Voorhees added that his Watson advisor, Japanese Professor Akira Takemoto, pushed him to pursue the fellowship from the first time they met during Voorhees's first year.
"The activities fair was happening and I was walking around and I went to the fellowships and grants booth and started talking to Keith [Raether] and a few others and walked away with a pamphlet that talked about the Watson and then I pinned that to my corkboard as something to try to attain and work towards for the next four years," Voorhees said. 
Voorhees's interest in water systems and food production developed out of an early entrepreneurial endeavor and childhood fishing trips. 
"When I was about six years old, I started my own business. I grew up in an urban place — Bellevue, Washington — and I started pulling my little red wagon full of heirloom-variety pumpkins that I grew," Voorhees said. "I got the seeds from a local farmer at the farmers market who helped me along. I started planting these pumpkins and selling them throughout my neighborhood."
The idea for Voorhees's fellowship project came together during an internship last summer with Whitman alumnus Kevin Scribner '75. Scribner is a retired commercial fisher and longtime environmental activist. After they were connected through the Student Engagement Center, Scribner listed the issues he was working on and Voorhees's interest was immediately piqued by salmon conservation on the Columbia River system.
Voorhees was sent home early from his study abroad program in Florence, so he was able to immediately start attending online meetings of the Columbia Basin Partnership Taskforce. 
Scribner and Professor Takemoto helped Voorhees narrow down the river systems he wanted to study and find the contacts he will work with. 
"I had fun putting out these offers to [Voorhees], and he picked up on them," Scribner said. "And lo and behold he gets the bloody fellowship, which I think is one of the most kick-ass awesome fellowships you can get out of Whitman College." 
Scribner said that he thinks Voorhees's personality and intense curiosity will help open doors for him in the countries he visits. 
Voorhees is still waiting to hear from the Watson Foundation if his fellowship will be delayed because of COVID-19. Otherwise, he will be off on the first stage of his trip on Aug. 1. He said his contacts abroad have been understanding of potential delays and that the format of the program enables him to follow his own schedule.
"The point with the Watson is you're not allowed to work for people," Voorhees said. "They don't want you to be tied down to certain things and they really want you to have the flexibility and freedom to move, which sounds very counterintuitive but it's that whole idea of travel for exploration's sake and being able to take up new things as they come along and pursue new threads."