Whitman community shares coming out stories at virtual Break the Closet Week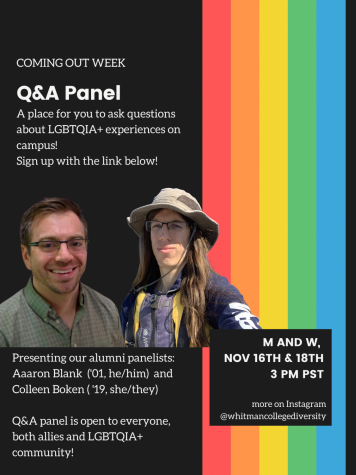 Celebrating coming out has gone virtual with Whitman College's first ever Breaking the Closet Week. The week was organized by the Intercultural Center and featured two panels featuring LGBTQ+ students, alumni and staff, an Instagram takeover, a Safe Zone training, and a meet up for students. 
Intercultural Center LGBTQIA+ inclusion intern Aziz Sahbazovic '24 was the event's primary student organizer. Sahbazovic said that he wanted to create a greater sense of community for LGBTQ+ students, particularly first years, because of the class format this semester. Last year Whitman's LGBTQ+ affinity club PRISM hosted an open mic event for students to share their coming out stories in Reid Coffeehouse. 
"I know for me as a freshman, I didn't really know people here on campus and I don't know about all the different resources and who to reach out to," Sahbazovic said. "I wanted to create this as an opportunity for people to feel, even though they are not on campus right now, that there is a community waiting for them here and for people to connect."
Community members were encouraged to anonymously submit their coming out experiences to the Whitman Diversity Instagram. Along with community member stories, the diversity account has shared anecdotes about coming out from queer celebrities like Lil Nas X. Sahbazovic said that the popularity of Instagram with students made it an accessible way to share coming out stories with the Whitman community 
The two panels took place on Monday, Nov. 16 and Wednesday, Nov. 18 and featured Whitman Alumni Colleen Boken '19 and Aaron Blank '01, as well as current sophomores and Queer Trans Students of Color (QTSOC) co-presidents Toyona Howard and Tatiana Villegas and Janet Mallen, an assistant director of the ARC. Panelists discussed LGBTQ+ student life at Whitman over time, resources available on campus and self-advocacy. 
"It might take a bit of push but Whitman is usually pretty good about listening to their students and doing what needs to be done," Howard said during the Monday panel. "If you want something to change or you have any complaints about Whitman, voice those things and talk to people who will listen." 
Sahbazovic also asked the panelists how they have handled questions from other students and community members about their identities. 
"A lot of the questions I got at Whitman were from people trying to figure out their own identities through yours. Most people genuinely want to learn." Boken said on Monday. "It's not your duty to teach them but there are resources that you feel like you want to share you can."
Boken won the David Nord prize for LGBTQ+ student artists during her junior year at Whitman. She credits the prize with helping her get into graduate school and encouraged current students to apply.
First-year Brittani Christensen attended both panels and said that she enjoyed learning about resources on campus. 
"Being a first-year who has yet to experience the community at Whitman, I feel relieved that there are so many different avenues for support available for students, whether that's through the intercultural center, LGBT+ or ally-identifying faculty members, or former students eager to help in any way they can," Christensen said in an email to The Wire. 
Admissions Officer Henry Whipple also attended Monday's panel. Whipple said that part of his job is knowing about student organizations and support systems, so he appreciated the chance to learn about them first hand. He added that he enjoyed hearing about how support for LGBTQ+ people has changed at Whitman over the years. 
"When I saw Monica [Chapman] advertising this panel I was excited because it was a direct way of hearing from recent and older graduates about the journey the college has taken to support students that identify in one of these groups and understand what steps still need to be taken," Whipple said.