"Coming Out Stories" embrace community, bravery
Nearly all of the lights in Reid's Coffeehouse were dimmed, except for the ones that suffused the floor's stage in a warm glow. There, students and faculty stepped into the light and spoke about their experiences coming out to friends, family and themselves. 
Whitman's "Coming Out Stories," organized and hosted by PRISM, an organization for LGBTQIA+ students, began two years ago in an effort to increase awareness of and raise conversations about LGBTQIA+ topics at Whitman. 
"[Coming Out Stories] builds ties between the club and the campus," said senior MJ Wilner, the LGBTQIA+ Intern. 
Wilner also emphasized the function of "Coming Out Stories" as a means for some LGBTQIA+ individuals to claim who they are.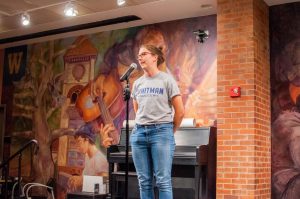 "For some people, coming out is a very personal thing and they do it to their closest friends and family," Wilner said. "But to other people, it's part of their identity that they want to share with the world."
That's not to say it's easy. Wilner, who spoke at last year's Coming Out Stories, said, "[Speaking at the event was] a way for me to cement how I wanted to claim my identity" but was also "very terrifying."
Senior Olivia Engle, who spoke both last year and this year at "Coming Out Stories," had similar feelings about the stage.
"It's difficult," Engle said.
But it was also empowering for her.
"It's another step towards completely accepting myself is sharing my story and being comfortable with sharing it," Engle said. "Getting on stage is scary, but it's also comfortable and something I want to do."
Yet the empowerment of telling one's story also often impacts more than the speaker.
"I think one of the things that could come from this event is a greater sense of LBGT community," sophomore Clara Redmond said. "That's one of the reasons why I like the outlet so much. Pretty much everybody has the same fear before they come out. It's almost universal. We all have this shared experience in coming out, but they're all different, but they're also all the same. Everybody's coming out is different, but everyone is still coming out."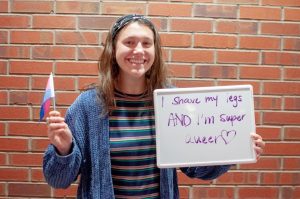 "Hearing other people's stories has definitely been empowering and validating," Engle said. "I think that there's value in sharing your vulnerabilities."
The format of "Coming Out Stories" (which Wilner calls a 2-part format, "both an oral presentation and a you-can-sign-up-and-decide-in-the-moment kind of thing") is crucial to establishing a safe space with prepared speakers and allowing those unprepared to both gain strength from listening to other speakers and the supportive ambience.
"Most of the people who speak sort of decide in the moment that they want to, that it's an atmosphere where they feel comfortable doing it," Wilner said.
At this year's "Coming Out Stories," some speakers who hadn't originally intended to speak cited listening to the event's other speakers for their inspiration to share. This served as a demonstration of the safe space "Coming Out Stories" created and the sharing of support and strength both between members of Whitman's LGBTQIA+ community and the larger student body as a whole.