National youth voter turnout increases; Washington breaks 40-year turnout record
Though the full picture is still coming together, youth voter turnout is on pace to outstrip turnout levels in 2016. Tufts University CIRCLE projects that the final results will show that between 53–56 percent of young voters participated in this election, compared to 2016's 45–48 percent. 
Data for youth turnout in Washington state is not yet available, although it is clear that young voters favored Democrat Joe Biden instead of incumbent President Donald Trump. 18 to 29 year olds make up 17 percent of the state electorate, with 71 percent voting for Biden and 25 percent voting for Trump, according to CIRCLE estimates. 
There is clear evidence to suggest that young voters were crucial to President-elect Biden's performance in key states such as Arizona, Michigan and Pennsylvania — Biden won youth voters by a 20-point margin in these decisive states. 
Young Black voters in particular were instrumental in Georgia, a historically red state, with 90 percent of Black voters choosing Biden. On average, young people of color voted for Biden by even larger margins than youth voters as a whole.
Pre-election day polls from Harvard Kennedy School also suggested that young voters were more enthusiastic about voting in 2020 than in 2016. 
Washington, along with seven other states and the District of Columbia, automatically sent registered voters mail-in ballots. Several states including Washington, Oregon and Montana exceeded the total number of votes cast in 2016, just through early voting alone this year.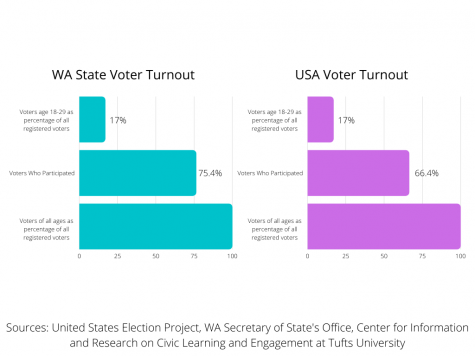 Washington overall has received more than four million ballots, with an expected 83 percent turnout rate among registered voters. 75.4 percent of eligible voters participated in 2020, exceeding national trends. 
Turnout among registered voters in Walla Walla is expected to slightly exceed that of Washington state. As of Monday evening, an estimated 31,600 Walla Walla ballots have been received for a projected 85 percent turnout of registered voters, which is five points higher than in 2008, 2012 and 2016. 
Nationally, The Washington Post estimates that 66.3 percent of all eligible voters participated in this election — the highest rate since the 1900 general election. 2020 also broke the record for the most votes ever cast in a U.S. presidential election: an estimated 161 million total votes. 32 states, including Washington, broke their 40-year turnout record, too.
First year Merry Cockroft said she was excited to vote in her first presidential election. Even before she was old enough to vote, Cockroft was politically engaged in her hometown of Poulsbo, Washington. She started an environmental justice club at her high school and worked at her local City Hall. 
"I've been itching to vote, probably ever since I knew what it was," Cockroft said. "It's not so much excitement about the candidate; it's more anger at the current president, and I think has really motivated everyone to get out [and vote]."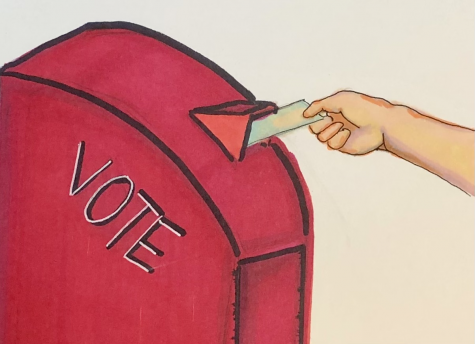 The outcome of the 2016 election led to the founding of several progressive, youth-oriented political organizations, such as gun control advocacy group March for Our Lives and the environmental justice focused Sunrise Movement. 
Senior politics major Lucy Montgomery formed a chapter of student-led organization Every Vote Counts at Whitman in 2018. She said that while there were already clubs that did voter registration, there was not a group focused solely on voting.
Every Vote Counts is a nonpartisan organization with over 50 chapters and partner organizations at colleges and universities across the U.S. It is dedicated to increasing voting access and participation among young Americans. 
The Whitman chapter has approximately 15 members and is called Whitman Votes. Montgomery said that Whitman Votes is normally active during years without elections, but because of the general election, it has been increasing it outreach this semester.
Whitman Votes has been working with the STAR project to educate formerly incarcerated people about voting and has hosted a webinar on voting basics for Whitman students. 
"We were hoping that by hosting that webinar, whoever attended would then be able to pass those skills along to people that they know," Montgomery said.