Halloween in Walla Walla: Socially-distant and indoor trick-or-treating
In past years, the evening of Oct. 31 found kids in Walla Walla trick-or-treating in the streets surrounding Whitman. On campus, professors, families and students mingled in halls outside decorated dorms. This year, the Whitman and Walla Walla communities have found different, more distant means of interaction in celebration of Halloween.
Adeline Rother, Senior Adjunct Assistant Professor of French and Francophone Studies, noted that while her family has adjusted to life at home, everyone was happy to have a reason to dress up and eat candy. While the family did not go trick-or-treating, Rother's daughter Alice decided to dress up as usual. After rubber-banding a black stuffed cat to a broom — and developing the necessary cackle to complete the ensemble — Alice was still lacking a witch's hat. Hesitant to visit a store due to COVID-19, Rother instead reached out virtually to the Whitman community.
"I posted 'ISO witch's hat' to the Whitman parents list-serv and immediately received a ton of offers," Rother said. "One colleague in [the] philosophy [department] included a photo modeling the hat they had to offer. Since I knew I wouldn't be able to interact with friends this year, it warmed my heart that so many colleagues were willing to hook me up with Halloween hand-me-downs from their kids. A colleague from [the biology department] took the time to deliver a hat directly to my porch. It's the kind of gesture you really appreciate when you can't interact with people."
Others, like Associate Professor of Geology Nick Bader, found creative ways to replicate usual Halloween activities. To the disappointment of his ten-year-old kid, the family did not go trick-or-treating this year; however, they did plan an outdoor Easter-style Halloween candy hunt with a small set of friends.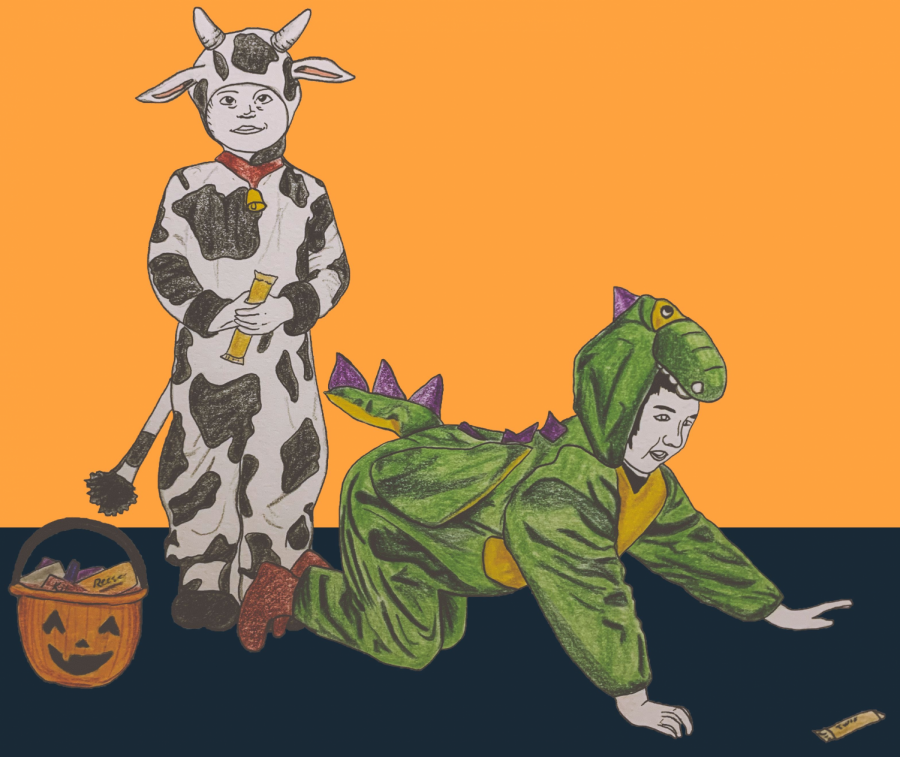 Students living off-campus in Walla Walla have also found their own ways to celebrate. First year Amelia Scharin and her housemates opted to watch spooky movies and create costumes from whatever clothes were on-hand. Coco Gray, a senior, devised a plan with her four housemates to trick-or-treat through their own home. 
"Because the situation is so hard right now during a pandemic, we just wanted to make ourselves feel happier about the fact that a holiday is coming up," Gray said.
After a trip to Goodwill for decorations, the five students began baking Halloween Rice Krispies troll cupcakes. On Saturday, the housemates and a few other friends went trick-or-treating indoors.
"Everybody gets to pick what they want to do for their room… You either make a fun drink or make a fun treat or you do a trick," Gray said. "And then we're just going to go trick-or-treat through the house."
Rother, like others, felt a sense of nostalgia for tradition.
"Trick-or-treating in the neighborhoods of Walla Walla is something I will miss tremendously this year. It makes me sad to wonder how long it'll be before the tradition comes back," she said. "Walla Walla had the best trick-or-treating in the world, in my opinion … Halloween was like a big outdoor party with lights flashing, kids running around and costumed people everywhere. Several colleagues and I would take our kids trick-or-treating year after year, and we'd usually retire to someone's house afterwards to let the kids play while the grown-ups enjoyed some festive brews."
Ingenuity has led to some new traditions, including Whitman's first Annual Halloween Costume Contest, run by Whitman Events Board (WEB). The event took place Friday, Oct. 30 over Zoom, and contestants signed up under the categories of fictional character, non-fiction role model or character and pair/group costumes.