AAUP responds to administration's decision to end multi-year contracts for non-tenure track faculty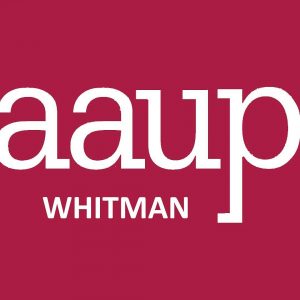 On Oct. 12, Whitman's chapter of the American Association of University Professors (AAUP) released a statement calling for the reinstatement of multi-year contracts for contingent, non-tenure track (NTT) faculty.
The administration's decision to terminate multi-year contracts for non-tenure track (NTT) faculty members is a reflection of the college's changing priorities in light of the coronavirus pandemic. Multi-year contracts provide faculty with more stability in their employment and less anxiety over the possibility of losing their job after a year.
Contingent faculty refers to either full-time or part-time employees who are off the tenure track. These faculty members become more vulnerable to contract changes, as they are not protected by tenure status. The termination of multi-year contracts makes these faculty especially vulnerable because employment after a year is no longer guaranteed.
The AAUP response statement lays out a national context for the decline of stable faculty positions in higher education institutions. The statement also delves into Whitman's responses to the issue of multi-year contracts in the past and the organization's hopes for administration decisions in the future. The national context portion of the statement contains general statistics and information about the decline in secure faculty employment.
Arielle Cooley, Chair of the biology department and Vice President of AAUP, clarified the organization's stance put forth in this statement.
"AAUP strongly supports multi-year contracts for all of our non-tenure track colleagues and Whitman has not gotten there yet," Cooley said.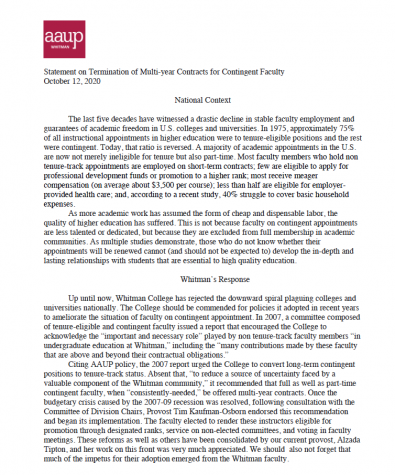 The statement commends Whitman's past efforts to create more employment stability for NTT faculty, but asks for further action. AAUP argues that the college has regressed by eliminating multi-year contracts for NTT faculty. 
"As more academic work has assumed the form of cheap and dispensable labor, the quality of higher education has suffered. This is not because faculty on contingent appointments are less talented or dedicated, but because they are excluded from full membership in academic communities," the statement reads.
The statement specifically addresses a 2007 report that the AAUP applauds for pushing to offer multi-year contracts to more NTT faculty. The committee for this report was made up of tenure eligible faculty and contingent faculty. At the time, then-Provost Tim Kaufman-Osborn consulted with the Committee of Division Chairs (CDC) and endorsed the report's implementation.
The response statement also referenced a letter put forth by all the different departments organized by the CDC. The CDC asked interested department chairs to write short statements about how the loss of multi-year contracts might impact their department. These statements were collected and sent to the administration.
Cooley elaborated on the beliefs of the AAUP and why they are fighting for multi-year contracts. Cooley believes that multi-year contracts will allow non-tenure track faculty to focus on their actual work rather than worry about the details of their employment.
"The reason [multi-year contracts are] great for Whitman is that [they] allow these non-tenure track faculty members to focus on the thing that they really want to do, which is great teaching for students, and spend less time on what they would rather presumably not be doing, which is being on the job market and wondering how they're going to cover their health insurance or pay their bills if their employment either is terminated or is reduced the very next year," Cooley said.
Alzada Tipton, Provost and Dean of Faculty, was quoted in an article published by The Wire on Oct. 8. She said that "as those contracts expire, we will be replacing them with one-year contracts, in order to give the college more flexibility." 
Tipton clarified what she meant by the use of the word "flexibility" when referring to the elimination of multi-year contracts for NTT faculty.
"'More flexibility' means that the college has more choice in deciding who it will hire for any given year," Tipton said.
Lisa Uddin, an art history professor and president of AAUP, shared the organization's next plans for promoting and advocating for multi-year contracts. 
"We are in the process of gathering stories from individuals who have been affected by this decision, with an eye to sharing those stories with the campus community while also protecting the identities and existing employment of those faculty," Uddin said.
Members of the AAUP have reported that they have not received any responses from the administration on the Oct. 12 statement.