First year students respond to living and learning pods plan
Overview
In an email sent Oct. 9, Whitman College President Kathy Murray introduced the college's plan in the event that all students are unable to return next semester for in-person learning.
"In this model, we would bring back some students to live and study in academic pods," Murray said. "Students would live together and take most classes together in groups of about 15 with additional classes attended remotely. Students who are interested would be chosen by lottery."
An email sent individually to first- and second-years from Dean of Students Kazi Joshua clarified that this plan only allows for about 180 first and second-year students to participate in the living and learning pods. Because the college requires students to live on campus their first two years, first and second-year students may be issued enforceable COVID-19 guidelines in residence halls. Juniors and seniors, however, typically live off campus and are therefore not eligible to participate in the learning pods. The 180 student limit was influenced by the 12 faculty members who volunteered to teach in-person classes of 15 students each.
According to Joshua, athletes and international students outside the U.S. would also be allowed to return to campus in this scenario in addition to the 180 domestic students participating in learning pods. 
Provost Alzada Tipton said that students who currently have permission to live on campus do not have to be in a pod in order to remain on campus this spring. If all classes, except for those in the pods, are to be online next semester, then these students' classes would continue to be online as well. Additionally, Johnson clarified that except for the price of room and board for on-campus students, tuition next semester will remain the same as this semester for all students regardless of pod affiliation.
Eligible students interested in joining the learning pods applied by midnight Oct. 19, and participants received their pod assignments or notice of their waitlisted status on Oct. 22.
Joshua described pods much like family units.
"[Students] will be able to walk downtown, go to the store and carry out other activities while observing health and safety protocols, masks, social distancing," he said. "I believe that students committed to being together will do the right thing and that will be okay because it's a shared responsibility… We believe that [students'] drive for community and togetherness will help us have this successful experiment of being together during COVID-19."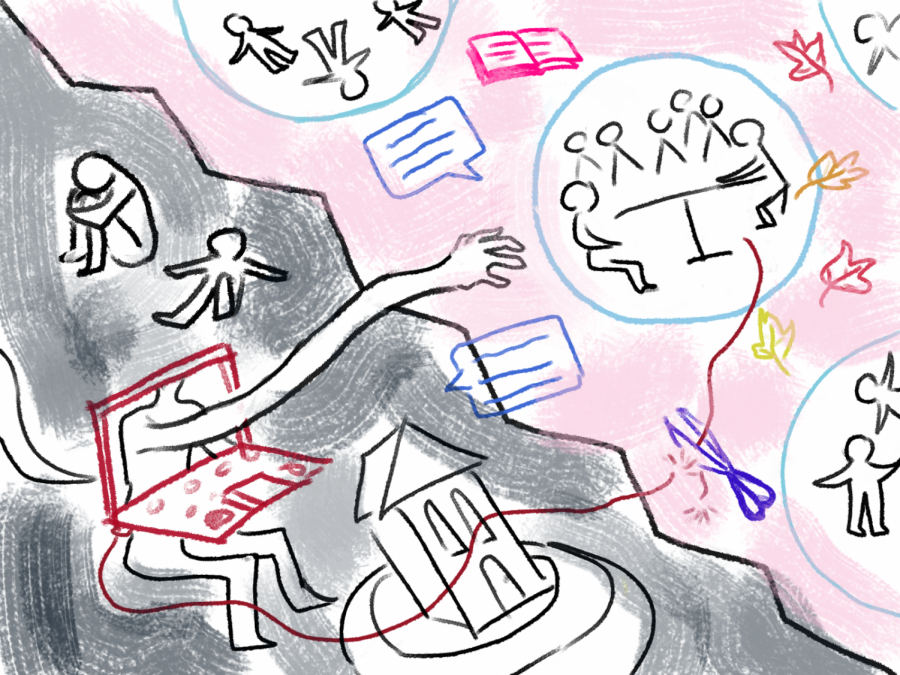 Criticism
Students have found some refuge in the sentiment that "we're all in this together." Many, including first year Rachel Haughton, worry that the learning pods would change that. 
"The biggest issue I have with the pods is the division of the freshmen class, and how some freshmen will be on campus and some freshmen won't be on campus," Haughton said. "I just think it's so important for freshmen to have the same experience all across the board and to be unified in that experience." She explained that, with the exception of total remote learning, "the class of 2024 has not had that bonding experience yet."
Like other first years, Haughton is also cognizant of the situation's complexities. 
"I want to emphasize that they're doing their best," she said. "It's not perfect—and obviously nothing's going to be perfect—but [the plan] could just be better."
Haughton is not alone in her criticism of the plan. First year Jake Wang, with the support of others from the class of 2024, sent an open letter to the Chair of Whitman's Coronavirus Task Force Peter Harvey, which was published as an Op-Ed in The Wire.
"While all Whitties are experiencing the difficulties of remote learning, the class of 2024 is, perhaps, impacted the most," the letter reads. "The majority of us have yet to establish a support system in college, and many of our friends from high school have departed for their colleges in early fall. More importantly, if academic pods come to fruition, the class of 2024 will be divided over those who received a pod assignment and those who did not. This will be detrimental to the integrity of our class."
The letter implores the task force to offer all first years the choice to return to campus next semester. In an interview, Wang clarified this hope:
"Our friends have left for their colleges, so our support system locally is pretty much nonexistent," he said, referring to the class of 2024. "We don't have a lot of support, and therefore, having us back—whether we're doing online classes or in-person classes—is going to be beneficial to us."
Response to Criticism
Critics of the learning pod plan say it would leave behind many of the students who need community support the most. These include first years and transfer students who have not had an opportunity to build support networks on campus. Many have only met a few other Whitman students outside of online classes, and those are often people they've only talked to online.
In response to this criticism, Joshua called it "a fair observation."
Acknowledging the difficulty of transitioning to college and the experiences of international students in different time zones, he added, "We think there are differences in how people experience not being on campus," but said "I actually do not accept that other students need community more than other students… we think that everybody needs community."
Joshua also mentioned that the lottery idea for the pods system may not have a significant impact.
"The way it worked out is that the folks who applied were almost approximate to the (space for) folks in the pods," he said.
Tipton also acknowledged that most schools that are bringing back some (but not all) students are doing so by classes or by program.
However, she said, "I felt that this program was more fair, in that both first years and sophomores have a chance to be in the program, while juniors and seniors have other chances to be in Walla Walla."
Harvey also commented that the class of 2023's first year experience was cut short when Whitman moved to online learning last spring. In an email response to the open letter, Harvey recognized the plan's potential for flaws.
"Unfortunately, there just are not a lot of good choices in a pandemic, and we are trying to balance the needs of many in this process," he wrote. "I truly hope we can find a way to invite everyone back next semester. We are working hard to do so."
This fervent hope was echoed by Tipton, Joshua and the Associate Dean of Students Nancy Tavelli, but many students still feel uneasy about the plan.
"The Whitman community is a big part of why I chose this school," Haughton said. "I just feel like I haven't gotten to experience it yet, and that the pod plan is not consistent with the unified and equitable community that Whitman presents itself as and that I chose to be a part of."
The open letter currently has 54 signatures.