Pine Cone Creamery: Walla Walla's new ice cream spot
Although the pandemic has led to many business closures in recent months, a new ice cream spot has managed to open in the heart of downtown Walla Walla — generating buzz among Whitman students spending the semester in town.
Kory and Rachel Nagler, owners of popular breakfast spot The Maple Counter Cafe, debuted Pine Cone Creamery early September at its 3 S Colville St. home. 
The shop has 18 rotating flavors — three always dairy-free — including "Chocolate Brownie," "Honey Lavender" and the Lucky Charms-inspired, "End of the Rainbow." 
"I was shocked that something opened amidst all of COVID, but they seem to be doing pretty well," Whitman senior Ori Alon said, who's worked at the Portland-based Ruby Jewel ice cream parlor in the past. "There was kind of a line both times I went, which for an ice cream shop already is pretty big news, for Walla Walla is pretty big news and amidst a pandemic."
For the Naglers, the creamery is a long time in the making. 
"We've been talking about opening an ice cream shop since before we even opened The Maple Counter and we were even considering doing that first," Rachel Nagler said.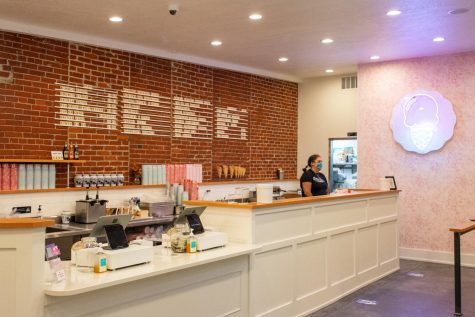 With a family background in running tree-themed breakfast restaurants — including The Oak Table Cafe in Sequim and The Birch Door Cafe in Bellingham — they opted to go down the breakfast route first, opening The Maple Counter in 2011. 
The Naglers' dream of opening an ice cream shop came together last summer when they found the Colville Street location and then began remodeling it in December. As COVID-19 restrictions set in mid-March, however, their attention shifted back over to Maple Counter and the creamery's planned summer opening got pushed back.  
"With COVID everything got delayed and so that has been nerve-wracking for us knowing that we're opening right before winter," she said.
Rachel Nagler developed a fondness for independently-owned ice cream shops during her time scooping at a Seattle ice cream parlor throughout college. Once the couple was set on starting their own ice cream shop, Kory Nagler took an ice cream short course at Penn State to learn the science behind creating the perfect scoop. 
"[Kory is] the one who runs the kitchen at Maple Counter and creates all the recipes, and he loves that aspect of food service," she said. "So he was super excited to take on the learning process of how to make ice cream and all of the chemistry goes into it."
Situated next door to Graze sandwich shop, the creamery is a welcome addition to a growing number of eateries on Colville Street.
"It's certainly bringing in people, which is excellent because Colville is kind of a foodie street," said Erick Turner, owner of neighboring shop Butcher Butcher Walla Walla. "Because on Colville we have Andy's Market just north of us, now we have us — the butcher shop — and then we have the patisserie of course and then the bread company right next door, so you could pick up your whole dinner on one block so why not pick up ice cream while you're shopping."
Ori Alon shares a similar sentiment, viewing the creamery as a symbol of Walla Walla's ever-developing foodie scene. 
"I feel like it's growing pretty fast and the fact that we have an ice cream shop with sort of funky flavors and five dollar cones was an indication to me that it's growing, but it was super fun," he said.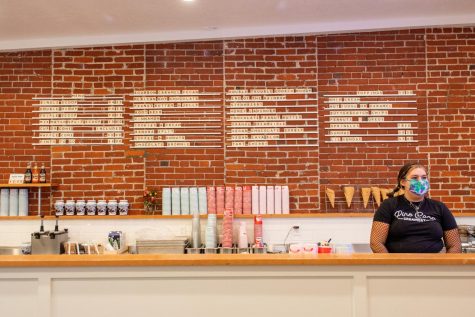 Pine Cone Creamery offers scoops, cones, sundaes and pints to-go, with a single scoop for $4.25 and double for $6.25. As pandemic restrictions persist, the Naglers are hoping that going out for ice cream can be a timeless activity even throughout the colder months ahead. 
"You can't go to the movies, you can't go to the park, but you can go get ice cream," Rachel Nagler said. "So we're hoping that works in our favor even throughout the winter."
Pine Cone Creamery is open 12 p.m. to 9 p.m. daily at 3 S Colville St. You can learn more at thepineconecreamery.com.