Inclusion Task Force publishes final report: 31 action items on the docket
The Inclusion Task Force created this summer by Whitman President Kathy Murray published its final report on Aug. 27. Student, faculty and staff involvement in the task force culminated in a list of specific proposals. The report includes a multitude of action items slated to be explored and enacted during the 2020-2021 school year.
The Task Force
The task force, announced in a school-wide Whitman Today update on June 8, renewed focus on creating a more just community at Whitman in the wake of national and international protests following the murder of George Floyd. As referenced in a June 14 email from Murray, the task force was also created after student action urged Whitman to make specific commitments towards becoming a more inclusive community.
"The task force is … charged with working to make Whitman a more inclusive and equitable community, where every member can share a sense of belonging," Murray wrote. "It will examine systems and structures within the college through an equity and inclusion lens."
Chaired by Vice President of the Office for Diversity and Inclusion Thomas Witherspoon, the task force was composed of three teams that focused on the concerns of faculty, staff and students. These teams each consisted of one student, one faculty member, one staff member and a member of the president's cabinet. The teams each reviewed past criticisms and demands made of Whitman (these documents are available in the repository of reviewed documents on the task force's website ), held listening sessions and proposed solutions as action items.
"[The task force] had a clear scope of work and delivered an actionable continuation of the work already done to improve inclusion at Whitman College," Witherspoon said.
The action items published on the Inclusion task force website include: 1) A feasibility study for the development of a Black Studies Program; 2) The development of a strategy to increase the number of Black students enrolled at Whitman; 3) The development of a formal faculty recruitment program with historically Black colleges and universities (HBCU); 4) Exploring a required first year course focused on race and ethnicity. The final report also includes a plethora of additional goals. Action items are listed by action lead, associated partners and a Fall 2020 or Spring 2021 start date.
Laura Sanchez, Director of the Intercultural Center, was impressed with how the task force was run and enjoyed her time on the student subcommittee.
"All the committees were made up of students, staff and faculty. You have all of these voices and perspectives all representing the population across campus; so, to me with that setup it feels like we are all making a commitment to move forward on these action items," Sanchez said. "If we're all trying to commit to that together, then we also need to commit to helping each other out. Because there is a lot on there. But I think it's doable."
In late June, Hannah Paul and Aliyah Fard, the President and Vice President of Whitman's Black Student Union (BSU), respectively, co-wrote "Results May Vary." The Op-Ed noted that the Inclusion Task Force is the third of its kind to be created in a span of six years.
"Historically, these task forces have not met the demands that students have presented time and time again," the document says. "BIPOC students have already created instructional documents that address the inquiries of the task force … Therefore we, as BIPOC students, have created this particular document to demand Whitman administration to take the following, necessary steps in creating the anti-racist campus we are all working towards. We need action leaps and outcomes," the document continues.
"Results May Vary" then reiterates the demands written by Whitman's BSU on Sept. 14, 1970 — many of which were never addressed by the administration.
Origin
"Results May Vary," along with documents such as "For The Record: Official Internal Review of the 2019 Power and Privilege Symposium" and "We Need to Thrive: A Manifesta," was reviewed by the task force and directly influenced its proposed action items. A feasibility study for a Black Studies Program, a proposed additional required first year course on race and ethnicity and the aim to increase the enrollment of Black students all address demands articulated in "Results May Vary."
"We Need to Thrive: A Manifesta," written by a group of faculty women of color, was published in The Wire on Apr. 25, 2019.
The Manifesta, as the authors say, derives from a refusal to "participate in the institution's gut impulse to see the exodus of women faculty of color through a narrative of individualization ('she left because….') that blinds it to systematic patterns and institutional accountability."
"We Need to Thrive: A Manifesta" continues with a list of structural demands. The following action items, as written by the task force, derive directly from the Manifesta, including a Staff Development Day, the development of a formal faculty recruitment program with HBCU, review of paid leave and other leave benefits for staff and faculty and proposed usage of self-reported data on advising and mentoring students in diversity, equity and inclusion matters to inform decisions about salary increases.
Effects
Thomas Witherspoon is working continuously with action leads to begin enacting the task force's proposals.
"We are currently working with the fall roll-out action step leaders to ensure planning, managing and tracking these action steps that are underway. Later this fall, we will do the same process for spring action step leaders, said Witherspoon.
Chair of the Faculty Barry Balof is the action lead for the administration of a feasibility study to explore the development of a Black Studies Program. Balof and the General Studies Committee are also in charge of exploring the addition of a second semester required first year course on race and ethnicity. In an interview he emphasized the importance of faculty commitment to the success of long-term curricular changes.
"Any curricular changes always have to be faculty-driven. We'll gather interested faculty members to study the feasibility of the program, and whether that feasibility looks like an enhancement of things that we have now, or whether it's the creation of a new program or hiring a few faculty or many faculty. That's all up to what the feasibility committee comes up with," Balof said. "I anticipate looking at similar institutions, what programs they have, how those programs get started and what sort of resources they need going forward. At this stage again we're still just looking at feasibility — whether that's something that we can achieve at Whitman. How that actually materializes remains to be seen. It probably goes beyond the timeline of my tenure as Chair of the Faculty."
This process is already in motion with a meeting on possible curricular changes scheduled for next week.
The Intercultural Center, directed by Laura Sanchez, has also begun work on its respective action items. The center is responsible for providing required inter-group dialogue (IGD) training for all campus leadership positions, offering monthly opportunities for IGD between staff and for developing a program facilitating community engagement "around and across religious affiliations."
"We want to use the Inter-Group Dialogue model to introduce and engage in difficult conversations and as a way to practice meaningful dialogue while exploring topics that can be challenging like social identities, racial equality and social justice," Sanchez said.
Sanchez is busy developing monthly opportunities for staff and faculty to engage in IGD-led group conversations. She plans to launch these opportunities this semester via Zoom.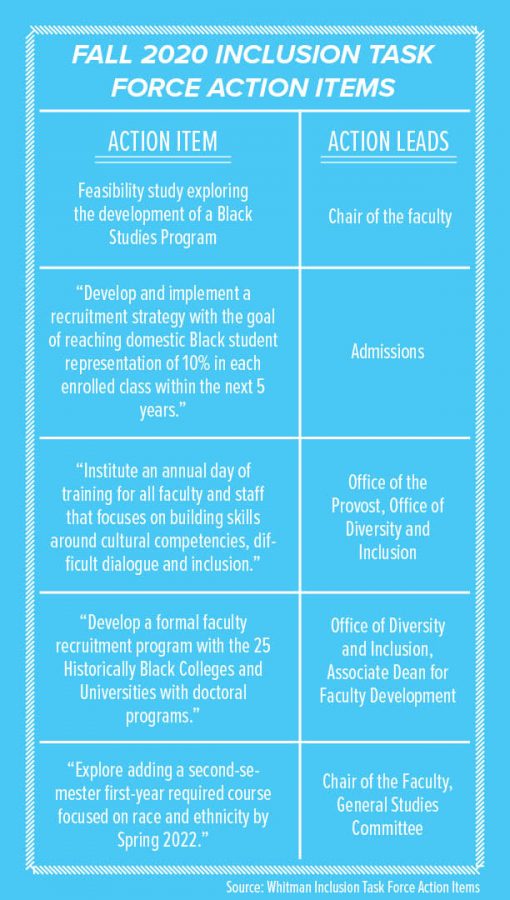 Next Steps
Balof describes his reaction to the task force's report as generally hopeful. He emphasizes that inclusion work is always ongoing.
"[These actions] go far, and I think they do represent positive progress. All of this comes with the understanding that this work is never done," Balof said. "It's a continuous process throughout, and so we need to have benchmarks as to where we're going to monitor our progress on these action items and from this point in time…The idea is that this will inform the next set of actions that we take."
Sophomore Aby Ramata is the president of the Whitman African Students Association and was a contributor to "Results May Vary." She expressed similar hope about the task force's action items.
"We'll find new ways to do things better. I think it's great that [Whitman is] actively listening, because there are so many steps that involve actually listening. There is no finish line when it comes to inclusion and creating a better environment for everyone. You cannot have a fixed set of actions; actions have to change because people demand change, because we constantly change with time," Ramata said. "Is it far enough? I think it's far for now, and I think that Whitman is actually willing to go further because they are actively involving people in the conversation.
This sentiment was echoed by Witherspoon in an email to The Wire.
"This document is not the panacea for creating an antiracist campus climate, but rather the first steps. Being antiracist is a community and individual effort. The task force action steps are iterative and will require investment from the community as a whole. I firmly believe that the goal we developed centered the learning from community members during this process and will continue to be refined as we learn more," Witherspoon said.
Sanchez added that she is thankful for student-led activism.
"Protest and activism is hope…If you're putting yourself out there it's because you believe that a society can become better, and I think we can't forget that," Sanchez said. "The hope that it brings me is that there is action and there is transparency. There is accountability because of that transparency."