Although its doors are shut, Penrose Library carries on
While Penrose Library's doors remain shut to the public, its employees continue to digitize records and expand digital collections to help faculty and students with their online semester.
The library still offers a host of services: curbside pickup to borrow books, mail delivery to those outside of Walla Walla, electronic course reserves, the ability to request PDFs of book chapters and articles and the ability to request material from Summit libraries.
Currently, access to the building, rental bikes and physical course reservations are unavailable.
College Librarian Dalia Corkrum has been working to develop Penrose Library's digital collection for several years before the pandemic started. Over the years, digital journals became available and replaced print journals. According to Corkrum, about five years ago, ebooks became more popular, and Penrose Library began buying more digital academic books in addition to other ebooks.
According to Head of Collection Management Roger Stelk, the librarian profession lends itself well to this type of rapid technological change.
"I've been in the library profession for about 30 years now, and when I started we were still using card catalogs," Stelk said. "With the advent of the internet, there has just been non-stop change in my profession through this time…The ongoing changes of technology and things of that ilk in the library profession [have] really allowed us to be able to better adapt to our situation today. This type of situation also requires change, and trying new things. From that standpoint, we're kind of well-versed in that setting."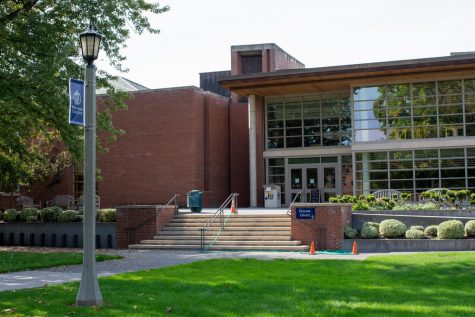 Several years ago Corkrum initiated a relationship with HathiTrust, a database of books, manuscripts and printed materials that are held in libraries around the country. It will offer digital access to books if its library partners own a physical copy.
Penrose Library activated its digital access service when it closed mid-spring semester when the campus transitioned to online learning. Corkrum originally joined HathiTrust as a form of insurance in the case of a fire or flood.
"And it's a really good thing we did," Corkrum said. "Because [the pandemic] happened, but none of us would have anticipated it."
More recently Stelk has focused on also implementing new arrangements with a variety of  vendors in order to provide access to more electronic resources.
Some of the vendors include Swank Motion Pictures, OverDrive and Avon, which provide access to feature films, ebooks and documentaries, respectively. The latter vendor holds over 70,000 films.
The library slowly reopened during late July after it originally closed during the spring semester.  A few employees were able to come in and scan books and inter-library loans, as well as receive and catalog books that had been stacking up while the library was closed. Over the summer library employees worked to create a system for remote borrowing and devised different plans for building access if students came back to campus. 
Archivists are working both from home and at the library to digitize records. Associate Archivist Dana Bronson is currently working with many faculty members to help provide materials for classes.
"Despite not being able to bring classes into the archives this semester, we are still working closely with faculty to integrate archival materials into their teaching," Bronson said. "One of my favorite parts of my job is to be able to connect what students are learning in the classroom to archival materials we have on campus; so, I'm thrilled that we are still able to have those interactions virtually."
The archivists have continued to work with professors to find new and innovative ideas for classes. According to Corkrum, Archivist and Head of Digital Services Ben Murphy filmed himself paging through a medieval book for Assistant Professor of English Mary Raschko's class on rare books while Raschko lectured.
Student archivists are currently working on transcribing an index of thousands of photographic negatives relating to the history of Walla Walla and local families. Some negatives date before 1900. Archivists did not have time to work on the negatives while the library was open, but its closure has allowed employees to work on them from home.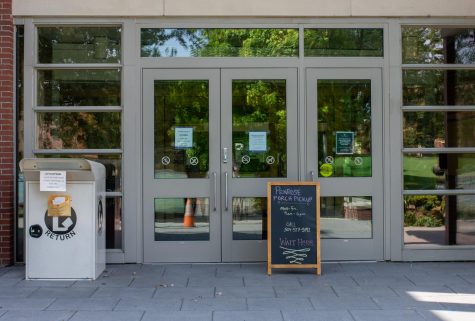 The majority of library employees are working from home, but several employees work in the building at the circulation desk, collection management and the archives in addition to several student employees who work to retrieve and shelve books.
The situation has proved challenging to many.
"I don't think I've ever worked more intensely and as long hours as I am doing now, and it's exhausting," Corkrum said. "I think all of us are suffering from Zoom fatigue, and working in an environment where there are so many unknowns. We don't know what tomorrow is going to bring… A lot of my time used to be spent on big strategic issues: Where do we want the library to be in five years; how do we support the academic program; how do we make sure that we're positioning ourselves to truly be an academic library in the 21st century. Now, most of my time is spent thinking about what we are going to do tomorrow — the detail of constantly adapting to changing conditions."
The pandemic and subsequent policy changes have shifted library-use statistics: streaming services and digital resource usage has increased while circulation statistics are lower than last year. The main difference this semester, however, is the physical closure of the library.
"Not only do all of us miss the energy [of students], but [we miss] the intellectual work that's going on, overhearing conversations as we walk by," Corkrum said. "Even though we're very good at working across the screen, there's still something about being next to a person, and watching them light up when all of a sudden a concept dawns on them. So we miss that terribly."