Tree falls outside of Penrose Library
On Sunday, Feb. 23, the Engelmann Spruce tree outside of Penrose Library's main entrance fell due to a wind storm. By 5:27 p.m., the tree had been cut so that it did not block the major pathways leading to Olin Hall and the Hall of Science. The rest of Whitman's trees remained unscathed, though many of the sidewalks both on campus and in downtown Walla Walla are now decorated with broken branches.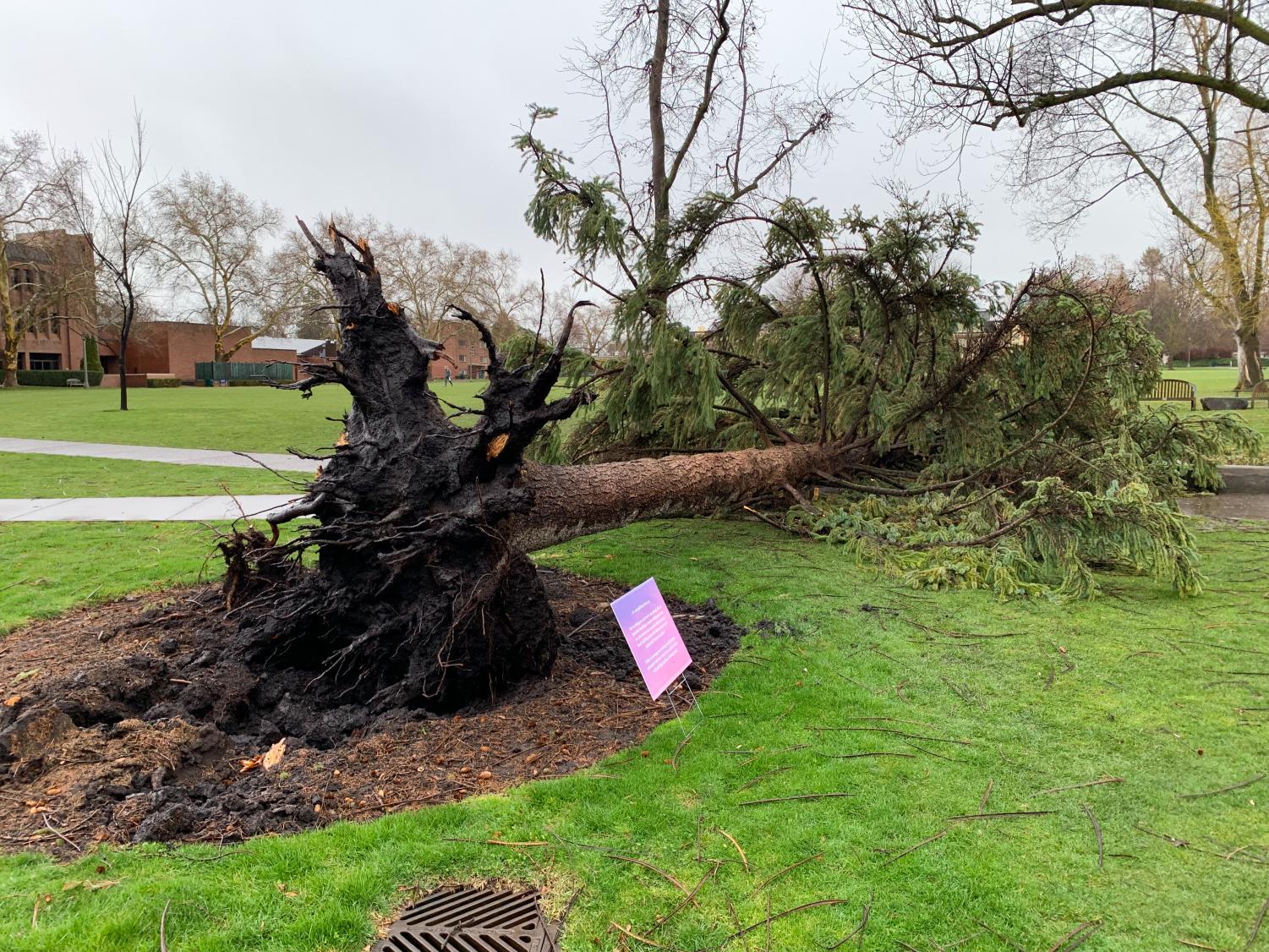 The fallen tree will likely be removed within the next week. It is unclear what, if anything, will replace it.
Jeff Jensen, the grounds supervisor of Whitman College, commented on the fallen tree.
"This tree was in good condition and we have had no issues with this tree in the past. Looking at the base of this tree, the roots appeared to have been severed, probably due to trenching during the library remodel several years ago. This area stayed wet from being a swale (a low or hollow place) with a storm drain, along with the wind, and the weak roots, [this] led the tree to fall over. I would estimate the tree to be about 60 years old, [and] around 60 ft. tall," Jensen said.
The base of the tree had recently become the home for two signs. Now, they read in stark contrast to the fallen tree. The first, printed on a green background and bordered by white outlines of pine cones reads, "A message from above: Look up, Be still, Breathe."
The second, on a background of pink and purple reads, "It's a stressful time of the year."
"There are things you can do to be calm, though," the sign continues. "Did you know that something as simple as looking up at a tree for a few minutes can measurably calm your system down? And did you know that Whitman has a 1:1 tree-student ratio? They're everywhere! I'd like to encourage you to look up, be still, breathe, and connect with trees. I hope these next few weeks go well, and I hope you have a relaxing break."
Neither sign designates an author, but the "1:1 tree-student ratio" is touted in many of Whitman College's brochures, as well as on its website.