Inaugural Unity Week promotes engagement in activism
Whitman College, in coordination with Walla Walla University, Walla Walla Community College and Walla Walla residents, hosted its inaugural Unity Week – a week of events in honor of Dr. Martin Luther King Jr. and the civil rights movement – beginning on Monday, Jan. 20. 
While Whitman College has hosted various speakers and events on Dr. Martin Luther King Jr. Day in the past, this was its first attempt at creating an annual event that students could rely on and participate in after returning from winter break. The organizing committee — composed of key individuals from the various communities — hoped to bring college students, faculty, social justice leaders, activists and city residents together through a series of workshops, presentations and other activities.  
Laura Sanchez, the director of the Intercultural Center, was part of the organizing committee. She provided insight into the vision and goals of Unity Week. 
"It was really important to create this umbrella of programming that would be sustainable over time," Sanchez said. "It would be counted on as an annual week of activities that focuses on positive social change, social justice, creating opportunities for dialogue and also providing tools and methods for how to move forward in this type of work, whether it is through showing up, other methods and best practices that have worked for social change — such as storytelling — and, of course, getting into our local politics as we saw with [keynote speaker] Mariah Parker."
"We want to create different methods and tools, all with the underlying message of the core teachings of Dr. Martin Luther King Jr.," she added. 
Whitman has been involved in the annual Dr. Martin Luther King Jr. Peace March since its inception; the committee behind Unity Week hoped to capitalize on this by creating a week dedicated to discussing and promoting social justice and activism within the greater Walla Walla community.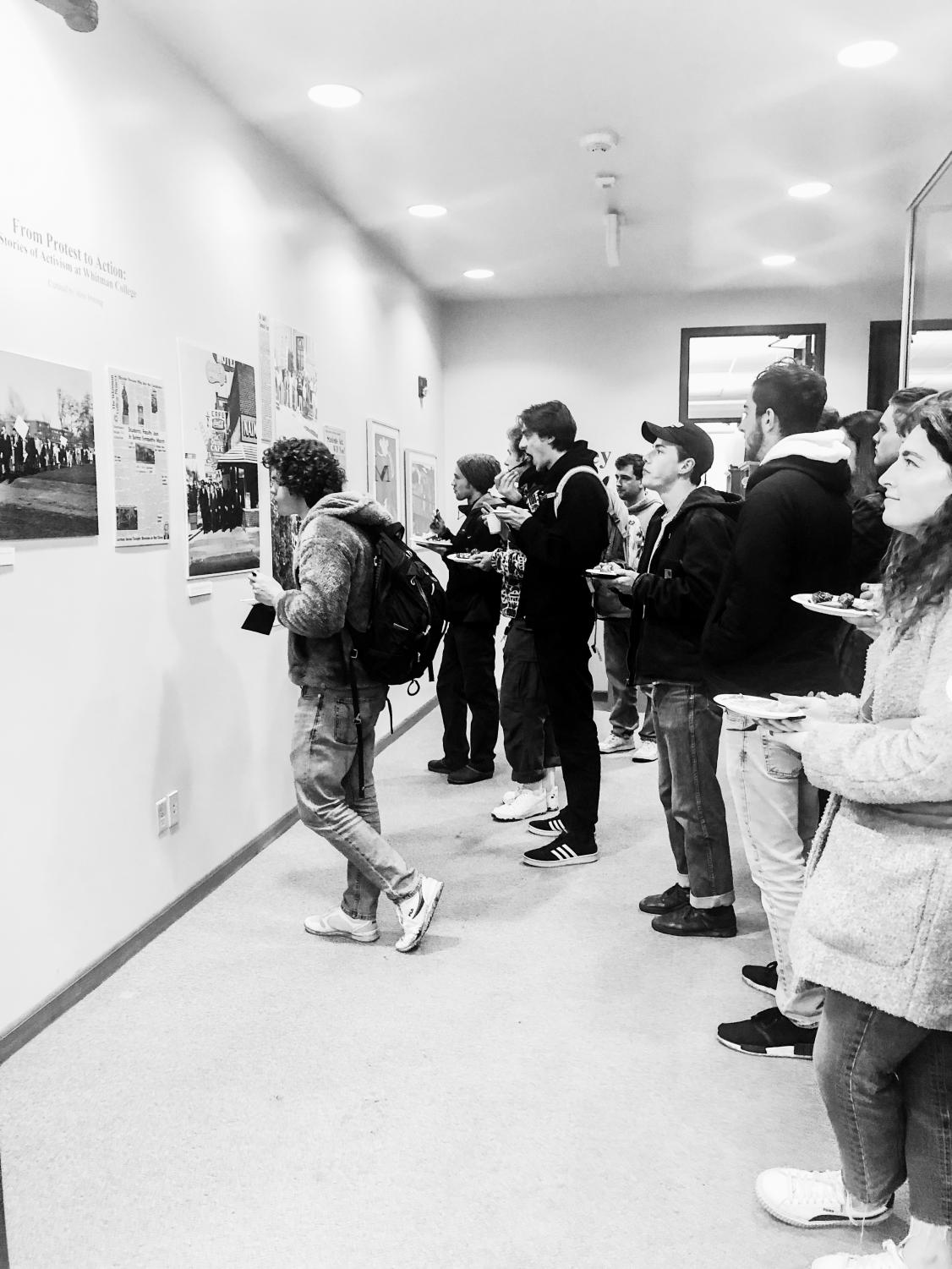 "Being a newer staff person," Sanchez said, "I have been introduced to the idea of the Whitman bubble and so, keeping that in mind is why we're so intentional in creating programming that brings us all together. When we're thinking about social justice work, it is everyone's responsibility. We want to provide an opportunity to educate and share — stories, experiences, etc. — with a wider group of people, to have a greater effect in the long run."
Gabby Rose, a first-year student and co-programming lead of the Power and Privilege Symposium, emphasized the importance of dedicating time to these social issues, especially in the current political climate. 
"We wanted to try something new and expand on Martin Luther King Day," Rose said. "We only have a few days that are for certain things — like Power and Privilege — and that's not enough. The fact that we had it for a whole week, and had multiple events that students came to — I think that it helped to expand what we already have in the Whitman community, as well as checking for ignorance or having conversations around hard topics."
On Jan. 21, Rose introduced the keynote speaker, Mariah Parker. Parker is a queer hip hop artist and community organizer from Athens, Georgia. She was recently elected as a district commissioner in her home county and is currently a PhD candidate at the University of Georgia. Parker was signed into office with a copy of "The Autobiography of Malcolm X," which was held by her mother. She recently worked to eliminate discrimination in the government's funding of nonprofits and helped to push a referendum for infrastructure.
Sanchez spoke about the decision to ask Mariah Parker to be the keynote speaker.
"A huge part of it was what [Mariah Parker] has been able to accomplish in such a short period of time, especially in her twenties," Sanchez said. "We felt that would be very relatable to our students here at Whitman, seeing that, at any age, a huge impact can happen if you are driven to do that and if you have the right support pieces in place, because Mariah did have that support to be able to say, 'I'm going to do this.' So, she has very current tools and methods that she has just applied, and is applying right now, that she could share with everyone."
Many of these sentiments were echoed by Rose.
"We wanted someone who was growing in the politics of our political climate and also someone who is new and edgy who could connect to younger people, rather than someone that is older," Rose said. "I think that it's crucial, especially for college students, to see people like them. Not people who are inside the box of criteria but outside. She's a hip hop artist as well as a politician."
During the keynote talk, Parker called for "radical honesty." She began her speech with a rap and talked about how her background in hip hop translated to political office. Parker pushed people to run for office in order to instigate change, saying that often, the first step is the hardest part. 
Parker said that destigmatizing failure is necessary, adding, "Bravery… is the willingness to take fear's hand and walk forward." She ended the speech with a question for the audience.
"What's your first step?" she said.
As part of the pre-keynote reception, the Maxey Museum Exhibitions and Collections Manager Libby Miller and senior economics major Alex Hwang put together an exhibit. It focused on Walla Walla's history of civil rights movements. Sanchez hoped that this, in conjunction with Mariah Parker and the themes of Unity Week, would inspire student artists to explore activism in their own mediums. 
"Unity Week should showcase different ways that people can take action and that having a conversation and showing up – those are two incredibly effective ways to create change," Sanchez said. "And of course there are other levels and other methods, but just showing up, that's one thing. You're learning and you're listening, and you're listening to someone else's experience whether it's a keynote or a panel or a training. My focus, at this point, is that showing up and having the conversation is doing something. So, let us give you something to show up to."