Reorienting the first year experience
On Thursday, Dec. 5, Dean of Students Kazi Joshua sent out an email to the student body addressing a potential removal of the first-year pre-orientation "Immersion" programs, which includes Scrambles, SCOREs and Explorations. 
The proposed restructuring of orientation and pre-orientation was developed from an evaluation conducted by an administrative committee. This committee is chaired by Dean of Students Emeritus Chuck Cleveland and comprised of faculty, staff and students.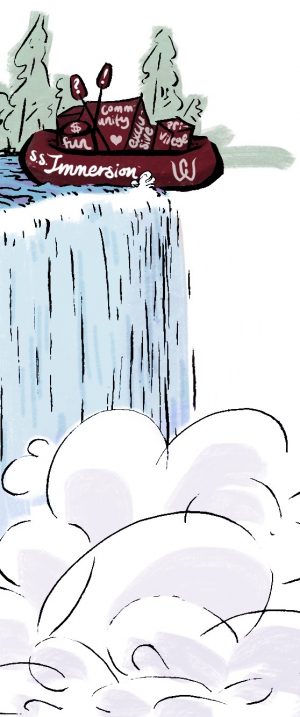 The committee proposed a restructuring of orientation that would get rid of Scrambles, SCOREs and Explorations, and instead would require all incoming students to complete an abbreviated version of an orientation trip. Everyone would be divided into small groups for these trips, which would take place over a course of two days. They could either be on or off-campus and would maintain the essence of current "Immersions" programs by being outdoor, interest or service-focused. The class would be divided into two cohorts, which would take turns going on their trips while the other would go through registration and advising. If agreed upon after going through further student feedback, the proposal will be implemented in two years.
In working towards the school's missions of diversity, equity and inclusion with the recognition of how Whitman pre-orientation plans are exclusive in cost and time, both SCORE and Explorations were made free of charge this year. 
Senior Clauds Bueermann has been a Scramble leader for two years and works as the Outdoor Program's trip coordinator. Bueermann stated that increased accessibility could be achieved by promoting these types of financial access points, not by a complete restructuring of the programs.
"Scrambles are not as inclusive as they could be and there are a lot of other issues but taking them away is not necessarily a solution," Bueermann said. "By removing this really key piece, you take out the ability for a huge number of our students who went on Scrambles, SCOREs and Explorations to make friends…once that gets removed out of the community, there isn't this beginning linking piece." 
Not only would the effects of this change reach the Scramble community and the student body as a whole, but it would also impact the general accessibility of the Outdoor Program (OP).
"For the OP I think it has pretty large repercussions … it's a very insular bubble of the outdoor community and by removing an access point … you're making the outdoor community and the OP even more exclusive," Bueermann said.
This reinvented orientation program would also have implications for the Student Engagement Center (SEC) in the same way. Junior Madeline Kemp, a SCORE intern, spoke on how the introduction to SEC services through SCORE is crucial to student interaction and participation in the resource. Additionally, junior Zidane Galant-LaPorte, another SCORE intern, explained how the abbreviated rendition of SCORE would have significant implications on the Walla Walla community as well as incoming students.
"Since SCORE is engagement-based, it's not just about the participants and the leaders but it's also about the community members and organizations that we have pretty long-lasting and sustainable relationships with," Galant-LaPorte said. "One of the concerns that has come up is honoring their time and honoring the work that they do and not just using them as an outlet to get something done for them."
Kemp reflected the same worry and spoke on how the condensed SCORE alternative may end up unintentionally altering the values of the program.
"The fact that these new programs are all designed around small group bonding is where you end up having community partners be more of the means of producing small group bonding instead of an actual mutually beneficial exchange, which I think SCORE was able to foster," Kemp said. "I don't think that couldn't happen with this new model, it's just not the same approach from the very start and that could become something problematic."
Another potential issue with this new plan is that because these trips would only cover two days, it would not provide enough time for the students in these small groups to really get to know one another and form the strong bonds that the current "Immersion" programs are known for.
"I'll lead trips for the OP that are either overnights or day activities and then by the end of it… you're not necessarily getting bonded with the people next to you which is what these orientations trips are geared for. So, if you're not going to bond with people, it seems like this is an extra step that should just be eliminated," Bueermann said. "If you're not going to take the time to spend the time in the field then why bother doing these trips."
Galant-LaPorte described the structural changes that had to be made to SCORE this year after getting reduced from seven days to five, and the tensions that arose from the program feeling more rushed than it had in past years. 
Kemp and Galant-LaPorte both sat down with President Kathy Murray about this topic and reflected that, despite these complications, the motivation behind the proposed changes is guided by good intentions.
"We should take pause and see how our programs are exclusionary and do our best to be more inclusive through that. Scrambles, SCORE and Explorations could all benefit from thinking about that," Kemp said. "All the changes and evaluations of orientation, in general, come from their strategic plan to make things more equitable and inclusive and the overarching goal is that they want all students to have a small group bonding experience like those that Immersions provide."
Galant-LaPorte echoed these thoughts, stating that despite the opportunities that will be lost with the new orientation structure, there are benefits that will emerge as well. 
"We have to think beyond ourselves and that's what I would hope that people feeling frustrated can start to do. It's not really just about your experience anymore, it's thinking about those students weren't able to do Scrambles in the past and maybe what it could've been like for them to have that small group bonding even if it is just two and a half days," Galant-LaPorte said. "I think you can start a fruitful experience going to Bennington Lake and hiking around or going to one community partner and helping out with the project and learning what they do. It'll look different but I think we have to let go of a little bit of the past and have optimism about what the future could look like."