On-campus housing for juniors and seniors takes shape
Residence Life 2.0, a housing committee filled with students, faculty and staff, is currently working on the design stage of on-campus housing for juniors and seniors. The new housing proposal was formed with concerns over decreased availability as well as the separation of junior and senior housing, typically off-campus, from the rest of campus.
Dean of Students and Vice President of Student Affairs Kazi Joshua co-leads the design group with Chief Financial Officer Peter Harvey. Joshua says that discussions about on-campus housing for juniors and seniors led to talks on serious concerns over off-campus housing quality. 
"We began to see that there were conditions that lacked safety, that lacked sanitation, but also that the experiences were inadequate beyond the second year for students," Joshua said.
Last year, focus groups were conducted by Michelle Janning, Professor and Chair of Sociology, on student perceptions about on and off campus housing. Director of Institutional Research Neal Christopherson conducted research that followed a class of students throughout their time at Whitman and gathered information about the students' housing experiences. The committee is using that information when working with architects on designs.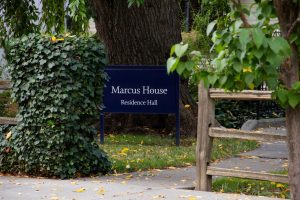 According to Associate Director of Residence Life and Housing Andrew Johnson, stress over housing from students was a major indicator that upperclass student housing was an issue. 
"Some of the feedback we got… [from research] was that people are looking for housing as early as the beginning of their sophomore year," Johnson said. "And there's a lot of stress that comes with that."
Nancy Tavelli, Associate Dean of Students and Director of Residence Life and Housing, believes that planning for Whitman's future includes considering the ramifications of rental cost increases.
"Students are finding it harder to find affordable housing. And in 20 years, Walla Walla may look very different than it does now," Tavelli said. "So, [we're] making sure we are planning for the future." 
One of the students on the committee, senior Ellery Shore Nelson, emphasized that the team is trying to use input from the Whitman community to design successful housing.
"[The committee is] trying to have as much input [as possible] so that each space is very intentionally designed and brought about so that it will actually be used," Shore Nelson said. "You just don't want to be building something huge and new that's not going to be utilized by the students who it was made for."
The Board of Trustees authorized the firm ZGF Architects LLP, which designed Stanton and Cleveland, to start on designs in May of 2019.
The housing will be in the cul de sac at the intersection of Boyer and Marcus, replacing Marcus House. The current estimate for the amount of housing at the site is between 178 and 210 beds. The earliest the housing would be finished is 2023, largely dependent on fundraising. The group will keep the award-winning Weeping Cherry tree in front of Marcus House and will consider placing College Creek above ground for that housing block.
According to the design group, the rent will be comparable to off-campus housing in Walla Walla. Students living in the housing would not be required to be on a meal plan.
A major concern for the team was the idea of accessible housing for all students.
"Right now, one of the things that happens is that sometimes houses will be passed down from one group of students to the next group of students, which can mean that finding a place to live is about who you know, or the social capital you have," Johnson said. "What we want to do, is by providing that space, make it more transparent and more clear for all students, no matter what background you're coming from, to have access to quality housing."