New Student Consulting Corps Connects Students with Nonprofits
After looking for ways to strengthen bonds between students and the surrounding community, the Whitman Student Engagement Center (SEC) came up with a project called the Whitman College Student Consulting Corps. 
The Whitman College Student Consulting Corps is a program funded by Sherwood Trust, a private nonprofit foundation, and Whitman College with the intent of giving students experience in consulting. The program pairs seven Whitman students with seven local nonprofit organizations in the Walla Walla community. Each of the organizations is partnered with one student, along with Whitman's Community Consulting Specialist, Shelly Rasmussen. Students work with Shelly Rasmussen in a two-person team, supplying high level consulting to the nonprofit organization. The students, along with Rasmussen, were trained by representatives from the Corps' partner organization, 501 Commons, a group that specializes in nonprofit consulting services.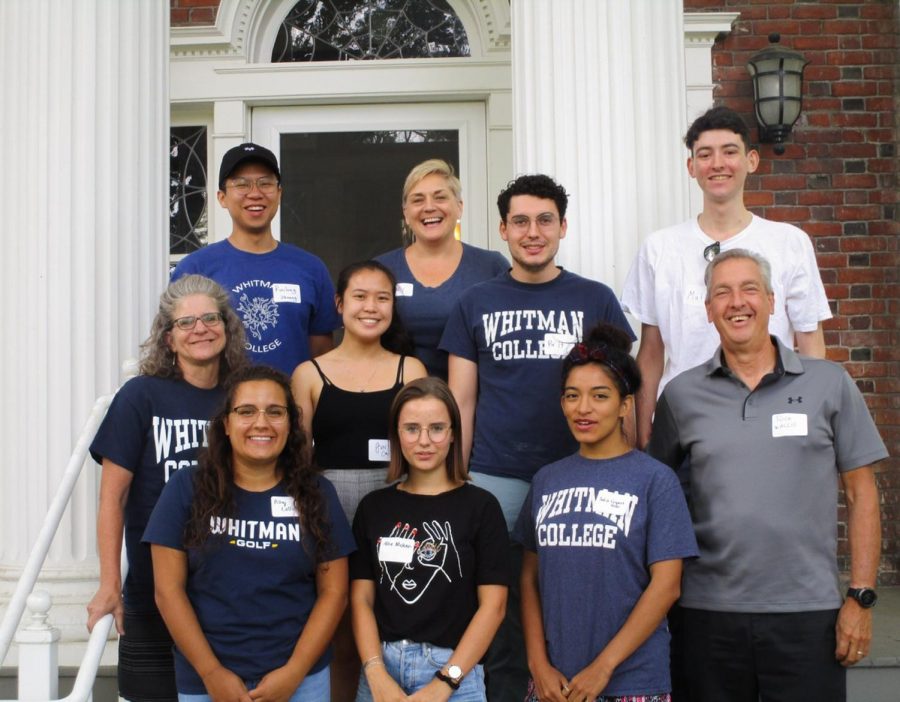 With their training, students learned how to work with nonprofits and give formal assessments identifying the organization's areas of growth and ways to enhance their financial planning. 
Out of a broad pool of applicants, Jun Cai '22, Allie McCann '22, Ally Collier '20, Matt Levy '20, Brit Stocks '20, Sofia Tello '20 and Ruilong Zhuang '20, were all selected to represent Whitman in the community as consultants.
According to Rasmussen, these students expressed high interest and enthusiasm for the Consulting Corps. 
"The group that we chose not only were able to articulate why they wanted to do a position like this one, but they had great questions for Noah Leavitt and me," Rasmussen said. "In this pilot year of the program, we are having fun exploring how we can make this a really solid transformative experience for the students." 
Senior Economics major Brit Stocks was assigned to consult the Health Center of Walla Walla, one of the seven nonprofit organizations that the Corps assists. Stocks highlighted the students' role in the Corps.
Each student works with the organization to investigate issues within their company, reach consensus on priorities and eventually present high-level recommendations for the organization's future. 
According to Stocks, a Whitman education coupled with his experience with the Student Consulting Corps provides him with skills necessary for his future. Stocks is looking towards a career in the consulting field after college. 
"I am an Economics major, but I believe that any liberal arts education can make you a successful consultant," Stocks said in an email to The Wire. "It's all about thinking critically, asking the right questions and employing analysis and synthesis skills that are developed by any major you'd find at Whitman." 
Although a degree in Economics is helping Stocks with the framework for understanding markets, firms and finances, his education as a whole shows him how to find answers to the tough questions, which is, according to Stocks, the "real bread and butter of consulting." 
Sophomore Allie McCann, another student consultant, was a S.C.O.R.E. leader this past summer. Through S.C.O.R.E., McCann saw the disconnect between the Whitman and Walla Walla communities. Realizing the importance of addressing this issue, McCann set a goal and chased after it.
"My goal for my sophomore year was to be more engaged in the Walla Walla community," McCann said. "This job in the Consulting Corps has the engagement in the community I was looking for, and also an important aspect of career development that will give me applicable skills for the future." 
The Whitman Student Consulting Corps implements a four contact process with the nonprofit organizations. This past week, Rasmussen, along with all seven students, had introductory meetings with their assigned organizations. Moving forward, the group will have three more meetings with the organizations, detailing issues that the nonprofits see as most important for growth. The final meeting will be based on those priorities, and the student consultant will develop a recommendation that will be presented to each organization in March.  
As this is the pilot year for the Whitman Student Consulting Corps, participants are grateful for the opportunity. Senior consultant Matthew Levy expressed the benefit of this program not only to himself but to the community as well. 
"I'm glad for this opportunity to gain real experience in consulting — an opportunity most students are not afforded," Levy said. "I am also glad the work I do with the WSCC helps the Walla Walla community. Breaking the bubble is important in a small town, and anything that bridges the gap between Whitman and Walla Walla benefits the entire community."