Going Green: Sustainability Efforts on Campus
Whitman's plans to become zero waste by 2030 and carbon neutral by 2050 are officially underway after the construction of Stanton Hall and the Cleveland Dining Hall, both LEED (Leadership in Energy and Environmental Design) certified buildings — in fact, the first buildings on campus to receive this certification.
Stanton and Cleveland will feature onsite storm water management (to reduce the pollution flowing into the watershed), irrigation systems that reduce water usage and drought-tolerant plants, low-flow plumbing, windows, LED lights and other design components to reduce heating and electricity usage, bike racks, Electric Vehicle Charging Stations and many other footprint-reducing units.
Whitman ranked 244 out of 356 AASHE (Association for the Advancement of Sustainability in Higher Education) STARS (Sustainability Tracking, Assessment & Rating System) qualified colleges for this year, and the Princeton Review rated Whitman a Green Rating of 89 out of 99.
While all of this sounds like progress (which it undoubtedly is — Whitman's rankings have gone up since last year's), students involved in sustainability on campus aren't convinced that Whitman's efforts are enough.
"Other colleges of our size have a carbon footprint of roughly 7 metric tons per student," said Genean Wrisley, a senior, Director of the ASWC Sustainability Committee and Office of Sustainability Outreach Coordinator. "Ours is more like 16 metric tons per student. I think that speaks for itself in a lot of ways."
Outside of Stanton and Cleveland Dining, there are few efforts to go green on Whitman's campus. There is the Bike Share, LED lights for all post lamps,  plastic for all Bon Appetit materials can be composted, recycling efforts, the vermicompost program and various environmentally-driven documents.
Wrisley's concern is that these documents are "outdated;" Samuel Kinzel has similar concerns about the antiquated methods of the administration, and attempts to reconcile with it by shedding light on the matter.
"It's very easy — and frankly funny — to mock the feeble attempts to make [Whitman] College a school championing the environmental game," Kinzel said. "Every time we say we're pioneers, bad stuff happens."
Both Kinzel and Wrisley maintain that the administration's interests in environmental undertakings are not thoughtfully developed.
Regarding the future of sustainability, Kinzel said that it will likely look like "a bunch of admin officials running around like headless chickens trying to reverse their earlier decisions that inadvertently killed the thing we can all call 'home:' Earth."
Whitman also "currently offsets all Scope I emissions with RECs (renewable energy credits), which are basically investments in renewable energy sources equivalent to our carbon emissions," Thys Reynolds, ASWC Sustainability Committee Member, said. Of course, this method does not conform to the necessary action that must be taken on campus to become more sustainable.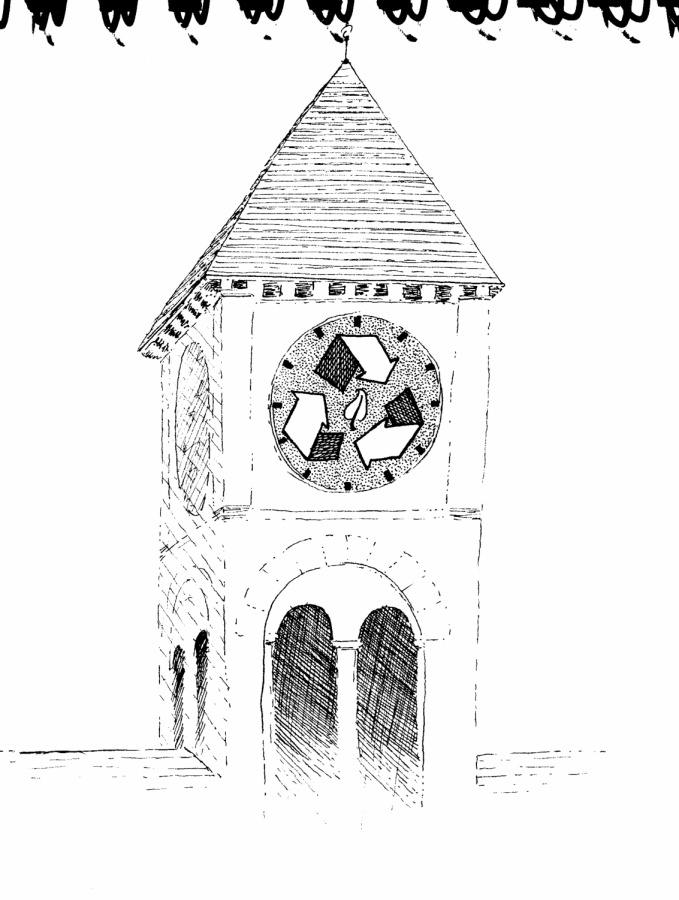 "Unfortunately, Whitman has considered paving over the organic garden to build a parking lot, which is the exact antithesis of the site," an anonymous source said.
Needless to say, there needs to be appropriate action taken to increase Whitman's sustainability initiatives and increase administrative interest in fulfilling them.
"I think as an institution we advertise sustainability and talk the talk but rarely walk the walk," Wrisley said. "I would like to see questions like these be more seriously considered by the administration."
Kinzel feels strongly about the power of the student body to enact change at Whitman, even despite the difficulties we've encountered thus far, and is hopeful for a future wherein students will exercise that power.
"The reason I have been inspired to do as much as possible these next four years is because we are lucky enough to have a handful of students and staff that give a damn," Kinzel said. "Our old solutions are in need of replacement by the efforts of the best and most charismatic young people."