Student Initiative Attempts to Rock the Vote in Washington's 5th
Students across grade levels at Whitman have spent the last few weeks engaged in an effort to register their peers to vote in local elections in time for the Brown v. McMorris Rodgers election happening this November.
Washington is in the midst of its midterm elections, and Walla Walla lies within its 5th Congressional district. The 5th extends north from the border of Oregon all the way to the border of Canada and nearly reaches the Tri-Cities as it juts west from the Washington-Idaho border.
It is within this most eastern region of Washington that a crucial and competitive election is taking place this fall, as incumbent congresswoman Cathy McMorris Rodgers faces a serious challenger to her seat, threatening for the first time the position she has held in the House since 2005.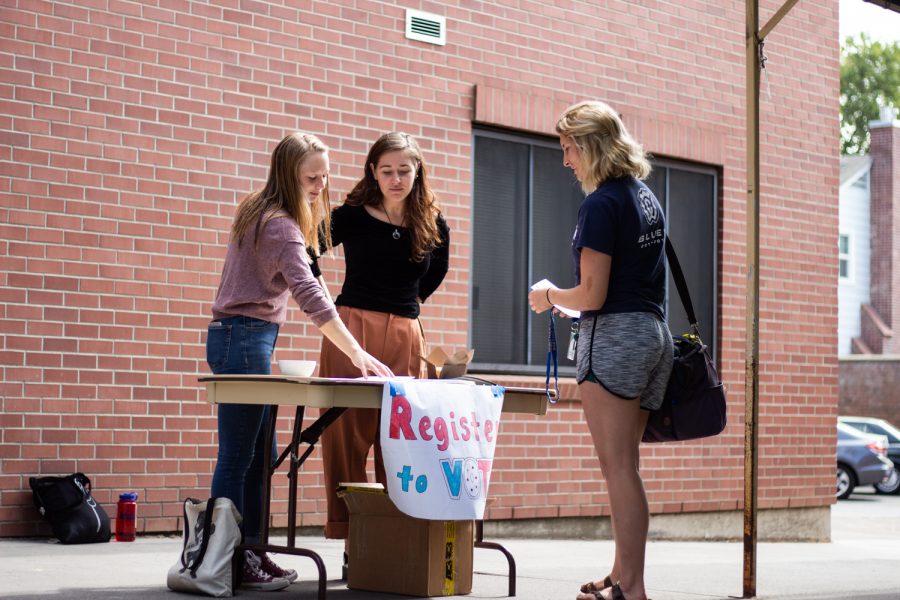 Lisa Brown, a Democrat with a background in both the State Senate and House of Representatives, fell short to McMorris Rodgers by only 1,430 votes during the primaries this August, according to The Associated Press.
Lisa Brown's Congressional campaign, highly focused on the value of  young people and the importance of higher education, has donated voter registration materials to every college campus in the district. This includes Whitman and has led to a campus-wide voter registration initiative in the form of tabling outside of Prentiss Dining Hall and other campus events. Members of the first-year class also received the pre-packaged registration envelopes paid for by Brown's campaign during orientation. Every envelope comes with a registration form, which can be used to either register to vote for the first time in general or to switch a registration to a new state or county.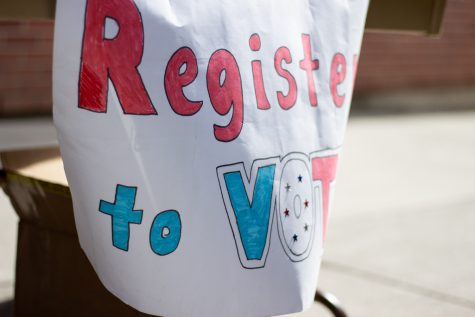 Katy Laliotis
Switching Whitman students' registration address is the main focus of the 20-25 student volunteers that have led the tabling and voter awareness efforts outside of the dining hall and during other campus events over the past few weeks. So far, ASWC representatives report that they have registered 85-105 students via tabling, a substantial response rate for such methods.
Student leaders of this movement are motivated to register their peers locally based on the idea that many Whitman students are from urban areas like Seattle or the Bay Area, places much less likely to have an election as close as this one. In a city the size of Walla Walla, these added votes could carry significantly more impact.
One potential concern voiced by students about switching their registration to Walla Walla is that involving themselves in local elections would be wrong, as they do not know the political needs of the area and are only living on-campus part-time for four years.
Andy Burnstein, a junior involved in leading the registration initiative, disagreed with the idea of a moral stance that encourages remaining independent of local politics.
"What better way to become a more permanent and involved member of your community than to be involved in politics and pay attention and vote in your local election … " Burnstein said. "I want to make sure every Whitman student has the chance to make their voice heard here in Walla Walla, because yes, Walla Walla is your home."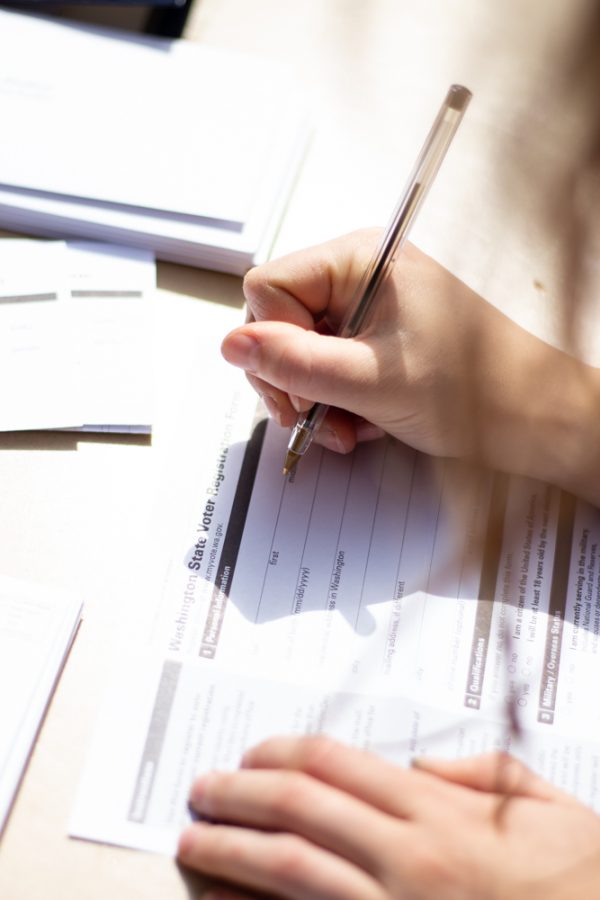 Katy Laliotis
Cameron Conner, another leader in the registration efforts, echoed Burnstein's sentiments about the importance of getting involved outside of the confines of campus. He referred to student involvement in local politics as both "an opportunity and an obligation."
"Whitman students have an incredible opportunity in this election – to make a new place their home, to embrace that and to take on the responsibility that comes with that," Conner said.
It is a long-time trend in the United States that college-age (18-24) citizens vote less than all other age groups, and many college campuses across the nation are active in their efforts to counteract these low levels of civic engagement. The leaders of registration efforts on these campuses believe that every student's voice is vital.
Niki Lonberg, a senior helping to register his peers at Whitman, expressed this idea simply.
"The stakes are high at a national level and a local level," Lonberg said.
As Trump begins his second full year as president, midterm elections like these prove often to be an apt opportunity to flip Congressional seats and make waves in the capital.
One issue that could be significantly impacted by the results of the upcoming election between Brown and McMorris Rodgers is student debt policy. If college were to be made more affordable in Washington, it would be likely that Whitman would get more funding for financial aid; therefore such policy changes would affect Whitties at large.
McMorris Rodgers recently wrote an op-ed in The Spokesman Review on the 16th on this topic titled, "Student debt is a threat to economic prosperity," writing about her focus on workforce development in order to help recent graduates pay off their debt. In comparison, Lisa Brown has been visiting college campuses throughout the district to express her views on the same topic. Both candidates are involving themselves in collective college student concerns, but they do so with very different methods and rhetoric.
Lisa Brown is coming to campus this Friday, the 21st, starting at 4 pm. She will be introducing herself and her campaign, then hosting a conversation-style, open Q & A session that should last about an hour in Maxey Auditorium.