To Thrive and Flourish
Interim Dean Kazi Joshua takes on new role
He wears purple socks with bright red polka dots and matching bow tie as he sits over the arm of a chair and drinks coffee out of a Mason jar. Posters cover the walls of his office. One photograph is of students marching for gun reform, another of NFL players protesting the national anthem.
Interim Dean of Students Kazi Joshua is a familiar face at Whitman, but this year he holds a new leadership position on campus.  Formerly the Vice President of Diversity, Inclusion and Equity, Joshua was asked to serve as interim dean when Dean Daren Mooko resigned at the end of last year.
"Most of you have already seen the sound judgment, integrity and, most importantly, care for Whitman students that Kazi has brought to all of his work at Whitman," President Kathy Murray wrote in a schoolwide email, sent in May. "I am confident that he will continue to bring these strengths to his new role, which he will begin on June 1."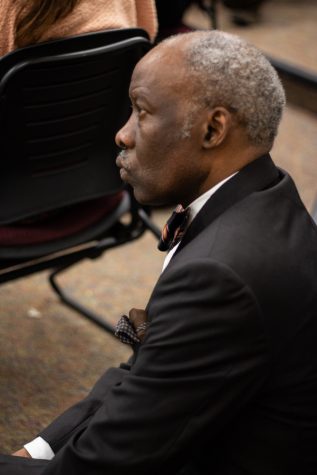 Joshua has many new objectives for the current school year, centered around his belief in equity and inclusion.
"This is what I say is my goal: to create conditions by which all students can thrive and flourish," Joshua said. "It's very, very important to me that every student … [has] a sense of belonging on this campus."
Joshua, who has nicknamed himself "The People's Dean," is attempting to connect with students and to connect students with other administrators.
"My purpose … is to demystify [my] position and to make clear to students that you are the reason why I am here in this position. That's why the people come first in the phrase 'The People's Dean.' The people are primary, the dean is second."
Interim Vice President for Diversity, Equity and Inclusion and Professor of Sociology Helen Kim, who is taking over Joshua's former position for this year, has only good words to say for her predecessor.
"He's such a clear force on campus. He has incredible visibility, love, and kindness for everybody, but I think especially for students," Kim said. "I really see that he just thrives off of the students … that feeds his soul."
Kim believes that Joshua will be successful in his aims for Whitman students. "I have total confidence that he's gonna shine," she said.
Both Joshua and Kim are serving in an interim capacity for their current roles, only for the 2018-2019 school year. President Murray plans on discussing the future of the position at the end of this semester.
In the meantime, Joshua plans to keep trying to help the Whitman community in all the ways he can.
"I came to college as an older, nontraditional immigrant student. The first in my family to go to college, and I went on to go to some really fancy well-renowned universities in this world … The only reason that happened was not because I am particularly brilliant, more than others, but because I had opportunities and people along the way who opened doors for me and held them for me," Joshua said. "I want to do that for others at Whitman. I want to give back … because that is the only thanks I can give for this great life that has [been] given."