Internationally Renowned Trans-Activist Bamby Salcedo Visits Campus
Bamby Salcedo, nationally recognized activist for trans issues, spoke at Whitman on April 6 to a small group in the Glover Alston Center.
The crowd of Whitman students and community members sat in circle with Salcedo at the center. She spent the first part of the afternoon getting to know the students around the room. Salcedo is a friendly and charismatic presence, drawing laughter as she joked with students. She is grounded in her spirituality, and shared a short message of thanks before starting her talk.
Salcedo has become well known across the country for her work organizing and bringing visibility to trans and immigration issues. She has helped to found organizations like the TransLatin@ Coalition in 2009, a network of trans leaders hoping to improve "laws for protection, human and civil rights, health care and social and cultural inclusion for their community." Additionally, Salcedo founded "Angels of Change," which is a calendar and runway show for trans and gender nonconforming youth to promote self-esteem and confidence.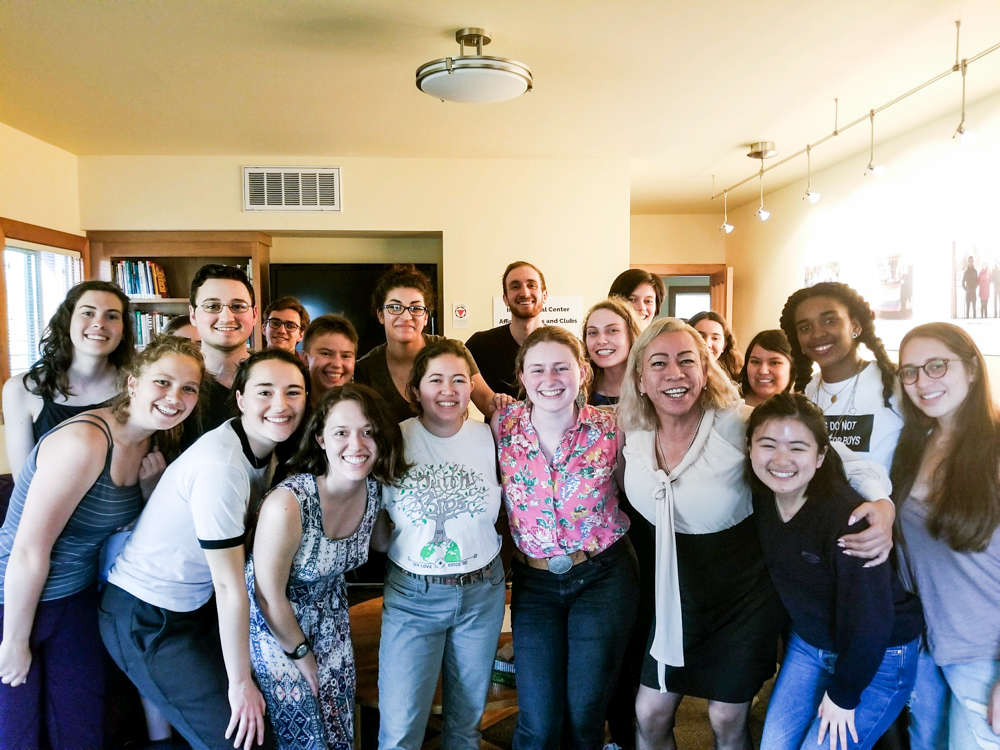 Salcedo spoke about the need for an organization like TransLatin@ Coalition to provide a voice for an underrepresented group.
"We started the TransLatin@ Coalition because there were a couple of trans led organizations that were doing the advocacy, but they were not including the experiences and the needs of trans Latina immigrants who were living in this country," Salcedo said.
Bamby's inspiring story of coming to the United States and becoming a community organizer is what informed her speech this Friday, "Accelerating the Trans Movement." She spoke about her struggles in coming to the US, staying off the streets and seeing the harassment of other trans people in her community and nationally. Born in Guadalajara, Mexico, Salcedo grew up in poverty with a history of drug use and time spent in juvenile institutions. After her move to the United States, Salcedo was affected by the violence she saw enacted against trans persons, specifically the murder of Gwen Araujo in 2002. This pattern of violence sparked her involvement in community organizations and activist work, beginning with work in the HIV prevention community and eventually the Children's Hospital.
"As trans and gender nonconforming individuals, we are not acknowledged within our society. In fact, the systems that we have in place are designed to erase our existence," Salcedo said. "To me, it's important that we recognize who we are, and we recognize those of us like me, who continually have to push through to exist."
Salcedo promoted the importance of working towards the change you want to see in your community and the greater world, despite systems and people that work against you.
"It really is up to us, for us to step up to the plate, if that's what we want to do," Salcedo said. "This type of work is not for everybody. This type of work is draining, it's taxing on your body and even in your soul. But, it is possible."
The event was organized by Borders as Methods club (BAM), and comes a week after Salcedo's documentary "Transvisible" was screened on campus. BAM hoped to bring Bamby Salcedo last year during Immigration Week, but conflicting schedules prevented the visit until this week. Cassandra Otero had been in contact with Salcedo and wanted the Whitman community to hear her story and advice about activism. Otero was inspired by the empowering message about taking control of your community that Salcedo spoke about on Friday.
"I think her message was that we all have power within us and power in our communities. We're all powerful… and we can do stuff," Otero said. "I think that was a very moving point for me, because after some time it feels like you're not going as fast as you hoped, not enough progress is being made. Just knowing that we are powerful individually and together is awesome to hear, [it's] nourishing and refreshing."