Learning to Think: Amazon Day, "Life Paths" and the Liberal Arts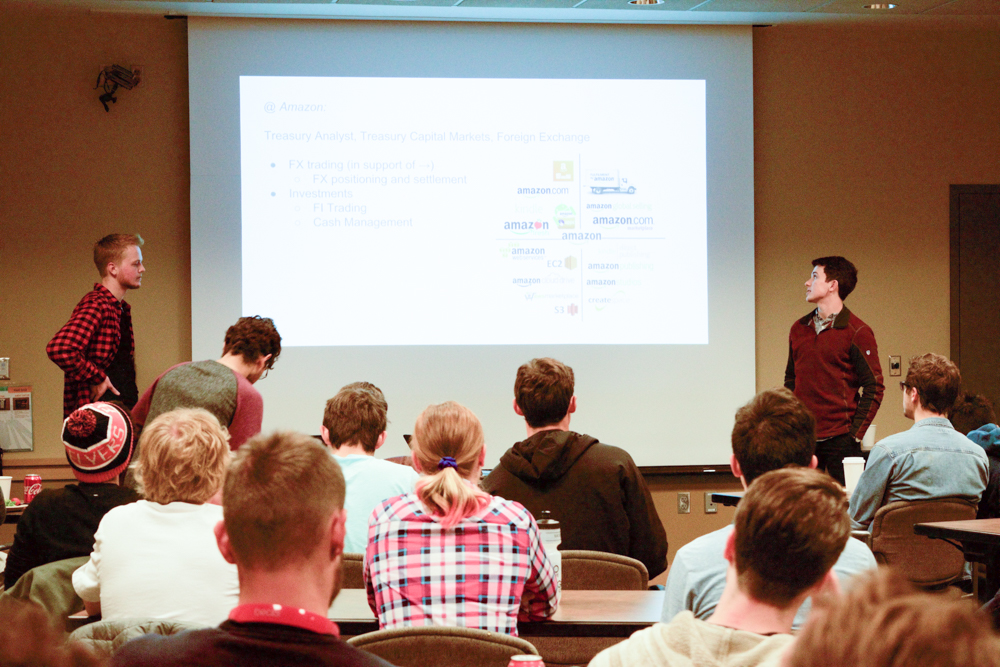 Austin Biehl '16 flips through pictures on a powerpoint: Hong Kong, Paris, Prague. Biehl is an International Consumer and Kindle Content team recruiter at Amazon, and part of his job is to organize and attend recruitment events worldwide. Biehl and Sam Reddy '17, who works as a treasury analyst in the Capital Markets team, were brought back to campus on Friday, Oct. 20 for an event dubbed "Amazon Day." The two alumni described their paths to securing jobs at Amazon and offered words of wisdom for a room full of Whitman students interested in doing the same.
"On the surface, many people would think that a Whitman college graduate and Amazon don't line up," says Kim Rolfe, Director of Business Engagement at the Student Engagement Center (SEC) and organizer of Friday's event. "But the truth is that a lot of the things they are looking for at Amazon, Whitman has prepared students very well to do."
Biehl described how members of the Amazon team write an essay-like paper to present an idea to their colleagues. "Everyone reads it, annotates it–they literally annotate it–and critically discusses it. You're basically going to an encounters class," said Biehl, who was a psychology major at Whitman.
Biehl and Reddy cited strong writing skills, interpersonal skills and detail-oriented nature as elements for a competitive Amazon resume. When describing his application process, that included multiple networking contacts and a 15-page google doc made in preparation for his final interview, Reddy offered the advice, "think realistic, but be confident. You come from Whitman."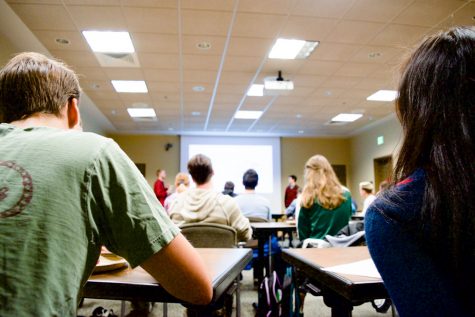 Indeed, many leaders of major companies such as Amazon and Google have said that liberal arts students are very employable. It is, in part, the role of the SEC to provide support in a Whitman student's transition from a residential liberal arts experience into the so-called "real world."
"Often times we get housed in this career-center kind of space, but that's not really how we see what we do," says Rolfe. She asserts that the SEC's involvement is deeper than that–it is about helping students to see how experiences at Whitman are connected and how to build toward life after graduation.
Although Friday's talk was Amazon's first visit, private corporations like Microsoft and various consultant companies, as well as the State Department and the Pacific Northwest and Los Alamos National Labs, have visited Whitman to recruit many times in the past. Rolfe says that the SEC looks into organizing these events by reaching out through alumni who understand Whitman.
The College's Strategic Priorities initiative, approved in August, outlines a set of priorities for the College to work towards in the next few years. One of the priorities in the plan, titled 'Connecting to life after Whitman,' stipulates the College's goal to "ensure that every student is exposed to high-impact learning experiences as a means of setting a strong foundation for engaging in a positive, productive, and fulfilling life after Whitman." Rolfe said that she does think the Strategic Priorities will impact some of the SEC's functions, but "that's going to be up to the college, and the students and the faculty and those that are invested here to figure out what that will look like."
Psychology professor and Chair of the Faculty Melissa Clearfield is Co-Chair of the Strategic Planning committee.
When asked if she saw tension between a classic liberal arts model and the Strategic Priorities of connecting to life after Whitman, Clearfield responded, "I don't think there should be a tension. Now, we are not doing job training here. We are still 100 percent committed to the liberal arts. But that doesn't mean that you should spend a quarter of a million dollars on an education and then we just throw you out in the world and you are utterly unprepared to do anything with that education. I think that would be deeply unethical, personally."
Rolfe says that she personally subscribes to the thinking that the concept of learning for the sake of learning is somewhat of an elitist stance.
"Not many people in today's society have the ability to do [nothing but study and think] and then come out and say now I'm going to figure out what to do. It's just not the reality of our culture. It's– I wouldn't even say a trend, it's the direction that we're moving. Yes, it's important to be here and be in the moment of learning and focus on the education … but ultimately that is going to come into play with other things," said Rolfe.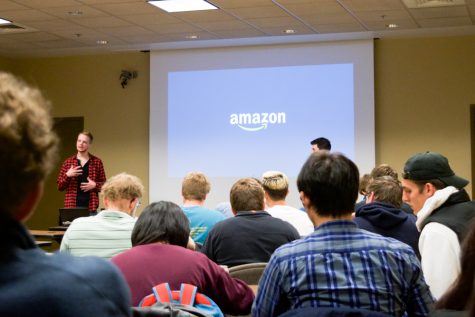 President Kathy Murray often reminds students that their business here is to learn. And as students focus on their learning–wading neck deep through Marx, postfeminist theory and biochem–they come out the other side with a certain set of skills. "I think our students have gained those skills but I don't think we've done as good of a job as we need to of helping you understand what the skills that you've gained are," said Clearfield.
Clearfield argues that the goal of the strategic priorities document isn't to change what students are doing and learning, but instead to offer support in terms of improving the language students use to talk about and glean takeaways from the Whitman experience. "It isn't actually a huge step away from what we've been doing to work with students to translate that into getting your first job," she said.
A faculty member who prefers to remain anonymous says the liberal arts is often framed as a pure "life of the mind," as opposed to professionalization framed as getting a job and satisfying basic material needs.
"In some ways I think it's kind of a false binary," said the source. "I think that the tension that a lot of people see, is that to the degree that we're favoring professionalization we're channeling people to think in a certain way. That might be in tension with asking really important broad questions whether they be social justice questions or questions about what the world is, what it means to live in a community and be a citizen, things like that."
The faculty member hopes that they can teach people critical skills that students can take with them after graduation. They mentioned "This is Water," a commencement speech by David Foster Wallace. In the speech Wallace says that the goal of a liberal arts education is to save a corner of your mind to think critically, even as you're standing in a checkout line or you're commuting home from work.
"I think it's really important both of those variables be accounted for somehow," they said. "I do see my role as creating a space where if people are in workplaces or going on to do whatever they're going to do after college, they can continue to think critically about the work that they're doing and institutions that they're in. And so in that sense I don't think that liberal arts and professionalization are separate. I think there needs to be a conversation there, but the end goal of that conversation should be critical thinking and civic engagement."