Walla Walla Celebrates Adam West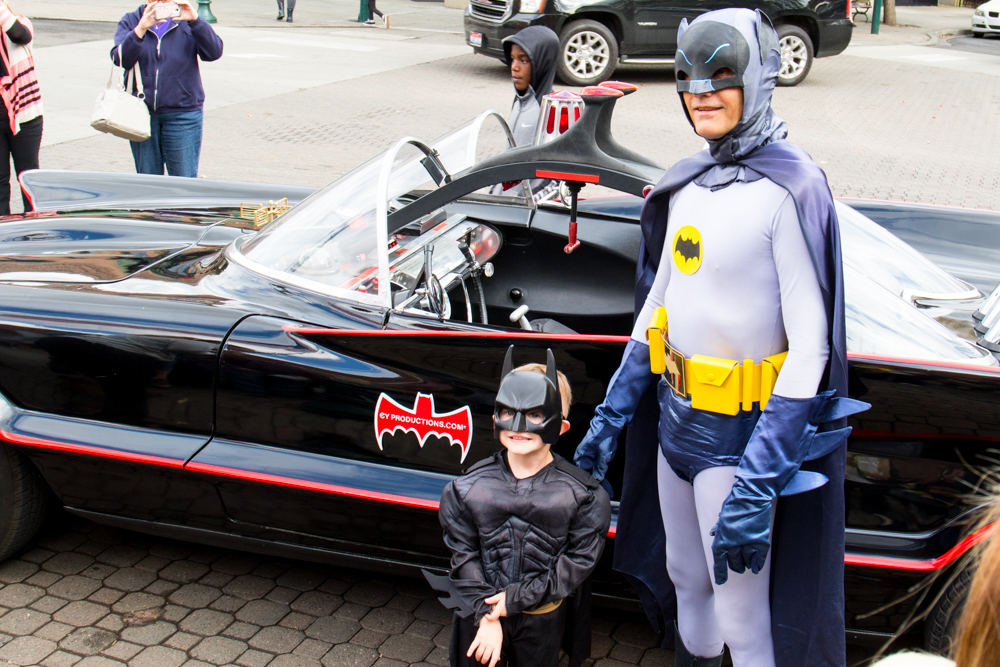 On September 19, Walla Walla came together to celebrate the life of Adam West during the first annual Adam West Day.
The actor, famous for his role as Batman in the iconic 1960s live-action television series, grew up in Walla Walla and graduated from Whitman College. Adam West passed away on June 9, 2017, after battling leukemia. September 19 marked what would have been Adam West's 89th birthday.
Over the course of the day, public events included Mayor Allen Pomraning's reading of the proclamation of Adam West Day, a screening of the documentary starring Adam West with a question session with the director and an actor, the projection of the Bat-Signal on the side of the Marcus Whitman Hotel and much more.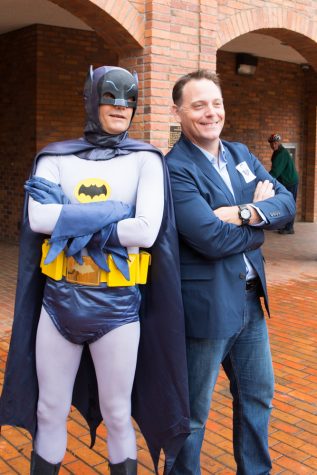 Over 20 members of West's family, children, grandchildren, nieces and nephews were invited to stay at the Marcus Whitman Hotel so that they could take part in the festivities of Adam West Day. The family was taken on a private tour of Adam West's childhood home, and then was surprised by the unveiling of a new street called Honorary Adam West Way. A commemorative sign was placed at Alvarado Terrace and Clinton Street near West's childhood home.
Clint Young is a professional Batman impersonator who came to Walla Walla for the weekend, bringing with him an exact replica of the original Batmobile.
"I started in 1986; I got hired to be a professional Batman — an Adam West look alike. I went on tour with all the original Batmobiles," Young said. Ever since he was a first grader, 20 years before being hired, Young's goal had always been to sit behind the wheel of the Batmobile. He saved up for 18 years to buy the Batmobile, at times living out of a van.
"I've known Adam West since the '80s. I knew Burt Ward and those guys; I used to party with them and hang out with them. I got to drive Adam West in a parade in a car, in my Batmobile, and he autographed the dash for me," Young said.  
During the afternoon, the skies cleared and there was live music downtown at the Land Title Plaza. Clint Young was there to take pictures with the public.
Music was performed by two local musicians, Daniel Minteer and Debra Arlyn. Fortuitously, Daniel Minteer had a song about Batman prepared to perform.
"I wrote 'Batman' in 1978. It pretty much sat on the shelf until this year. It was just by chance because I released this album [Calling All Aliens] in February with 'Batman' on it, and then, who would have known that this would have been the first Adam West Day?" Minteer said.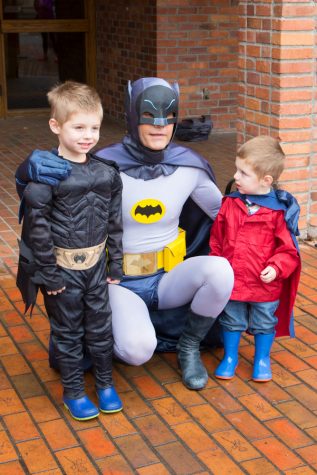 Coincidentally, Minteer had Adam West in mind when he wrote the song. "I watched the TV series when I was growing up, so that's what the song was about," Minteer said.
Professional sculptor and animator Ruben Procopio also came into town from Los Angeles for the holiday. Procopio has had an impressive career illustrating comic books such as the Batman '66 comic series, sculpting cartoon character models for Disney and creating realistic sculptures, such as a bust of Adam West. A limited edition copy of the bust is on display in the Marcus Whitman Hotel. Procopio designed the posters for Adam West Day the and hosted a conversation with the public to discuss his friendship with West. Procopio also plans to sculpt a life-sized bronze statue of Adam West for a local park.
Work will continue to be done to commemorate Adam West. Adam Lore is a local cartoonist and one of the event organizers of Adam West Day. He started the petition to build the Adam West statue.
"On October 3, we're going to go in front of city council and speak to them about the possibility of changing Menlo Park to Adam West Park," Lore said. "Our plan right now, if we get the park renamed, is that the statue would go in the park. From there on, we are working on the statue and trying to get that funded," Lore said. "It would be very cool to have the statue by the second annual Adam West Day to unveil the statue."
From now on, September 19 in Walla Walla will be a day to celebrate the life and legacy of Adam West. As professional Batman impersonator Clint Young put it, "We'll see you next year. Same bat time, same bat channel."