Isaacs Renovation Under Way
Whitman students  returned from break to find an Isaacs Avenue in gravelly disarray. Phase I of the road's renovation, which began in early March, stretches from the intersection of Rose and Park Streets up north to Clinton Street.
The renovation aims to improve the safety, efficiency and aesthetic of a road that hundreds of Whitman students must cross every day on the way to campus. Whitman has worked with the city for a number of years to improve the arterial, on which numerous students have reported being hit by cars. Collaborative efforts between the school and the city include the lighted crosswalk in front of the TKE fraternity.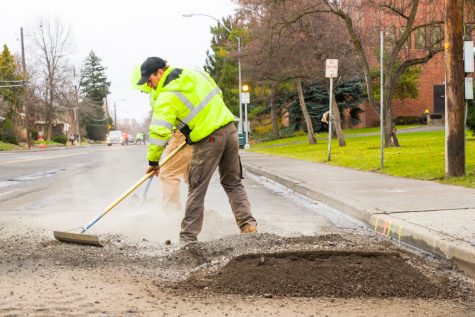 A city report documented 5.59 collisions per million vehicle miles travelled on Isaac's, which is more than triple the statewide average for similar roads. In a survey about the safety and quality of the road, 77 percent of respondents reported that it was uncomfortable to walk alongside the road. 
The portion of Isaac's adjacent to Whitman will be completed in August of this summer (it was scheduled for minimum interference with the Whitman calendar). Among improvements will be a reduction of the street from four to three lanes, bike lanes, additional street lighting and additional crosswalks.