The choice to mask: Students and faculty navigate Whitman's mask-optional policy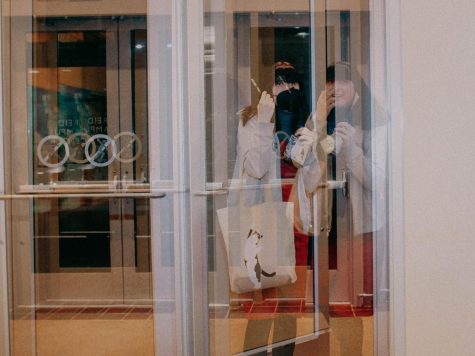 On March 2, President Kathy Murray emailed the Whitman community announcing that masks would no longer be required in indoor spaces starting March 12. The Wire spoke with students and faculty to find out how community members are adapting to the change. 
Whitman's announcement followed Washington Governor Jay Inslee's decision to remove the state's indoor mask mandate starting March 12. According to Murray's email, Inslee's response followed the CDC's new mask policy which assesses counties on a case-by-case basis.  
"It wasn't a huge surprise," said Zahi Zalloua, professor of French and interdisciplinary studies. "Whitman tends to follow the science, so what the state is doing, what the country is doing, what the government is doing." 
Zalloua said he looks forward to teaching without masks, but has asked students to continue to wear masks for the first two weeks after spring break. Like many other professors, he will assess the number of positive case numbers after the initial two weeks to decide the safest classroom mask policy. 
"Teaching with a mask is a source of alienation for many of us. So not having to teach with a mask is something I'm looking forward to," Zalloua said.
With masks, professors struggle to gauge students' level of understanding. Wearing a mask dilutes the teaching and learning experience, according to Zalloua. 
"Laughter, humor, facial expression—I mean it's hard when that's cut from your life, from teaching, from the teaching experience," Zalloua said. 
Senior psychology major Alicia Even felt increased concern about contracting the virus when Whitman updated its mask policy. 
"To me, wearing masks isn't that big of a sacrifice…I decided that I would continue to be masking for the first week or two," Even said. 
Unlike Zalloua, Even was surprised when Whitman announced the new optional mask policy. She's also worried about COVID-19 spreading after students have traveled for spring break. 
"We keep seeing trends of rates going up and down and we kind of think it's over and then we see another spike again," Even said.
Even wished Whitman relaxed the mask policy two weeks after spring break to isolate any infections that emerged from students and faculty traveling. However, Whitman decided to adopt the new policy at the start of break, aligned with the end of the state's indoor mask mandate. 
Although Whitman asked students and faculty to take a test prior to traveling back to school, the college did not require students to affirm that they took a COVID-19 test nor submit their test results. 
"We ask that everyone who travels outside of Walla Walla take a rapid antigen COVID-19 test before returning to Whitman. For a second round of testing, we will give test kits to all students, as well as faculty and staff who request them due to travels, in the week following Spring Break," Murray said in the email. 
The option to wear a mask only applies to people who are up to date on their COVID-19 vaccines, including the booster. Bon Appetit employees and vaccine-exempt community members are still required to mask. 
"Since many students traveled over the break and since many Bon Appetit employees handle food, we decided it would be mutually beneficial to be extra cautious. We will reassess this decision in the coming weeks when we have a clearer picture of any virus spread on campus," said Peter Harvey, the Chair of Coronavirus Task Force, in an email sent to The Wire. 
Now that masks are optional, Professor Zalloua is concerned for community members with weakened immune systems.
"It does create confusion for students, especially immunocompromised students. What does this entail for them?" Zalloua said. "I think one has to be cognizant of their anxieties or concerns about being exposed to the virus. So it's always in the back of my mind."
There's also a fear of judgment among some students who decide to continue masking. Even said she wondered if students who continued to wear a mask would feel excluded in the classroom. 
"I was curious going in if people who choose to wear masks might be seen as outcasts," Even said. 
Whitman's updated policy feels like a return to normalcy for many, but there's still a chance the college will revert the policy if COVID-19 cases rise, as it did in July. According to Murray's email, Whitman will consider reimplementing a mask mandate and gathering limitations if conditions worsen.