Students march against Dakota Access Pipeline
IPECC and Divest Whitman led a march through downtown Walla Walla Tuesday evening in protest of the Dakota Access Pipeline (DAPL). Protesters walked down Main Street and up Third Ave. to the Army Corps of Engineers office to deliver a signed letter requesting that the Walla Walla branch of the Corps denounce the pipeline and urge a halt to construction.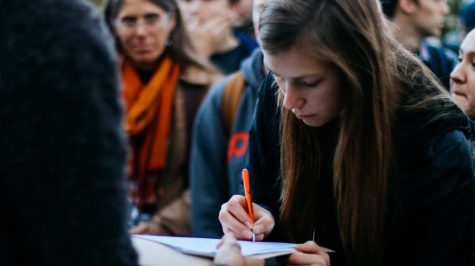 Organizers estimate that around 250 people participated in the march, based on a headcount done while marchers passed "Yellowbird Returns," the statue of Walla Walla chief Peopeomoxmox near the Corps of Engineers office. Those protesters included Whitman students, faculty and staff as well as members of the Walla Walla community. Organizers invited students of Walla Walla University, Walla Walla Community College, the group Walla Walla Progressives and the Confederated Tribes of the Umatilla Indian Reservation to participate.
Protesters walked down the sidewalk chanting slogans like "water is life" and "we can't drink oil, keep it in the soil" as patrons at downtown businesses watched and police regulated traffic.
The march was part of a national day of action called for by a variety of activist groups nationwide to protest DAPL. Protests across the country focused on branches of the Army Corps of Engineers and financial institutions backing the pipeline.
While IPECC wrote the letter and has been active in its condemnation of DAPL in the past, Divest Whitman, in consultation with IPECC, organized logistics for the march. IPECC has spent much of November working on programs related to Native American Heritage Month.
Junior Zan McPherson, a member of Divest Whitman, first proposed organizing a protest on the day of action to her organization after receiving an email about the national events in late October. She saw it as a way to bring the struggle over the pipeline to Walla Walla and to broaden her own group's mission.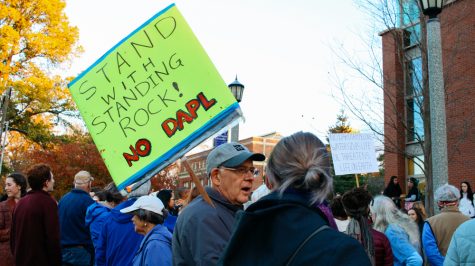 "When there was all of that deliberation about people deciding to go to Standing Rock and support the protest, I was very on the fence about doing that. And I was pretty close to [going], but part of me felt that there's so many students at Whitman and people in Walla Walla who don't have the resources or time to do that," McPherson said. "So I think my inspiration for the event was asking, 'what's the best way to make people feel like they're part of a larger support [of the anti-pipeline campaign]?' And that's what's so exciting about it being everyone on the same day, and being organized nationally."
The protest itself was loud, but lawful and peaceful, with marchers sticking to the sidewalks. Several police cars lined the protest route near Third Ave., but allowed protesters to pass without incident.
"They were mostly there to make sure we didn't get run over, I think," senior and IPECC president Brenna Two Bears said.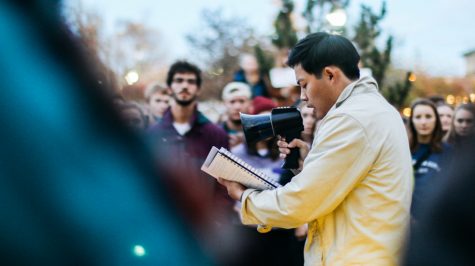 Two Bears and fellow IPECC member Zoey Kapusinski spoke at the protest, as did John Lee '16, who had spent time at the Standing Rock protests as a photographer for the New York Times, and juniors Kyla Rapp, Julie Kitzerow and Katy Woodall, who went to the camp earlier this month. They spoke about their experiences at the camp as well as the importance of conscious allyship.
As the speakers finished, attendees were encouraged to sign the letter and to tape picket signs to the doors of the Corps of Engineers office. Two Bears also solicited donations to a fund to purchase supplies for the camp that protesters at Standing Rock have been occupying since April. She and seniors Angela Tang and Sami Carillo and junior Kyla Rapp plan to go to North Dakota to join protesters at Standing Rock over Thanksgiving break, bringing food and other survival supplies to help the protesters through what could be a long fight ahead.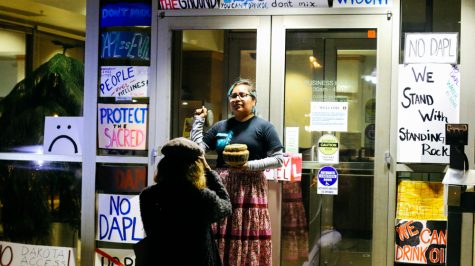 "They're facing the winter– it's going to be really cold, and they're going to need a lot of different kinds of supplies, and also people to transport those supplies," Tang said. As of Nov. 6, the group had raised over $2000, well over their goal of $1500.
"It really just goes to show how much people care about not having the Dakota Access Pipeline," Tang said. "And that even if people can't make it, that they're able to contribute in the financial area."
Two Bears was hopeful, but cautious about predicting any impact of the protest or outcome of the pipeline protests in North Dakota.
"I doubt [the Walla Walla Army Corps are] going to stop the construction. But I hope that it at least makes some of them think, and that if other groups across the nation have been doing the same thing, that all of us together might change it," Two Bears said. "This has been 400 years in the building, and I think it's coming to a head…and I hope that it ends well for us."