Students sit in for divestment as trustees deliberate
From noon to 1 p.m. on Friday, May 1, 272 students, faculty and staff members joined members of ASWC and Divest Whitman in a sit-in to protest the college's investments in fossil fuels.
During the sit-in, ASWC President senior Tatiana Kaehler presented the recently-passed ASWC Resolution to the Board of Trustees. Unlike previous pieces of legislation regarding divestment, the current ASWC resolution presents what some would consider a more nuanced approach. Rather than demanding complete divestment, the resolution asks that the college's investments have no more than one percent exposure to funds invested in fossil fuels.
"[It's] based off of Pitzer College's divestment," said Kaehler. "We think that this cap is not only possible for Whitman but will not harm Whitman financially. So setting this cap will allow Whitman to join in the divestment movement and will allow Whitman to make a social stance that's in line with its values."
According to ASWC Sustainability Director Dani Hupper, the college's endowment currently has about 0.75 percent exposure to fossil fuels. The Investment Committee within the Board of Trustees would not have to make any changes in their current investments in order to adopt the resolution.
"We're at a key moment in time when energy stocks have actually done poorly, so just for financial reasons, we have had our fossil fuel exposure under one percent," said Hupper.
Hupper also stressed the flexibility of ASWC's most recent resolution.
"Before we were asking broadly for divestment, we did not have a cap in mind. This time we're saying that we recognize that there are difficulties to being at an absolute zero … We want to make it realistic for our trustees to divest without having to immediately get rid of [every fund exposed to fossil fuels]," she said.
In addition, this new resolution addresses students' concerns about the financial impacts of divestment on the college's endowment and tuition costs.
"We're asking that, in three years, the board would look into how that is impacting the college financially, because we do understand that we need a strong endowment in order to fund things like scholarships and financial aid. We don't want it to harm the college," said Kaehler.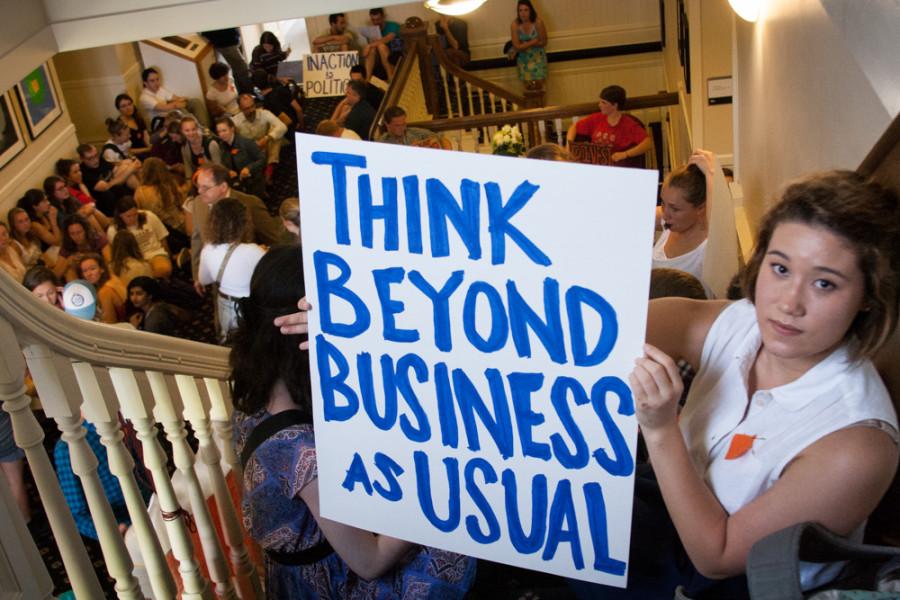 The Board of Trustees made no commitments in response to the resolution and the accompanying sit-in, but Kaehler was optimistic, saying she expects the trustees to seriously consider the resolution.
"I think the nuanced approach that was taken in the ASWC Resolution, which was written by ASWC members and members of Divest Whitman, is a very strong stance that trustees are open to. The conversation's going to continue," said Kaehler in an announcement following her presentation.
The trustees' response may indicate that Kaehler has good reason to be optimistic.
"The trustees had a very positive conversation with ASWC leadership. We appreciate the thoughtful work they have done, which seems to be a good-faith effort to balance the economic issues associated with management of the endowment with the goals of those who are advocating for divestment," said chair of the Board of Trustees Brad McMurchie '84 in an email.
McMurchie also pointed to recent steps the administration has taken to make the college more sustainable and promote environmental consciousness.
"We discussed the work that has been underway this year with faculty, staff, students and governing board members to define concrete steps that can be taken to increase the sustainable nature of our operations and move Whitman towards a carbon-neutral position," he said.
The trustees had a busy schedule during their visit to campus, hearing presentations from groups of trustees, overseers, staff faculty and students regarding sustainability, residence life and science facilities. In addition, they heard a presentation from the Student Life Committee on sexual misconduct at Whitman and received updates from the recent visit to campus by the Office of Civil Rights.
Although they were unable to make immediate decisions regarding ASWC's divestment resolution, the Board of Trustees, according to McMurchie, will seriously consider its proposals.
"I have asked the administration to review the underlying concepts in the ASWC proposal. It is a detailed and substantive proposal, and our intention is to give it similar attention before responding further," he said.
[portfolio_slideshow]