Crash brings out best in Whitman community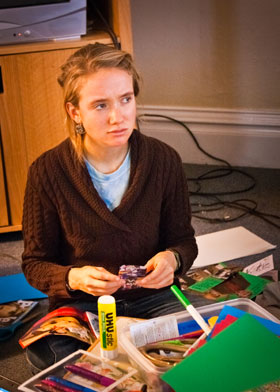 "Sometimes these tragedies take place and we find out what a wonderful, responsive community we have," said Associate Dean of Students Clare Carson following an accident Friday, Nov. 6, that left four students injured, two critically.
From writing cards to sending care packages to streams of well wishes posted on Facebook walls, the Whitman community has come together to support the injured students.
Sophomore Maggie Allen's Lexus sport utility vehicle was struck by a semi-truck Friday afternoon as she attempted to make a U-turn on Hwy. 730 near Irrigon, Ore. The crash occurred about a mile east of I-84. Allen, sophomores Katie Radosevic and Khoa Nguyen and first-year Lindy Jacobs were on their way to PowerShift West, an environmental conference in Eugene, Ore.
While Allen, who broke her shoulder, and Nguyen, who suffered a concussion, returned to campus Friday night, Radosevic and Jacobs were flown to Legacy Emanuel Medical Center in Portland. Radosevic underwent treatment for a broken pelvis and is currently in fair condition, according to a hospital representative. Jacobs, who was put in a medically induced coma to minimize swelling in her brain, is in serious condition.
The driver of the semi-truck, Dirk Martin, was not injured.
As the students recuperate, the campus has sprung into action to provide support.
"People have been incredibly supportive," Allen said in an e-mail Tuesday. "My friends have written me many notes of encouragement in addition to personal visits."
Residents of the Global Awareness House, where Radosevic lives, hosted a card and tissue paper flower-making event on Sunday, one of several staff and student-organized efforts in response to the crash. They sent an e-mail to the interest house and students listservs right before the event to invite other students to join.
"I thought that it would be a nice idea to extend it to the whole campus and not just us, because other people are affected," said senior Autumn McCartan, the Global Awareness House R.A.
Carson visited the Jacobs and Radosevic families at Legacy Emanuel Medical Center on behalf of the college.
"Part of our job is on a daily basis to respond to any kind of personal crisis a person might have, or a family crisis or academic," she said. "[We] do our best to attend to that situation, and give our best attention to students."
She declined to provide details about what she discussed with the families for reasons of confidentiality.
President George Bridges also spoke with students' parents over the phone, and Dean of Students Chuck Cleveland and Associate to the President Jed Schwendiman visited the students at Good Sheppard Hospital in Hermiston, Ore., where all four were taken initially.
Bridges expressed his wish for a speedy recovery process for all four students.
"I would hope that with the help of our counseling staff, they would be able to get a sense of perspective on the accident and, in a period of a few months, be in a better position to come back to school," he said, adding that full emotional healing may take longer.
Posters were available in Reid this week for students to write messages to the accident victims and a prayer and positive thought forum was held in Prentiss. The Community Service House also offered a care package-making session.
According to an e-mail Bridges sent to the campus, Jacobs' mother, Elaine, will read get-well messages she receives via e-mail to her daughter to aid in her neurological recovery.
Carson, who oversees the Academic Resource Center, said that academic support is available to the students as they transition back into classes.
"It's all a case-by-case basis depending on the needs of the student," she said. "If we know ahead of time we can hire note-takers in classes to take some notes. The first question is, what do you need? How can we help you get back up to speed?"
For Allen, having understanding professors has helped.
"I can postpone my academics until I recover," she said. "My teachers have been very accommodating."
Meanwhile, students hope to see their friends and classmates back soon.
"We miss them," said sophomore Gia Anastasiou, whose room is next to Radosevic's. "We have a big Katie void in our house."