Behind the Scenes at the Liberal Boot Camp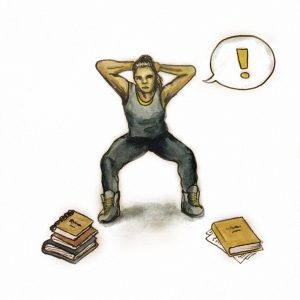 This week, Wire reporters went behind the scenes at a liberal boot camp to get the inside scoop on how to transform immature high schoolers into politically correct and tolerant adults.
When we arrived, the soldiers of the army of equality were doing squats as a gruff but lovable Captain strode among their ranks. "Fifty more reps of 'I'm a valuable contribution to society!'" the Captain shouted. "Sir, yes sir!" came a swift reply from the squatters. "Gender is a spectrum!" yelled the captain. "You may address me as cherished friend!"
"Yes, cherished friend!"
The next day, the aspiring liberals were roused from their beds at the crack of noon by a full orchestra playing Tchaikovsky's "Waltz from Swan Lake," to go on a 5K charity run to raise money for Planned Parenthood.
Other activities included assembling a functional government blindfolded out of pieces left over from previous administrations.
"Sometimes it can be really tricky," said Private Eye, blindfolded and talking while he worked. "Like, how do I fund schools and protect the environment?" He held up the finished work, which was not perfect but still better than the pieces he started with.
Next, they went to the target range to shoot down stereotypes. "Marriage = One Man, One Woman," one target said before it was shot down with a "Love Triumphs" bullet. A target with a picture of religious-based attacks was brought down by the caring community rocket.
Those who are on the fast track to success wake up early to practice looking mildly indignant. "There's a fine line between indignant and offended," said one soldier, Private Bizness. "You don't want the recipient of the gaze to feel like they need to apologize to you, but they should apologize for what they said."
As graduates from the program, these soldier's responsibilities will include going out into the public and making others feel guilty for not being as politically correct as them.