Easy, Brie-sy, Beautiful: One Cheetos Artisan Tells All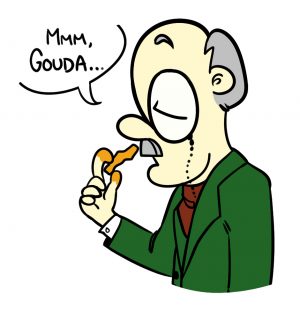 For the first time in over two decades, a certified cheese artisan has agreed to sit down for an interview and spill his secrets. The last time this occurred was in 1992, when a former Cheez-It staffer revealed that their product was actually composed of synthetic emulsifiers, food dye and that mold in the shower your roommate refuses to clean. The employee, who attempted an escape to Switzerland, was promptly captured and executed for his treachery. Following this event, known as "The Curd Heard 'Round The World," most professional cheese enthusiasts have remained silent–until now.
A resident of Pasco for most of his life, this cheese artisan (who wishes to remain anonymous and thus will be referred to as "Chunky Bleu") has dedicated most of his life to the study and appreciation of Cheetos-brand cheese.
"I was in my last year of high school, studyin' my multiplication tables when a friend called me up and told me that there was some breakin' news on channel 4. I flipped the dingy on and saw a married couple talkin' about a Cheeto they found in a bag in their kitchen. The Cheeto was shaped like Jesus, and I just couldn't believe it. The couple was cryin' and sayin' it was a sign from God, and they were both caucasian which was nice to see, too. They named him 'Cheesus,' and I just loved their story so much, I knew what I had to do," Chunky Bleu said.
Since the late nineties, Mr. Bleu has tasted over three flavors of Cheetos. "I didn't actually realize there were more flavors than just the normal kind, but one summer I raised enough money to go abroad and was introduced to Flamin' Hot Cheetos," he revealed. "It was in a little diner in Southern Idaho, and they were real good."
Unbelievably, Mr. Bleu's expertise does not end there. Chunky found the courage to try Cheetos Puffs last month.
"Those weren't so good. They reminded me of how my father used to shove dry socks in my mouth when I said a profanity, like 'God dammit' or 'San Francisco.' He was a mean guy," Chunky Bleu said about the event.
Chunky is now hoping to collect funds for a trip to Arkansas, the source of the best Chile Limón Cheetos in the entire Bible Belt. Upon asking Mr. Bleu if he was aware that Cheetos snacks do not contain actual cheese, he stated that he "wasn't here for a briefing on the gay agenda."