Whitman Basketball nears the end of two slam dunk seasons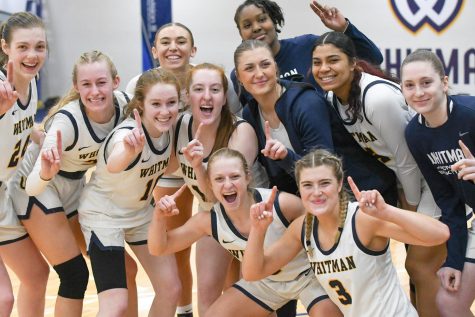 Whitman's varsity basketball regular season has come to an exciting close with both the men's and women's teams taking victory in the Northwest Conference (NWC) regular season. The women's team is taking it one step further to claim the NWC tournament crown. The women's team will now head to Chicago to participate in the NCAA Division III Tournament on March 3.
Coach Michelle Ferenz, the head women's basketball coach, has been with Whitman for 22 years. For Ferenz, this season has been especially fun and exciting.
"They're really a great group. I think probably my favorite memory was watching this team grow, but I think a big turning point for us was when we played University of Puget Sound here. It was a big win for us and we've just kept winning," Ferenz said. "Winning isn't so important; it's just how much we've improved, and how much fun we're having."
This year is the fourth consecutive NWC regular season title for the women's basketball team. This is a testament to the hard work of both the athletes and the team that supports them.
"The program has been really strong in recent years [by] winning conference titles and playing in the NCAA Tournament multiple times," Ferenz said. "It took us a while to build it, but now we have a culture that values excellence and teamwork. In the end, it is about doing things right every day and making the most of the opportunities."
Ferenz said that because she's been a coach at Whitman for so long, it's exciting to see where students go after Whitman. She finds that to be the most rewarding part of her job.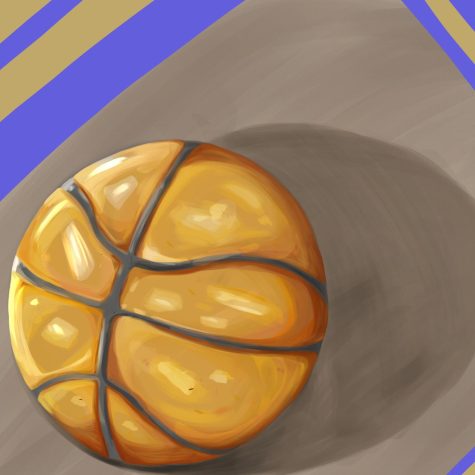 Junior Lindsay Drango is pursuing a career as an orthopedic physician assistant. She has been playing basketball since she was four years old. 
"I honestly can't think of one thing I would change about Whitman basketball. I have never had so much fun competing with such amazing girls," Drango said. "Every day I am thankful that I get to compete with them on the court and laugh with them off the court. This year has truly been a blessing."
Drango is most appreciative of all the memories she has made with her close-knit team.
"One of the best memories I have with this team is constantly pranking our coach. Whether it be a funny theme for shoot around or putting hot dogs in her yard, nothing can replace the off-the-court memories I have had with this team," Drango said. "This team has been so much fun to be around and these girls have become my closest friends. I love that there is never a dull moment with them."
Senior Elena McHargue has played on the team since her first-year at Whitman. Although a student athlete's schedule can be particularly demanding, McHargue was quick to pick up many tricks for efficient time management from her teammates.
"A lot of the girls on the team are really good about balancing academics and basketball. It does get really hard [when] we have fewer hours of the day to do our homework," McHargue said. "We work on our homework during the day before the game. I would say we've all gotten pretty good at it."
If McHargue were to change one thing about her team experience, it would be to give them more funding.
"We could get some more gear, [and] we have to drive to every game, so maybe it would be nice to fly to some games. [Also] promo; we do a lot of outreach ourselves, but it would be nice to have more outreach than just in the Walla Walla community," McHargue said. 
Whitman Basketball has accounted for nearly a quarter of the Whitman Athletics budget in recent years.
As a senior, McHargue is approaching graduation, which is a bittersweet moment for any college athlete.
"I love this team. I think a group of friends that I know I'm going to have for a lifetime … is such a joy to me. That's probably the biggest thing that makes me sad about graduating and sad about not playing basketball anymore. I don't get to see these girls on a scheduled, regular basis anymore," McHargue said.
Junior Xzavier Lino on the men's team has seen a lot of progression as an athlete since coming to Whitman.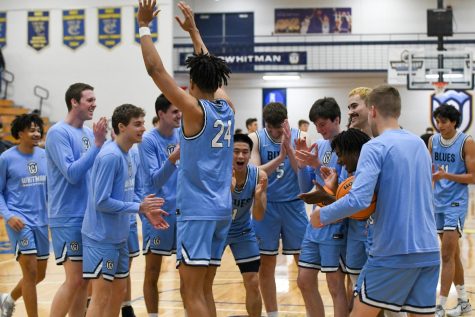 "I think I've improved my skills a lot; I shoot [and] handle the ball better. I know where to score on the floor, and I know how to get open for my shots," Lino said. "It's basically just recognition of the system we play in, and also what the opponents will give once you just study film and basically learn the game more. I've improved on all those aspects."
Lino wishes that more people could look beyond the athletic aspects of basketball and view it as an opportunity to be a part of a larger community.
"I think I would like to have more people support us, come to the games and recognize that like basketball is more than just the sport itself. We care about the community. We care about the fans that come to our game, and we just want to have a good relationship with everyone," Lino said.
The women's basketball team will be hitting the courts once again for the NCAA Division III Tournament. For more information and to stay up-to-date on all things Blue, visit the Whitman athletics website.