Intramural basketball takes the courts by storm
You may have thought that Whitman basketball reached its full potential when both the men's and women's teams secured the Northwest Conference title. Think again.
The first jump ball of the 2023 intramural basketball season was tossed up on Feb. 12, marking the start of a highly anticipated journey for nine determined teams. The season kicks off with a big "round robin," allowing every team to play each other. Next, a select few standout organizations compete in a mini bracket to establish the one true champion. Each member of the victorious squad will acquire the esteemed intramural blue shirt.
Although only four matches were played as of Feb. 18, each team with games under their belt showed immense passion. These gifted athletes manifest pure dedication to the sport and inspiring loyalty to their teammates. 
Standout sophomore George Baker, a self-proclaimed role player and combo guard of team Lumpy Ballz, spoke to his effort in a close loss to team Grit Squad.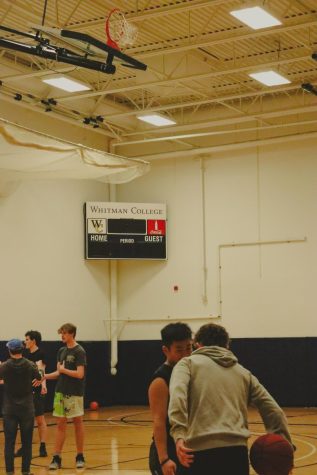 "I was absolutely ecstatic to be out on the court again with my fellow 'ballz.' I was gassed after two minutes of play, so cardio will be the main focus of my current training. Go Lumpy Ballz, man. Fight on," Baker said. 
The Lumpy Ballz team was crafted by a group of committed sophomores and has branched into many competitions with its multifaceted athletic operation. 
Intramural Sports Committee co-president and intramural basketball organizer Siri Lindstrum spoke to the Ballz' wide, competitive scope. 
"Lumpy Ballz is a consistent contender. They have a team in almost every sport that IM does," Lindstrum said.
On top of Lumpy Ballz and Grit Squad's matchup, other intriguing teams faced off with a variety of results. The Sharks and Shrooms made themselves customized jerseys complete with numbers ranging from ? to 777, specifically tailored to each of the six roster members. The passionate, dapper squad narrowly lost to The Hufflelumps and Woozles by one point in a heartbreaker but managed to handedly defeat Chocolate Thunder a game later.
Team Free Bois, a ragtag group of free agents, came together to defeat We Run This Campus, assembled by the cross country team. Additionally, the venerable team 40 oz and fierce team Skunk anxiously await their first matchups.
Although it's amusing to treat these games as deeply competitive contests, intramural sports are truly about letting loose and having some fun.
Sophomore Chance Kelly, a member of We Run This Campus, discussed his experience on the court and his take on the goals of intramural sports. 
"It was fun. [It's] just hanging out with friends, having a good time [and] not taking it too seriously," Kelly said. "It's good to have intramural leagues because they provide a way for people who like sports but aren't on a varsity team to compete and have a good time."
The leagues arranged by Whitman's intramural committee provide a casual athletic outlet for students who want to compete alongside a group of friends or meet some new students with the same interests. The committee encourages Whitties to come watch their friends compete in intramural sports.
Lindstrum echoed this notion, specifically with respect to intramural basketball. 
"I want to encourage everybody to come watch if they want to. Definitely look out on our Instagram because I will be posting when we have games," Lindstrum said. "I think it'd be really fun if we got a bunch of people to come to the games. It's great to have people there to cheer their friends on or even just come to watch. It's fun; there's a lot of energy in the gym."
Intramural basketball games are typically played on Saturday and Sunday evenings in Sherwood Athletic Center. More information can be found on the intramural committee's Instagram page, @whitmanintramuralsports. In addition to basketball, intramural table tennis and dodgeball are also getting started. If you haven't joined a team yet, consider signing up by checking out the information provided on the Instagram page or the intramural sports section on Whitman's website.