Women's basketball team competes in NCAA Tournament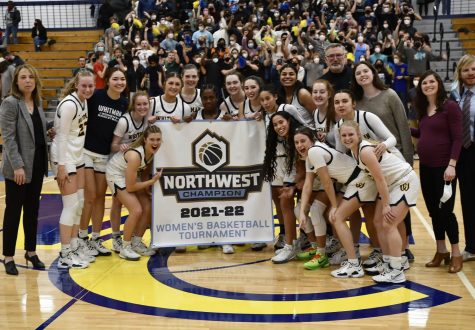 Last weekend, the Whitman women's basketball team competed in the NCAA [National Collegiate Athletic Association] Tournament in Texas. Although they beat Whittier College (CA) 62-57 in the first round on March 4, the Whitman team lost to Trinity University (TX) in the second round on March 5, knocking them out of the bracket.
However, making it to the NCAA Tournament in the first place is an impressive achievement, especially within women's Division III basketball. Michelle Ferenz, the head women's basketball coach at Whitman College, explained that this division is very competitive.
"Going to the NCAA Tournament is extremely difficult. In the world of collegiate athletics, the women's DIII basketball tournament is the most difficult one to get into," Ferenz explained. "With over 430 DIII [women's basketball] programs and only 64 spots, it is the hardest tournament to get into. We went to our first in 2013 and have been to 6 since–it takes a lot of dedication to stay at such a high level year in and year out."
Ferenz was proud of the team's achievements this season.
"Overall record of 27-2, and an undefeated Northwest Conference Title and an NWC Tournament title. This is the first time we have won both the regular season and tournament title in the same season. That is probably the highlight for the season," Ferenz said.
Kaelan Shamseldin, a fifth-year senior majoring in biology and psychology, played her final season with Whitman this year. While she was disappointed at the second-round loss, she was excited to have made it to the national tournament.
"Only 64 teams get to participate in that and it was such a great experience. Even though it didn't end how we wanted, I am so proud of this team," Shamseldin said.
Shaira Young, a junior economics and rhetoric double major who has been playing basketball since elementary school, was excited to be able to finally play for a full season at Whitman.
"My experience playing basketball at Whitman has been filled with ups and downs," Young wrote in an email to The Wire. "I suffered a season-ending ACL injury my freshman year, and then COVID didn't allow us to have a real season my sophomore year, so this year has been my first full year playing. I've met some of my best friends through the program and the adversity that I've faced while playing at Whitman has made me a better and stronger person."
Young was especially excited about finally having the opportunity to compete in the tournament, and was enthusiastic about how well the overall season went.
"We were able to make history by going undefeated in our conference and winning our conference championship," Young wrote. "Of course with any season, it gets tough and can be draining, but the wins help to counterbalance that."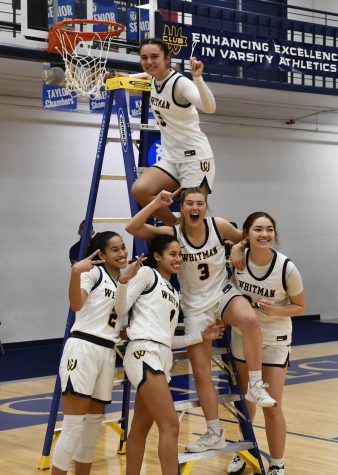 Young was especially grateful for her close friends on the team and noted that sharing the experience with her teammates was what has made playing for Whitman worthwhile.
Shamseldin agreed, expressing that one of the best parts of playing for Whitman was the other students on the team.
"Playing basketball at Whitman has been an amazing experience," Shamseldin said. "The relationships I have made on this team will last me a lifetime, and I am so happy to have played with these women."
Shamseldin, who has been playing basketball for about 17 years, was also grateful to have spent so many years playing with her fellow seniors.
"Love [to] my other seniors… Playing 4 or 5 years with them has been an amazing experience and I wish them the best in the next chapter of their lives," Shamseldin said.
Coach Ferenz also noted that the team was graduating some very talented seniors, but she remains confident in the abilities of the returning students–she added that she hopes to be at the top of the Northwest Conference again next year. For now, however, these student athletes can finally rest after a long and successful season.