"Mapping India" exhibition takes history fanatics on a new route
Maxey Museum is now showcasing an abundance of Indian maps. You may walk by and see one map after another, thinking that they're just the same picture with different dimensions. If you take a closer look, however, you start to notice some striking differences between the prints.
Some of the maps are new, and some are old. Some are colorful, and some are sketched in black and white. Some are in English, and some are in Hindi. Each of the distinctive maps tells a different story, and the collection as a whole provides a vibrant journey through time.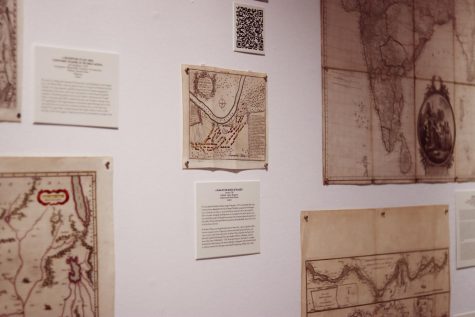 On Jan. 31, Associate Professor of Art History Krista Gulbransen finished curating the exhibition "Mapping India" alongside a group of dedicated student researchers. The show is set to offer a compelling combination of Gulbransen's expertise in South Asian art history and the extensive South Asian map collection of Georgetown geology professor Mark Giordano. The spectacle fills the walls of Maxey Museum with a cartographic perspective of South Asian colonialism and independence.
Gulbransen spoke to how the maps relate to these concepts.
"The maps, in many ways, were a tool of colonial surveillance. They were things produced by British cartographers that were trying to know and therefore control South Asia as they colonized more territory there," Gulbransen said. "Then they also became part of a tool in the arsenal of nationalism; then leaders of the nationalist movement saw the map as almost a logo or symbol of independence. The map that was in many ways born out of a system of colonial oppression became a symbol of national pride and an imagining of a potential for an independent India."
Echoing the messages expressed by Professor Gulbransen, first-year Peter Yamane spoke to the value of the exhibition as a historical supplement. 
"The prints evoked a lot of emotions and expanded my understanding of Indian history. They touched on power dynamics in a cool way and opened my eyes to a different way of looking at the past," Yamane said.
The exhibition is the first of its kind and displays the ability of cross-disciplinary collaboration to produce fresh perspectives. Gulbransen remarked that not only does the show provide a profound and novel historical perspective, but it also incorporates a wide variety of academic interests into its display.
"We really picked the objects with great intention to not have them be only speaking to only one discipline or even one division on campus. There are objects that speak to the spread of disease or studies on snakes," Gulbransen said. "There are things that speak to political boundaries or art objects — there's all sorts of different things, and I think any student and any faculty member on campus could find something of relevance in the show. It really was intended to be extremely interdisciplinary in its design."
Senior Jaden Sakay spoke to the relevancy of the exhibition among more disciplines than just art or history. 
"The display gave me an opportunity to learn some new things about South Asia. I also liked that some of the displays had economic concepts, so I was able to see trade and other stuff in a setting I haven't thought of before," Sakay said.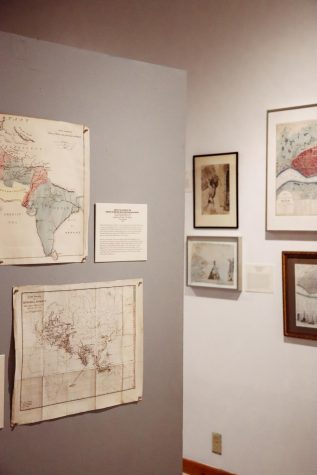 Gulbransen and Giordano's project will run in the Maxey Museum until May 21. The exhibition was made possible thanks to the collaborative efforts of student researchers Amira Jain, Alexa Pilgrim, Connor Rauch, Issabella Zito, Maxey Museum Director Libby Miller, Sheehan Gallery Director Kynde Kiefel, Exhibitions and Collections Manager Andrew Somoskey and Sheehan Gallery Assistant Tara Graves. In addition, the show will be supplemented by a lecture series led by Mark Giordano on Feb. 16 in Hunter Conservatory. 
South Asia is typically an underrepresented region in Western academia. The exhibition gives viewers of all disciplines a chance to better connect with Indian history and understand the world through cartography. If you want to check out the show for yourself, head on down to the Maxey Museum nestled inside Maxey West. If you need directions, you'll know what to use.