Whitman Orchestra opens on a high note
The orchestra opened their fall season on Nov. 1 with an evening concert in Cordiner Hall. Associate Professor of Music Paul Luongo conducted his musicians, swinging his svelte baton for an hour. The ensemble was led through pieces by Jessie Montgomery, Jacques Offenbach, Wolfgang Amadeus Mozart and Camille Saint-Saëns.
In between pieces, violist Llewyn Merrill carefully described each musical composition, offering contextual details on each composer. Conductor Luongo prefaced these interludes by expressing the orchestra's desire to better clue in and engage with audiences.
Senior Conor McGreevy has played the bassoon for eight years. The bassoon is a four foot tall, double reed woodwind that emits very deep notes. According to McGreevy, the instrument sounds like a saxophone-french horn hybrid. Compared to a single reed, the double reed's embouchure is more complex and difficult to control; however, it can produce more sound variations.
McGreevy believes that playing the bassoon has made him more attentive to the lower frequencies of sound in his day-to-day life.
"If I'm just outside and I hear the noises of the street, I might focus on the lower sounds rather than the higher sounds," McGreevy said.
Despite the bassoon being known for its lower sounds, McGreevy touts its surprising versatility. In the orchestra, the bassoon typically plays the bass line part, but, occasionally, it can also play the melody, alto or tenor parts.
McGreevy is able to enjoy the symphony while performing, although this can depend on the difficulty of the piece. With very technical parts, he can get really caught up in playing everything right.
"As you get to know the piece better, it becomes easier to get carried away in the music," McGreevy said.
Overall, playing the bassoon in the orchestra is therapeutic for McGreevy.
"I can go into a rehearsal with a lot of anxiety [and] a lot of stress," McGreevy said. "Through the course of the rehearsal, I'll relax and I'll become more optimistic. It gives you perspective."
Senior Ben Kehrli plays the violin. The violin has four strings, and each string is separated by a fifth; there are five notes in between each string. When asked about octaves, Kehrli scoffed.
"There's a law in mathematics that you can cut a string in half an infinite number of times, which is to say that if you apply that to the violin, within a finite space, there's an infinite possibility of sound," Kehrli said. "So, how could you even dare to characterize that into octaves?"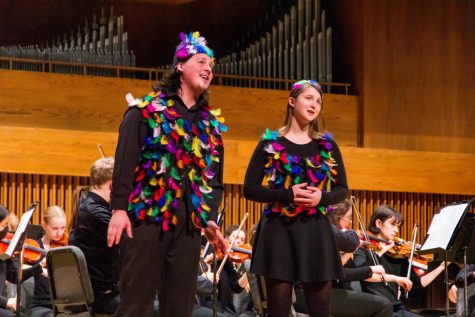 Kehrli described how listening to good music can give him goosebumps. However, this enjoyment primarily comes to him while listening to music rather than playing music.
"I feel like I struggle to attain [joyful goosebumps] when I'm playing music because I'm so focused on making the music, and I'm not enjoying it and listening to it," Kehrli said.
Instead, he can find joy in the collective, particularly when the ensemble is playing really well.
"You can recognize when the group ensemble is really killing it," Kehrli said. "All of the entrances are there, and the notes are good. You're making this scene, the story — you're each an actor."
Kehrli described how everyone has their own roles, entrances and lines that are all interconnected throughout the symphony. The violin section has a particular role, rife with character development, that he can get lost in.
Junior Britt Christensen plays the clarinet. The clarinet, as opposed to the bassoon, is a single reed woodwind. As for what a symphony's scene or story is, Christensen claimed that the music is largely open to interpretation.
"I do believe that the composer can have a vision and their own interpretation," Christensen said. "Someone else can have an interpretation, and if it gets them really excited about what they've heard and if they've gotten a lot of enjoyment out of it, it doesn't necessarily need to match up."
Christensen feels that the clarinet is underappreciated, theorizing that "a lot of people may only know what it is because of Squidward."
She scathingly remarked that Squidward is not a very good clarinetist. Christensen ultimately doesn't mind the comparison, but she hopes that she plays the clarinet better than the animated octopus.
The Whitman Orchestra performs throughout the academic year. Many of their events are posted on the Whitman Events Calendar. If you can't wait until the next concert to hear what the music department has to offer, you can watch the Wind Ensemble Fall Concert on Nov. 11 or the Jazz Ensembles Concert on Nov. 12.