Student recitals showcase musical talents
It has been proven time and time again that no matter what limitations come their way, student musicians will rise to the challenge, even if it means giving their final performance virtually. 
This year, junior and senior music recitals were live-streamed online so that people could enjoy them from anywhere — even states far away.
Leisha Casimiro, a junior vocal performance major who is also minoring in both religion and psychology, had her vocal recital on Sunday, April 18, and sang a variety of songs in various languages. While Casimiro also plays the French horn for the Whitman orchestra, she says that her voice is her main instrument.
"I've been singing for as long as I can remember, but I never had any formal training until coming to Whitman. I started becoming interested in classical music [and] opera in high school, and I was never really able to explore those avenues academically or in performance. But now I have those opportunities here [at] Whitman," Casimiro said.
This semester, Casimiro was not on campus; so, she says she is grateful for the technology to livestream the performances. However, doing everything virtually adds other challenges.
"Unlike being on campus where I would just show up to perform my recital, I had to coordinate with other people here in my hometown to have not only the space to give the performance, but also the technology to do so," Casimiro said. 
Casimiro explained that she had to communicate with her voice professor, Senior Lecturer of Music Monica Hunter, her pianist, Senior Lecturer of Music Jackie Wood, as well as the Senior Adjunct Professor of Music Michael Simon and Tristan Rupert from Whitman Technology Services. This collaboration made it possible for Casimiro to perform in her hometown in Nebraska on the Whitman livestreaming site.
Although thankful for the opportunity to do this recital, Casimiro misses participating in ensembles and is looking forward to being able to collaborate with other musicians again. She also recommends supporting the music department, even as a non-musician.
"Support Whitman student musicians!… There is a lot that goes behind the scenes in terms of preparing for our performances. It can be emotionally, mentally and even physically taxing. The culmination of that is the actual day where we open up the space to share our music that we've put a lot of effort into skillfully interpreting," Casimiro explained. "Performance day can also be a very vulnerable time for the performer… It's always nice to see supportive and friendly faces in the audience."
Abby Herrick, a senior music theory major, has been playing the violin for 14 years. Her senior lecture and recital took place Friday, April 23, but unlike Casimiro, Herrick was on campus for hers. However, there were still plenty of challenges.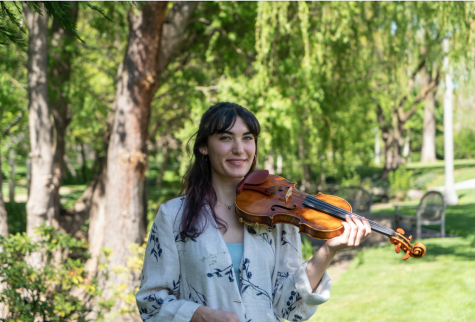 "My recital involved a quartet, but we couldn't rehearse in any space together except once a week with a faculty member present," Herrick said. "This was frustrating, but we still pulled it together, and I'm really proud of and grateful to all of the people involved in my recital!"
Like Casimiro, Herrick said that she enjoys the collaborative aspect of music.
"My favorite part of my musical journey at Whitman has been getting really involved with other music students' projects and seeing everyone's unique relationship to music," Herrick said.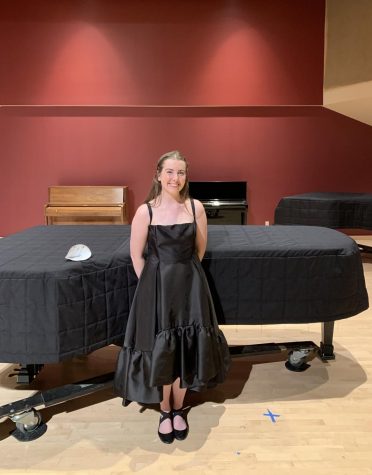 Lizzy Gazeley, a senior environmental studies and politics major with a music minor, was also on campus for her recital, which took place on Sunday, April 18. She has been studying voice for all of her four years at Whitman.
"[I] have been singing since I was a little kid. Growing up, I was always in choir, whether that be with my church or school. My mom tells me that I began humming and singing around the house as soon as I was physically able to," Gazeley said.
As a music minor, Gazeley explained that she is not required to do a senior recital. However, with support from her advisor, she decided that a senior recital would be a "satisfying" way to celebrate what she has learned and to close out her time at Whitman.
Although her recital was in person and livestreamed, she explained that it was not the "typical" in person performance. As a singer, 10 Whitman community members were allowed in as her guests in addition to the professors on her recital committee, making around 15 people in total. Because Gazeley was unmasked to sing, the audience members were more than 30 feet away from her and spaced out from one another.
Gazeley explained that she was grateful for the support that she received during this process from Hunter, who assisted her with preparing Zoom, as well as Studio Music Instructor Diane Gray-Chamberlain, who helped her during the event, and her pianist, Jan Roberts.
Although she said that she couldn't pick a favorite part of studying music at Whitman, Gazeley said that her senior recital definitely stands out.
"It was so satisfying and joyful to be able to share all that I've learned with my family, friends, faculty and honestly with myself," Gazeley said. "The senior recital process has allowed me to reflect upon how much progress I have made through my studies at Whitman. Pieces that once seemed difficult or intimidating, I am now able to perform with ease and confidence."
Gazeley also reiterated how grateful she is to have support from not only her teachers and parents, but from the friends who have had to listen to her practicing in her bedroom during quarantine.
The Music Department still has events coming up, including the Spring Chamber Music Concert on Sunday, May 2. Although it has not been a traditional semester, it is clear that music students are still overcoming many challenges to do what they love.
The Whitman Music Department can be found online at https://www.whitman.edu/academics/majors-and-minors/music.