"Hansel and Gretel" opera soars with the Whitman music department
On Friday, Feb. 4, the college's music department presented their brand new opera workshop, "Hansel And Gretel." The show was cancelled last semester due to COVID-19, but now in the beginning of the spring semester, both Whitman and the Walla Walla community have had a chance to see the opera in Chism Recital Hall and enjoy the performance with their family and friends.
The opera took on a familiar story from a new perspective, introducing other characters such as the children's parents, Peter and Gertrude, as well as the Sandman and the Dew Fairy.
Opera Director Dr. Jessica Rosas Posada was eager to put "Hansel and Gretel" on the Whitman stage.
"We've been through so much for the last two years, and students are thirsty for the music, for the stage, just some sort of normalcy," Posada said. 
For the past few months, Posada has been giving students a platform to do what they are interested in and to try themselves in the opera genre. Since opera is Posada's passion, she continued to be motivated to put on the show despite the difficulties.
Students were also excited to see their hard work come to life, including Carmel Stephan, who played the Sandman in the show.
"The most exciting part of the show is to see the fruits of our labour," Stephan said.
Senior Olivia Lipson, who played one of the co-leading roles, was excited to be a part of the opera community again.
"We have been away from each other for so long," Lipson said.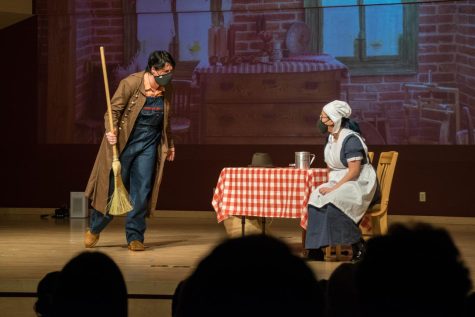 Kaitlin Cho, who played the mother of Hansel and Gretel, expressed some of the challenges with the rehearsal process.
"The rehearsals were quite tricky in the beginning because some of the music is difficult," Cho said. 
Aziz Sahbazovic, Cho's role partner, agreed.
"In the beginning the rehearsals were pretty difficult, especially because the material is very hard, music also was hard and new to most of us, but over the month we became better," Sahbazovic said.
However, with the musical support of Professor Jackie Wood, who accompanied them on the piano, the performance went smoothly, and they overcame these challenges.
Carmel Stephan is a humor writer at the Whitman Wire.