The Impact of Marvel Studios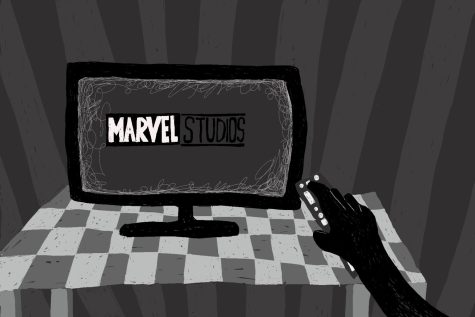 Ask any fan of superhero movies for a recommendation, and they'll probably direct you to a film by Marvel Studios, which has released more than 29 films since 2008 and eight television series since 2021. They've amassed a large fan base, and not for nothing. 
Assistant Professor of Film and Media Studies Kathryn Frank will be teaching a course on comics studies next semester. 
"For me, I think I'm most interested in how the films work together while also trying to have their own distinctive aesthetics and distinctive genre influences. When those aspects are successful, I think the films can be really fun and entertaining," Frank said. "For instance, I'm a huge fan of kung fu films, and I really enjoyed how 'Shang-Chi and the Legend of the Ten Rings' incorporated homages to kung fu cinema."
Beyond having an effect on audiences, Marvel movies have been successful in impacting the culture of filmmaking. 
Jackson Burkhalter is a senior math major with a strong interest in both superhero comics and movies.
"I think the Marvel movies have had a huge effect on culture, specifically [the] acceptance of CGI as commonplace in movies," Burkhalter said. "[They] also increased the quality of high-budget movies in general — except for DC." 
The movies have also been successful in pushing boundaries and creating new standards within the film industry. 
"One of the most interesting things to me about the Marvel Cinematic Universe has been how much it seems like it has encouraged viewers to pay attention to the 'behind-the-scenes' aspects of film and television," Frank said. "While fans of any media property are often interested in how the shows get made and information about the cast, I feel like I've seen much more awareness about things like directors, continuity and how the films fit together, actors' contracts, film and television release strategies and other things like that."
Frank added that Marvel has had an impact on challenging some conventional practices in the industry.
"I think it would be harder to make the argument after 'Black Panther' that films with Black leads and [majority] Black casts can't be successful, including in overseas markets," Frank said. "'Shang-Chi' is another example — that film has significant portions of the dialogue that aren't in English and are subtitled, which is something that isn't usually seen as doable for a film for mainstream U.S. audiences. Media industries are notoriously risk-averse, especially when you are dealing with franchises that need to make billions of dollars in order to be profitable, so I'm curious to see whether we see these successes used as 'role models' for future films/TV."
Marvel Studios has also successfully brought powerful messages to audiences through their films. Wayne Billingsley, a senior biology major, spoke to the idea of powerful messaging that changes the way movies are viewed.
"One of the messages I've taken away from this form of media stems from the idea that, 'All it takes is one man with extraordinary means to make change,'" Billingsley said. "Other messages about anti-racism have started to feature prominently in 'Ms. Marvel' and in 'Falcon and the Winter Soldier'. However, I know there are other messages that I have missed."  
Movies can be a powerful tool for the media to bring important messages to the public. Marvel Studios has been trying their hand at delivering these messages with a punch and have amassed a sizable fan following along the way.