Recapping the Summer Movie Season
As Netflix's "Stranger Things" succeeded, the summer movie season was marred by flops and disappointments. Is this a sign of things to come?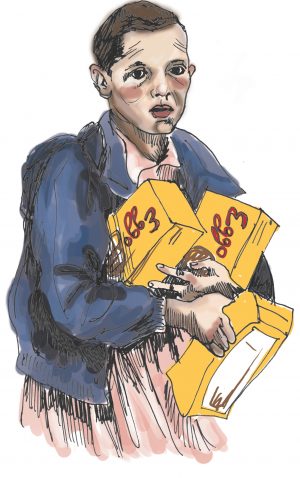 More than any other summer in recent memory, the current summer season has proved deeply troubling for the state of the film industry, in regards to the quality of films, the kinds of films that were released, and which films were rewarded and which fell flat with audiences.
Arguably, the most important event in film this past summer was not a film at all, but the Netflix miniseries "Stranger Things." A well-constructed and gripping throwback to the early 1980s and primarily the work of Steven Spielberg and Stephen King, the eight-episode series became a sensation, earning rave responses from critics and audiences alike and cementing the streaming giant's reputation as a purveyor of quality original content. More importantly, however, "Stranger Things" captured the attention and admiration of watchers in a manner more typically reserved for a big summer movie–and it did so in a year where no summer film was truly able to capture the zeitgeist.
That's not to say that no films were popular this summer. The Pixar Animation sequel "Finding Dory" amassed a $476 million dollar fortune in North America, and "Captain America: Civil War," "The Secret Life of Pets," and "Suicide Squad" also earned upwards of $300 million. Unfortunately, these individual successes were of a "flash in the pan" nature, as most of summer's would-be big films turned in disappointing performances regardless of quality.
Big-budget sequels like "X-Men: Apocalypse," "Alice Through the Looking Glass," "Independence Day: Resurgence," "Star Trek Beyond," and "Teenage Mutant Ninja Turtles 2" made significantly less at the box office than their predecessors, and some of them have even brought costly losses for the companies that produced them. The remakes of "Ghostbusters" and "Ben-Hur" incurred similar fates. Among lower-budget films, only three pulled in North American ticket sales above $100 million – "The Conjuring 2," "Central Intelligence," and "Bad Moms." As tentpoles with seemingly reliable brand names flopped and more modest offerings failed to step up to the plate, there was something of a vacuum left in pop culture–and "Stranger Things" was ultimately what filled it.
The question, then, is this: did audiences miss out?
There were certainly gems to be found in this summer's crop of movies. "Captain America: Civil War" proved to be one of Marvel's best films to date, treating the notion of feuding superheroes with a proper sense of gravitas, high stakes, action, and emotional weight. "Star Trek Beyond" restored the cinematic franchise's quality with a strong character-driven plot supported by poignant action beats. "The Shallows" coupled a great performance by Blake Lively with a powerful sense of dread in one of the best shark thrillers since "Jaws." Seth Rogen's "Sausage Party" proved the artistic worth of a raunchy animated film with an interesting take on religious themes and a darkly comedic parody of a standard Pixar plot. The Ryan Gosling/Russell Crowe comedy "The Nice Guys" was a spectacularly hilarious buddy comedy that is interested, above all else, in simply having fun. Finally, "The Conjuring 2" was the best film of the summer, with an intense, powerful sense of terror and fear mixed perfectly with outstanding acting, plotting, and characterization of a sort that is very rare in modern horror.
There were also some notable artistic whiffs this past summer. "The Legend of Tarzan" suffered from its prioritization of visual effects over plotting and characterization–and the visual effects were not especially commendable, blending in poorly against the live-action actors. The Jane Austen adaptation "Love & Friendship" suffered from its not-especially-cinematic subject material, presenting a nonstop chain of droning expository dialogue and failing to convey its more page-friendly wit. The summer's biggest dud, however, is undoubtedly "Warcraft," a video game adaptation that fails to entrance with its overblown visual effects, dull characters, action scenes that fail to engage, and a plot that is unfriendly to those unfamiliar with the game's extensive mythology (and seemingly redundant to those who are).
Ultimately, this summer season was a typical one filled with ups and downs, with nothing hitting the artistic highs of last summer's "Mad Max: Fury Road" nor the lows of "Jurassic World." Yet with that relative mediocrity came a drop in winners and an sharp increase in flops. Will the success of "Stranger Things" against a slogging Hollywood mark an anomaly among the past few years of successful summers? Or could it be a sign of things to come? In any case, Netflix is one of only a few major entertainment producers that will leave the summer of 2016 in a better position than it entered.