Distance track embraces every opportunity for fun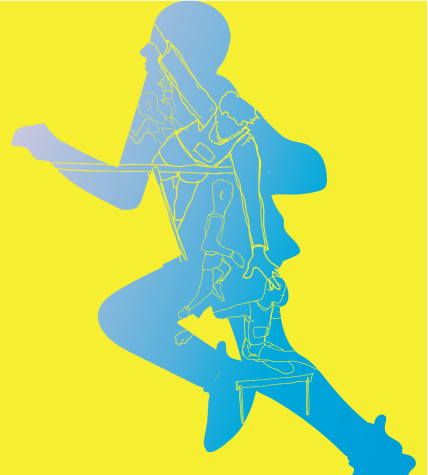 2020 was Whitman's first season with distance track as a varsity sport and, after just one race, COVID-19 hit, producing seasons filled with modifications and limitations.
The 2022 season is the first "real" season for the team. Although to outsiders, track might just look like the cross country team running some more, senior Julia Hess expressed that that's not quite the case.
"It's all the same group of people, we have the same coaches and we race against most of the same people," Hess said. "One thing in track is that we're not all racing at the same time… so you get to see your teammates race more often versus in cross country all of the men run at the same time and all of the women run at the same time. So it's fun because we get to cheer each other on."
A difference between cross country and track is that athletes run events of all different distances—typically anything longer than the 400 meters. Because of this, Head Coach Scott Shields explained that athletes are doing different workouts at any given practice.
"As a coach, I can still be in the same location, but people are running in different lanes doing different types of workouts, and in that respect, it's super fun, because everyone's doing something a little different," Shields said. "Culturally, we're all together as a group in the same place, but everyone's got their own jobs at the track."
This close team bond is something Hess appreciates.
"I really love going to practice every day and seeing [my teammates]. Distance running is a great opportunity to talk to people. On our easy run days, we just run and talk to people about what's going on in our lives, so you can get really close to people that way," Hess said.
Although Whitman is solely a distance track program, they compete at meets with other events as well, including sprints, hurdles, jumps and throws in addition to distance races.
First-year Henry Roller took advantage of this opportunity to try new events.
"I'd never done steeplechase before my first race, but I wanted to give it a try, and it was fun, so I'll be continuing it in the future," Roller said.
Because most colleges at their meets have full track teams, it's nearly impossible for the Blues to win or place high as a team as compared to in cross country. This has a positive impact on the team culture.
"It's a nice environment when it comes to team culture since you don't have to stress so much. Because we don't have jumpers and throwers and hurdlers, we can't win a conference championship–there's just too many points we just can't get," Shields said. "In that respect, we're not chasing a title, we're just chasing our own personal bests. It's a really nice balance of two different seasons."
The next meet for the team is the Whitworth Peace Meet on Friday, April 8.