Women's basketball team 5-0 for the season thus far
Juggling life as a student athlete can be difficult, especially with the constant travel. The Whitman women's basketball team is a prime example of that: so far this season, they've played every single game on the road, and they're about to go for more. But these students can more than handle it—the team is currently No. 2.
According to Coach Michelle Ferenz, the team has won five out of five games so far this season. Most recently, the team traveled to Dallas, Texas to play against Austin College and UT Dallas.
"It has been challenging to not have any home games," wrote Ferenz in an email to The Wire. "I am proud of how well our team has played to start, knowing it will not get any easier over the next few weeks as we have to play NWC [Northwest Conference] opponents on the road."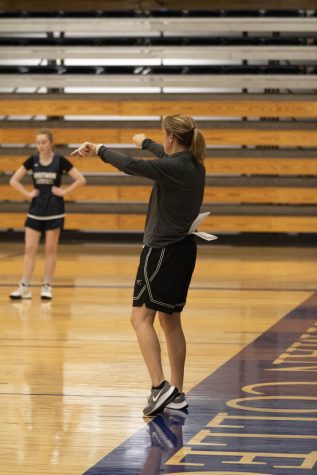 Despite the difficulties of constantly traveling and playing on different courts, the season has been going well for the team. Korin Baker, a sophomore biology major who has been playing basketball since she was in junior high, was enthusiastic about her first full season with the team, as last semester was shortened by the pandemic.
"This season has been super fun," Baker said. "Love the team, love everything that we're getting to do—it's been great."
Baker, who was recruited to play for Whitman while she was in high school, said that she's been enjoying her time with the team, adding that it was fun to have time to hang out with everyone in Texas and bond as a group. When asked what her proudest moment of the season has been thus far, Baker pointed to the game against UT Dallas, which was No. 15 in the nation at the time of the game.
"Our UT Dallas game… was just a lot of fun because everybody came out and played really hard," said Baker. "I mean, it was a tough game, like we were kind of getting beat up a little bit, but we came together and took that win even though we were playing on the road in a gym that we had never seen before… It was such a hard-fought but good win."
Senior biology and psychology major Kaelan Shamseldin, who has been playing basketball since she was 5 years old, agreed.
"No matter if we were up by a large or small margin, the energy on both the bench and the court [was] consistent and positive," Shamseldin wrote in an email to The Wire. "We have a huge roster (16 players) and every single player is important for the win. Seeing that support, encouragement and commitment from the team was definitely my proudest moment."
Sydney Abbott, a senior psychology major, was also proudest of the win against UT Dallas, as well as how well the team works together. 
"I think the proudest moment I had of our team so far was winning the last game, just because they're nationally ranked," Abbott said. "With Whitman, the women's team [is] so cohesive and so close, so I'm just really proud of how we treat each other, because I think we all just get along really well. Being around people that much, it's tough, and… you're not always going to get along, but I think the team does a really good job at making sure that everyone feels like they're… not out of place."
Abbott, who has been playing basketball since around the third grade, transferred from Whitworth University to Whitman last year, making this her second year on the team. According to Abbott, she transferred specifically because of Whitman's basketball team.
"When we played [against Whitman], I'd watch the way that they interacted with each other and… that was something that I really wanted to have, and be a part of," Abbott said. "So I transferred, and now I am a part of it! I'm really thankful to be at Whitman."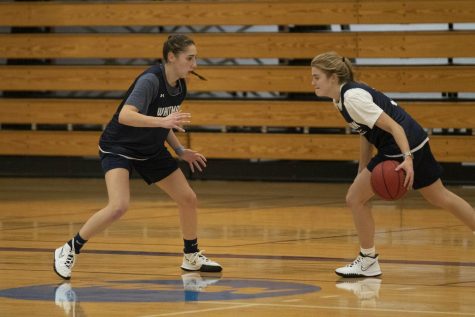 Abbott also talked about the team bonding that the team does every year, where they set their goals for both how they want to perform and how they want to treat each other as a team. Abbott added that for every practice, the players nominate their teammates to receive stickers for being the practice player of the day or the energizer of the day, and then players stick those stickers to their lockers.
"[It's] just a good reminder that you're doing good, and that you're accomplishing something because sometimes the days get very long and practices are long," Abbott said.
The players were also very enthusiastic in praise for their coaches.
"Our coaching staff is so great—they're always willing to get in the gym at any time, get lots of shots up… they want us to be successful, and they're willing to give us any amount of time that we need to see us do that. So shout out to them for sure," Baker said.
Coming up, the team will play against Willamette University this Friday, Dec. 3, kicking off play for the Northwest Conference. The first home games of the season will be on Dec. 11 and 12, playing Walla Walla University and Colorado College. The games are certain to be exciting, so be sure to come out and show your support!