COWS offers a space for students to grow their writing
Ornamented with cow-related decorations, including cow stickers and cow art, and even grass, the Center for Writing and Speaking (otherwise known as COWS) welcomes all members of the Whitman community. Located in the East building of Olin in room 191, the COWS offers individual consultations, workshops and group writing hours, as well as peer feedback on writing in particular courses from Academic Writing Course Assistants and cultural mentorship and navigation through the Whitman International Mentors (WhIMsies) program.
"COWS tutors are wonderful resources for helping students in these courses with all aspects of their writing tasks: generating and organizing their ideas, understanding the expectations of their audiences, making a thesis clearer or more argumentative and much more," Associate Professor of English and Director of the First Year Seminars program Mary Raschko said.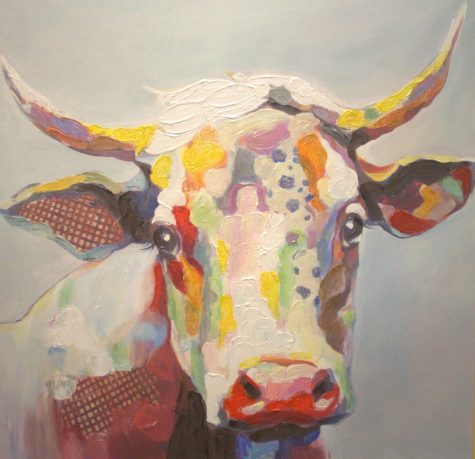 The COWS writing and speaking services are offered by peer tutors, who are all Whitman students. The peer tutors go through a robust hiring process. All tutors have to go take RWDP 310: The Theory and Practice of Tutoring Writing, which covers the foundational theories about the purpose and function of writing centers in particular. This gives students the opportunity to practice various techniques for tutoring so that they can develop their own style of tutoring and philosophy to guide their work. 
"A common misconception is that to be an excellent tutor, you need to be an excellent writer. I'm not saying my tutors are not excellent writers, but I am less concerned with that than with the way they reflect on their own writing and the ways in which they guide other students," Lydia McDermott, the director of the Center for Writing and Speaking, said when asked to describe the COWS tutors. "I'm looking for students who actively think about their writing process and like improving it, students who are empathetic toward their peers, students who can communicate clearly and work alongside their peers without taking over their writing."  
At a rigorous school like Whitman, the standards of college-level writing are high. Hence, when the process of writing is done alone, it can be stressful and daunting instead of fun and enjoyable. 
"Too often we think of writing as something we do alone, but when our objective is to communicate ideas effectively, talking with someone about them and letting others see our writing in a draft phase is invaluable," Raschko said. 
In addition to being a valuable resource to first-year students who are transitioning from high-school writing to college-level writing, the COWS is also important for domestic and international students for whom English is not their first language. 
"It is a beneficial service that anybody can use, especially for first-years. We provide a really safe space for the transition to college writing," said COWS tutor Anna Allegyer. 
Sylvia Adome, an international student from Nairobi, Kenya, has been using the COWS services for three years. While being a first-year writing fellow herself, Adome still goes regularly to the COWS to have someone look over her papers and assignments.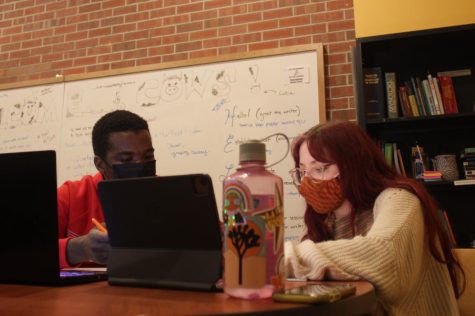 "I've noticed that I've developed over the last three years with my analytical writing, because I used to struggle with introductions. I used to struggle with bibliography and proper citation. But through COWS, I learned how to use MLA and Chicago and all of these different techniques. I would honestly recommend the COWS to all students," said Adome.
This positive experience is the general trend that McDermott has seen since the start of the program. 
"[Students have] boosted self-confidence in writing, clearer theses and better use of evidence, stronger structure and clearer syntax, and a new idea of where their writing can go from where they are now, and especially a tendency to actually revise their writing now and in the future," McDermott said. 
The COWS is an open space for all students, regardless of their background. 
"We're definitely really comfortable working with students of all types of learning abilities. It's a safe space for students to have a second opinion, have somebody to work with on their assignments in a non-judgmental and a peer-centered way," Allegyer said. 
The COWS is open for student walk-ins or also by appointment, with hours posted on their website.