Let 'em fly: Helicopter parents and college students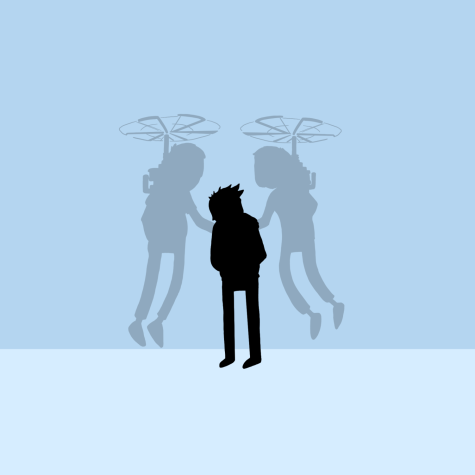 My first semester of college, a friend of mine woke up at 7:30 a.m. each morning to Carole King's "Where You Lead" (the Gilmore Girls theme song). It was her roommate's mother calling, making sure her daughter had woken up in time for her 8 a.m. lectures. The same roommate sent her parents comprehensive texts seeking permission to skip classes and took photos of her dining hall meals in case her mother requested proof that she had been eating enough. We alternated between feelings of sympathy and amusement and felt relieved to have delineated clearer boundaries with our own parents.
The phenomenon of "helicopter parenting" emerged in the U.S. in the mid-80s. The combination of sensationalized missing-children cases and pushes to raise the nation's academic performance created a culture of overinvolvement and acute anxiety among parents. Child development experts Foster Cline and Jim Fay coined the term "helicopter parent" in 1990, referring to these parents' tendency to hover over their children.
Now, "helicopter parent" is squarely within our cultural vocabulary. We know the signs: arguing with teachers over children's poor grades, limiting teens' freedoms, micromanaging schedules. The advent of social media and safety technology has created the modern-day helicopter parent, who tracks their child's browsing history, expects constant communication and uses apps like Life360. (Life360, the helicopter parent's dream come true, tells parents their children's precise locations, driving speeds and phone battery levels. Parents can even control their kids' phone usage remotely.)
Looking for some examples? Look no further than our own Whitman College Parents Facebook group, where parents discuss everything from housing to doctor recommendations to dissatisfaction with their students' experiences. In the weeks leading up to spring break, parents frantically solicited airport rides for their children. People ask about Walla Walla's best doctors/orthodontists/mechanics and seek advice on how to replace their students' misplaced items themselves. It's tricky water I'm wading through here (after all, I've never been a parent), but I can't say this behavior seems to foster much independence.
I spoke to a first-year student who classified her mother as a helicopter parent (I'll call her Nora Walsh, but she asked to remain anonymous—so, Whitman parents, if the shoe fits…). Her mother is a member of the Facebook group, but rarely posts. Instead, she uses it as a way to stay tuned into Walsh's life and often sends her relevant screenshots (upcoming deadlines, relatable meal plan woes, residence life information).
"Getting to leave for college has been really refreshing," Walsh said. "I think my mom is still way more involved in my life than most people—like, she still tracks my location and stuff—but there's kind of only so much she can do from home when I'm here."
In high school, Walsh's mom was pretty involved in each aspect of her life, academic, social and personal. She had constant access to her grades, kept track of due dates and stayed in communication with Walsh's teachers. She required answers to exhaustive lists of questions before allowing her daughter to sleep at someone else's house. She shut off WiFi to Walsh's room each night. 
When Walsh set off for Whitman, her mother's grip naturally loosened, but not as much as she expected. After all, the departure of a child only worsens the helicopter parent's anxieties. The parents' Facebook group, Walsh says, proves this.
"I guess it's a way for parents to feel like they're doing something," she said.
The parents' group isn't the only gathering place for fretful parents of young adults. College Confidential, an infamous college admissions forum, is a breeding ground for overbearing parental behavior. Confident parents tout their kids' lofty statistics, while others hope that colleges will see their children's diamond-in-the-rough potential. Around admissions season, the groups are full of infighting, expletives and snark. Whitman's own College Confidential page is comparatively tame, but not lacking in helicopter parenting. 
On Feb. 7: Whitman College for the non-stellar student? 
"Just want to be sure she's set up for success and not punching above her weight class…," user Windsor3 fretted.
(Response: "Let her fly.")
Walsh agreed that technology has intensified helicopter parenting.
"Going off to college used to mean more clear-cut separation," she said. "When my parents were in college, they called their family every Sunday and that was it … Now there's constant communication."
Despite living away from home, Walsh's mother expects her to maintain this constant communication. Early into her college career, she recounted, she ignored a series of texts, only for her mother to threaten to contact her RA. Back on the parents' Facebook group, disgruntled Lyman parents threatened the same, distraught by the state of their children's dirty laundry room.
The idea of her mother reaching out to an RA was enough to make Walsh "snap," begging for her mother to back off. She considers this request to have been moderately successful.
"I also think it's been hard for her because of [the pandemic]," Walsh said. "I went from basically spending all my time at home for a year and a half to suddenly moving to a different state."
It's true: the later years of adolescence used to ease parents into their children's burgeoning independence, such that college and young adulthood felt like logical next steps. Current first-years, on the other hand, entered quarantine right on the cusp of this transition, and many essentially stayed at home until they left for college. 
According to psychologists, one primary cause of college-aged helicopter parenting is the tendency of young adults not to perceive themselves as having reached adulthood. Sensing that they need support and fearing that they won't succeed without intervention, parents step in. Many people, specifically teens and young adults, describe feeling as though time froze in March 2020. Some still see themselves as the age they were at the onset of the pandemic. Others feel like they've missed so many crucial milestones in the past two years that they have fallen irremediably behind. With this in mind, it makes sense that parents, picking up on their children's uncertainty, are helicoptering like never before.
On Facebook, parents are eager to step right in. They secure rides for their children, crowdsource and compile travel itineraries and call the health center on their children's behalf. They mail their kids the possessions they left at home over break, then contact the Whitman post office when the packages are slow to arrive. Sure, a certain degree of parental reliance is normal, but at what point does it become a disservice? 
Still, Resident Director Holden Gaupo says that he does not see parental involvement impeding students' independence in any major way. He sometimes sees parents handle issues for which it might be "best practice" for students to handle on their own, but has not seen this involvement affect students' capacity to live independently. 
Gaupo also calls highly involved parents "a smaller portion of the whole." So, despite their seeming prominence in the Whitman community, maybe the helicopter parents are just a vocal minority.
Walsh agrees that most Whitman parents seem to cultivate healthy boundaries with their children and stay far less involved than her own mother.
"I'd say my mom is definitely an outlier," she said. "Most of my friends' parents were nervous at the beginning of college, but now they've learned to let [their kids] do their own thing."
It's easier said than done, from both sides, but learning to "do [one's] own thing" is the cornerstone of young adulthood.
This past weekend, I had to wake up for work at 5:30 a.m.. Worried that I'd oversleep, I considered requesting a wake-up call from the one person I thought might be awake then: my mother. Then, I thought of my friend's first-semester roommate, Walsh and helicopter parents. I turned off my phone and hoped for the best. Happy adulthood!