A look into Lyman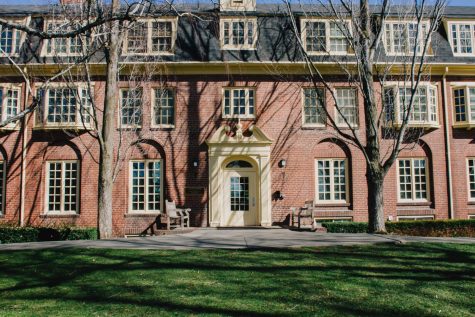 The little red wagon that greets you upon entering Lyman was purchased with wholesome and practical intent: it's a sustainable, convenient grocery-carrying method. First-year Laura Merick, owner of the wagon, frequently uses it to haul groceries for her extravagant baking endeavors.
Any Lymanite, including senior Emma Foley*, can attest to Merick's cooking talent. Foley was one of Lyman's RAs last semester, and spoke to the warm, approachable nature of the hall.
"It was always so nice going on my rounds because people were really friendly and I got offered a lot of baked goods," Foley said.
When Lyman residents, or Lymanites, talk about their dorm, most of them mention this lively sense of community. But around campus, many people still think of Lyman as quiet, reclusive and socially dead—a longtime stereotype. Why?
In promotional material, like the Whitman dorm tour videos and Our Whitman Instagram account, Lyman gets labeled a peaceful environment, perfect for studying. Its charming, quaint exterior and distance from the main hubs of campus have pigeonholed Lyman into this reputation—but it's one that is becoming increasingly inaccurate. 
"You always hear the stereotype that Lyman is quiet and kind of keeps to itself," Foley said. "I was expecting more of that."
True, Lyman's divided doubles probably make it more appealing to those who appreciate having their own space. The general populace of Lyman is likely on the more introverted side. The general assumption that Lyman residents enjoy "nerdy" activities like League of Legends and Magic the Gathering is not entirely wrong, either—there's plenty of this in the main lounge at all hours of the day.
However, my fall semester in Lyman House taught me that a space with mostly introverts does not necessarily make a quiet environment and that the campus perception of Lyman does not even come close to capturing the full picture. 
Take Merick's red wagon: in addition to aiding in wholesome baking hauls, it's been known to pull friends across Ankeny Field, its riders taking a chance on the 70-pound weight limit. Like any other first-year dorm, Lyman is full of quintessential college antics.
First-year student and current Lyman resident Nathan Wesselius remembered an eventful Halloween, one of his favorite memories from living in Lyman. Residents put tons of effort into their costumes and had a fun night complete with going out and watching movies back in the main lounge—a classic, well-rounded Lyman night. A few weeks earlier, right around midterms, a group of Lymanites smashed pumpkins on Ankeny to relieve stress. The stress stuck around, so they took to screaming out on Ankeny every night.
Expecting Lyman to be quiet and chill made me ill-prepared for its rowdiness last semester. Sophomore Jack Ray, former Lyman resident, had similar expectations going into his first year.
"I saw myself as an introvert before college so I requested what I thought was the quietest dorm," Ray said. Lyman soon "awakened" a more social, wild side of him.
Ray lived in the Tower, which underclassmen may know to be close-knit and rambunctious—like Lyman, but on a smaller scale and turned up a notch. Separated from the other two sections by a wall, the Tower is somewhat isolated from the rest of Lyman. 
Last spring, when COVID-19 restrictions were more intense, Tower residents formed each other's primary social circle.
Ray described living in the Tower last spring as "chaotic." Everyone's room was the site of late-night antics at some point or another, and it felt like living with a bunch of friends—no drama, just fun. 
"The Tower definitely seems more chill now," he said of this year's cohort.
Not quite. Lyman Tower has actually maintained its liveliness. A couple of weeks ago, a current Tower resident performed an ill-advised gravity experiment from the third-floor balcony. He wishes to remain anonymous, but described his thought process in detail.
"I looked over the balcony," he recounted, "and I've thought this multiple times: can I clear this? Like, if I hang and drop?"
He indeed hung and dropped, which caused quite a ruckus in Lyman. The fallen first-year laid flat on his back, and concerned Lymanites surrounded him. After a moment he declared that he was fine and, to everyone's surprise, stood up and walked away. 
For the rest of the night, fellow Lyman residents came to check in on him, much to his appreciation. 
"Even people I didn't know very well just wanted to make sure I was okay," he said. "It's a good community."
This spirit of community is integral to Lyman—residents value the importance of checking up on each other and being there for their friends, even when they make questionable choices like jumping off balconies. Lymanites look out for one another.
Jewett has secured the reputation of Most Social Dorm and for good reason. Still, Lyman may have an equally active social scene, just in a different way.
"It's nice that you don't necessarily have to know what everyone is doing," he said. "You can just kind of go down to the lounge and see what everyone is up to and join," Wesselius said. 
Zac Bentz, a junior and former Lyman RA, loved this aspect of his fall RA experience.
"The way communal spaces are used and the sense of love shared among everybody—the things that had always made Lyman really special—were suddenly a lot more prominent," said Bentz. 
Benz, who lived in Lyman during his first year, said that Lyman's close-knit community made the idea of adapting to life at Whitman not so daunting. That community has certainly held up. During my first semester, the connections that I made were rare and fulfilling, made possible by welcoming Lymanites.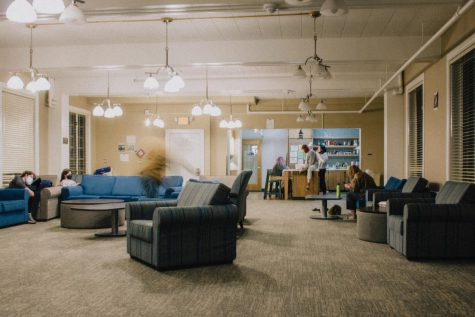 Here's another layer, though: this semester, divisions have begun to form in this unified community. Some see this as the natural formation of smaller friend groups, but others are attributing the Lyman Split to other things.
"We went back into isolation after winter break so everyone stuck in their groups that they'd been texting over break," first-year Erin Berger said. She characterizes this development as "eh," noting that it has the potential to make people feel excluded. She misses the unity of first-semester Lyman, when common spaces were heavily populated and everyone did everything together.
Lymanites' reaction to the formation of friend groups speaks to its open, friendly community. In every other first-year hall, insular friend groups form immediately, and no one seems to consider the downsides. In Lyman, this splitting up feels like a massive shift, and the desire to remain one big family encapsulates Lyman's uniquely social, caring atmosphere.
Still, Berger recognizes that some separation is natural as the year progresses and people find their niches.
As evidenced above, no simple description can encapsulate Lyman. It is not merely nerdy and quiet, nor is it just a rowdy party dorm. Lyman is both of these things and so much more—it's made unique and wonderful by its silly, sweet and special community. It feels to me exactly how Bentz described it:
"When you enter Lyman you feel like you are entering a very loved and lived-in space," Bentz said.
This is exactly how it felt last semester to return from East Isaacs at one in the morning. The board game club and other Lymanites would greet my friends and me, then we'd follow the delicious smell of food to the main lounge and catch the end of whatever anime was playing on the projector that night. Lyman is many things, but above all it is a lively, well-loved home.
*Emma Foley is the Managing Editor of The Wire.